Post by DiamondThief on Jan 24, 2016 15:26:19 GMT -8
Jan. 23, 2016
--
Well, this has blown up.
Without a miracle, The Portland Thunder will be gone after this season. Unless, that is, there is a huge push by fans. Unless there is a huge investment. Paul Allen? Merritt Paulson? Another?
The Thunder are in dire straights. They are a team without a staff.
On Jan. 6, the Arena Football League
took over the operations of the Portland Thunder
. But "taking over the operations" of an AFL team by the league means the team will be a pawn in the league's plan to move forward.
Again, a team without a staff. The team's facebook updates are gone and the team's twitter account resembles a tumbleweed rolling across
Winning Way
as if no one had even seen that particular road in a millennium.
As you continue to read, keep that tumbleweed in the back of your mind.
There is a coach. As head man of the Spokane Shock for four years, Andy Olson led his team to the playoffs three out of four years. The Chehalis native was set to make Portland a long-term stop when he
signed a two-year contract
in September.
There is a stud quarterback. Shane Austin let the Cleveland Gladiators to a 17-1 record in 2014, as well as a berth in ArenaBowl XXVII. He was
assigned to the Thunder
in December. In AFL terms, "assigned" is essentially synonymous with a team signing a free agent. Austin has had a bit of an issue with interceptions, but his numbers in that area actually are better than any other quarterback in Thunder history, as noted in the chart below.
The AFL operates on a single-entity system. Essentially, each dollar a team makes goes into a pool and is distributed among all the teams; that is, once league expenses are paid. There are some caveats to that – small caveats – which are not worth mentioning at this point.
When I say each dollar a team makes, it is a bit factitious given the state of the Arena Football League. We do know that for each dollar an owner spends, it pays for the entire operations of the league.
That is, in essence, how the league's single-entity model works. There are conditions, additions, subtractions and other considerations there. Basically, that is what the AFL and its owners are dealing with.
So what does the league do with a franchise without an owner?
Because, for Portland Thunder fans, that is the monumental question.
Obviously, in a struggling league – and yes, the AFL is struggling – there will be a skeleton staff (if that), a scant representation from then league office and non-existence from the team/league in social media.
Hell, if the team wants any social media, I might have to be the one to take it on myself.
When the AFL, on the behest of its owners, decided to take over the operations of the Thunder, it was due to the fact that the team's original owner, Clackamas businessman Terry Emmert, had not signed the Commitment to 2016. Emmert cited his hesitation in doing so was his concern over the league's medical insurance policies, as well as difficulty attracting investors.
That report came out on Jan. 3. Three days later The AFL took over the team.
Emmert is by no means blameless in this. He has had six team presidents in two seasons. He has had two head coaches in two seasons. All rumors about his abrasive personality seem to be true in the running of the team. Instead of budding into the operations of the team and its staff, he would have been better served on the business end, locating and wooing inventors to help with the financials.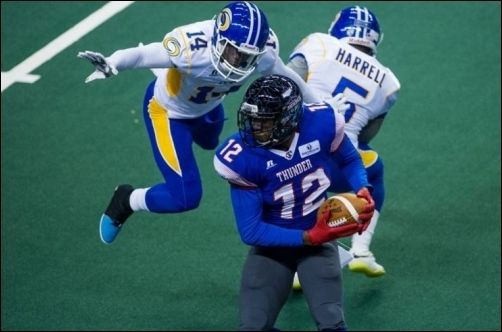 Jamar Howard will enter his third season with the Thunder in 2016
. (
Photo courtesy
The Portland Tribune)
In a statement on the league's official website, commissioner Scott C. Butera stated:
"After many months of attempting to work out an arrangement for the AFL to provide financial and operational support to current ownership, we were unable to successfully work something out and are thus assuming ownership and operational control of the Thunder. We highly value the Thunder fans and this step was needed to stabilize the team in the Portland market."
It is clearly a hollow comment; even more so when you consider that the league obviously has no intention of stabilizing the team.
Butera has a plan for the league, but barring the intervention of someone like Allen, who has owned the Trail Blazers since 1988, that plan clearly does not include continuing with a team in the Rose City.
Butera hopes to solidify the league by inviting owners of National Basketball Association and National Hockey League teams to buy into the AFL. Two current teams fit that model, as the Cleveland Gladiators are owned by Cavaliers owner Dan Gilbert and the Tampa Bay Storm are owned by Tampa Bay Sports and Entertainment, who also own the NHL's Lightning.
In principle, this is not a bad idea. However, this will not work in Portland. In September 2013 it was reported that Allen had tasked Blazers president Chris McGowan to find additional events to fill seats at the Moda Center at the Rose Quarter, which is operated by Vulcan which, in turn, is owned by Allen. Three weeks later, the announcement came down that Emmert had purchased the rights to the Milwaukee Mustangs and would begin operating a team in the AFL.
The point being that if Allen wished to buy into the AFL, he could have done so at that time. Furthermore, Allen wanted to sell arena dates for a profit rather than bury his money in a league without stability.
No, Butera's plan will not work when it comes to considering Allen purchasing the rights to the Thunder. Why should Allen even consider it? Why is it up to him to save professional sports in Portland?
Though it has not been mentioned beyond my own posts on this topic, Paulson, who has turned Portland into Soccer City USA with the current Major League Soccer champion Timbers and National Women's Soccer League's Thorns could be an interesting choice to purchase the Thunder. Should Butera reach out to Paulson, I cannot even speculate what answer the commissioner would receive. That said, Paulson should definitely be on Butera's list to call.
That is, if Butera was not talking through his teeth when he made his statement about stabilizing the team in the Portland Market. I am not so sure he was not.
On Nov. 20, Craig Spencer, one of several owners of the Philadelphia Soul, announced that the league had three teams set to join in 2017. Two teams are to be owned by NBA owners, while one will be located in a city with both an NBA and NHL team. Sources confirmed to Adam Markowitz of ArenaFan that the latter is Washington D.C., and that one of the others is Sacramento.
Furthermore, Spencer said that the league was working on a deal with a Latin American television network for both broadcasting rights, and that the network would bring three teams into the AFL to be located in Mexico. However, Soul co-owner Ron Jaworski said the agreement would bring just two teams into the league. Presumably, the deal was, at least at the time, still in the works.
Spencer was speaking on behalf of Butera, who was said to be in Los Angeles working on a franchise application.
It is strange that Butera would need someone to speak for him. In the very least, he could have issued a press release, himself. In the very least, Butera seems very intent on keeping any league news close to his vest.
Since Spencer's announcement over two months ago, there has been no further word on the alleged 2017 expansion. While I do not have necessarily any reason to question Spencer's credibility, the lack of any further updates tells me that any or all of this may – or may not – happen. At this point it remains a huge question mark.
It appears that the league, believing they have at least a portion of this expansion in place, intend to struggle through 2016 to come into prosperity in 2017.
What that would mean for the Thunder is that it will be a bare bones operation and that the team will not survive past this upcoming season, despite Butera's claims he wants to "stabilize" the Portland market.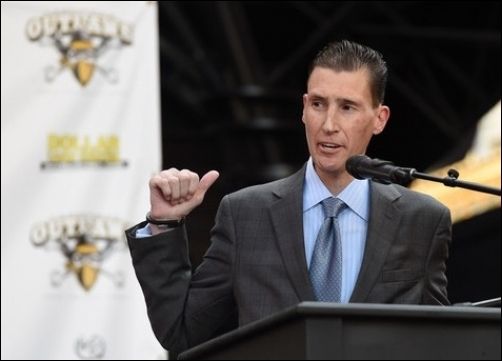 AFL commissioner Scott C. Butera
. (
Photo courtesy www.examiner.com
)
The league has gone from 14 teams in 2014 to 12 in 2015 to eight for the upcoming 2016 season.
The AFL has a history of claiming they will look for new ownership for teams it takes over. Even recently, the claim was made when the San Jose Sabercats, New Orleans VooDoo and San Antonio Talons have gone under. The Las Vegas Outlaws, which were a mess from day one, were taken over the league late last season (along with the VooDoo), but reports of efforts to search for ownership to replace Vince Neil went unreported – if there were any such efforts at all.
History tells us that when the league says it will look for new ownership for a franchise, it has failed.
If Butera was, indeed, being truthful when he said he wanted to stabilize the team in the market, then he needs to show it. Aside from his comment, we have heard nothing from the league.
I fear Butera was being intentionally dishonest when he made his comment. I believe he was trying to put a positive spin on an unpopular move by the owners.
The AFL, which has seen four teams already fold in the past five months, could not afford to see a fifth go down. The league is at eight teams and its 2016 schedule is out. To rework everything at this stage in the off season would be a nightmare.
The other seven AFL owners will be responsible for the Thunder's operations this year, but all they will do it treat the Thunder as a warm body for the season without giving the team anything more than basic functionability. The other seven teams are adding players and building their rosters. The Thunder have not made a roster addition since Dec. 18. Already at this point, the AFL is treating the Thunder as an afterthought.
This all leaves some major questions. Who will be compiling the Thunder's roster? Will the other owners hire a general manager for the team? Will a league representative be tabbed to act in that role? Will this all be up to Olson, who will have to do double duty with league approval? What happens during the season when injuries occur and the team needs to put those players on IR and find replacements for them?
There are a series of other questions. Who will sell tickets to games? When you call the Thunder ticket office, will you get a complete message of automation or will you be directed to AFL headquarters? What will games at Moda Center at the Rose Quarter look like? Certainly, the remaining owners will not want to pay for pre-game or halftime pyrotechnics and other attractions to fill halftime and timeout lulls. Why should they? Will advertisers be willing to pay for space at the arena knowing this is the final season for the Thunder (I would guess the "Emmert International" ads will be gone from the dasher boards)?
For that matter, will fans continue to care?
For all of this and more, Butera and the league need to come up with and disclose a plan of action. If the league is going to take over this team, it must actually run it. It is absolutely essential that if he really does "value the Thunder fans" as he says he does, Butera must tell us how the Thunder will be run.
Rosy statements with nothing to back them up just do not accomplish that. What is needed is for the commissioner to be up front and honest.
-
Angi

______________________________________________________________
Angi Says
is a periodic blog written by the general manager of the Sports Coast to Coast forum. It generally features topics from the sports which are covered on the forum.
To comment on this thread and others on this forum, please
login
or
register
.