Post by Kasey on Oct 27, 2013 11:27:07 GMT -8
Well, it's that time of year again. Kids of all ages are dressing up in costumes, leaves are falling off the trees and temperatures are slowly dropping.
Oh yeah, and the NBA season is upon us. The Portland Trail Blazers tip of the 2013-14 campaign Wednesday night at Phoenix.
It's no news that this summer has been a busy and exciting one for the Blazers in both player personal and around the Rose Quarter. The additions of Robin Lopez, Thomas Robinson, Dorell Wright, Mo Williams and Earl Watson -- as well as drafting of CJ McCollum and draft day trade for Allen Crabbe -- have given the Blazers a nice mixture of youth and experience.
But most of all, the team now has a bench which alluded them last year. GM Neil Olshey also appeased LaMarcus Aldridge with a legitimate starting center in Robin. On media day, LaMarcus commented on the upgrade his new frontcourt mate brings to the team.
"I think that Lopez is gonna be night and day. I loved playing with J.J. (Hickson), but Lopez is a true center. he's like 7'1", 7'2" ... I don't know what he is; he's just massive. He clogs the lane really well and blocks shots really well."
Robin Lopez
The new additions bring with them a wealth of experience and willingness to pass on their knowledge to the young guys. It seems one of the pivotal words we keep hearing is chemistry.
I think the team had chemistry last year, but it seems even more intense this year. I truly believe all these guys want to win and are greatly looking forward to playing alongside one another. I'm pretty sure all professional athletes have at least healthy sized egos. With these 15 guys, you can go to the entrance at the practice facility or the former Rose Garden and see those egos hanging at the door.
What does that mean? I'd say it means cooperation and teamwork. You don't have to be a rocket scientist or brain surgeon to know that bodes well for this team.
Damian Lillard will enter his second season. There's always talk of the dreaded sophomore slump. This concerns me very little when it comes to Damian. During a player's rookie season, about 30-35 games into the season there is talk about the player hitting the rookie wall. This is where enough scouting has been done on him where he slows down. That didn't happen to Damian. So I say no rookie wall; no sophomore slump either.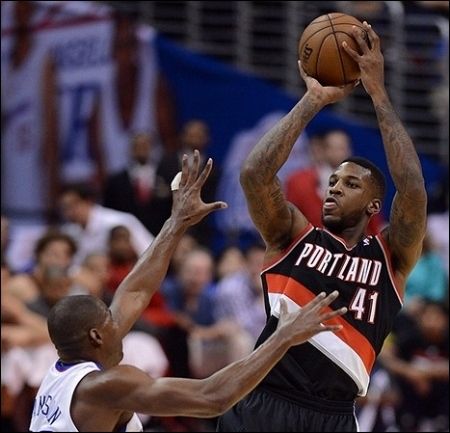 Thomas Robinson
Nicolas Batum is healthy and ready to take the next step. Without a contract situation to worry about, and fresh off his home country's championship in EuroBasket, I believe he's ready to start the season.
Despite Wesley Matthews' recent irregular heartbeat, he has been cleared to play. It appears he's as excited as ever at entering this season. Following his ankle issues the past couple of years, this year seems like a new beginning for he and the team.
LaMarcus is still the leader of this team. Some will say that has been transferred to Damian, but think about this: Olshey made his moves over the summer specifically with LaMarcus in mind; not Damian. False trade rumors aside, this season has the potential to be a huge one for the eighth-year pro. He leads by example and reports are that he's more vocal than in past years.
Victor Claver and Will Barton figure to factor into the mix, as Victor possesses a high basketball IQ, and Will has the capability of providing instant offense. Both players will have to earn their minutes.
Perhaps the biggest surprise to come out of pre-season is when Coach Terry Stotts named Joel Freeland as the backup center over Meyers Leonard, who was seemingly the incumbent for the job. Joel's defense has massively improved. He seems much more confident and versed in the NBA game than he was last season. A summer of reflection and hard work following a rookie season can do that.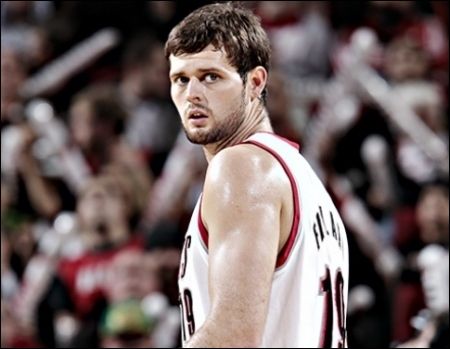 Joel Freeland
Meyers has a role on this team and I'm looking for him to take this move as motivation to try and win back that role. Either way, I believe both will continue to work hard to improve -- which will eventually make them both better players.
So, all that said, let's get to the predictions for the season, shall we?
EASTERN CONFERENCE PLAYOFF SEEDING
1. Chicago Bulls
2. Miami Heat
3. Indiana Pacers
4. New York Knicks
5. Boston Celtics
6. Brooklyn Nets
7. Washington Wizards
8. Toronto Raptors
WESTERN CONFERENCE PLAYOFF SEEDING
1. L.A. Clippers
2. San Antonio Spurs
3. Oklahoma City Thunder
4. Houston Rockets
5. Denver Nuggets
6. Memphis Grizzlies
7. Portland Trail Blazers
8. Golden St. Warriors
FIRST ROUND PLAYOFFS
Bulls over Raptors
Heat over Wizards
Pacers over Nets
Knicks over Celtics
Clippers over Warriors
Blazers over Spurs
Thunder over Grizzlies
Rockets over Nuggets
CONFERENCE SEMIFINALS
Bulls over Knicks
Heat over Pacers
Clippers over Rockets
Thunder over Blazers
CONFERENCE FINALS
:
Bulls over Heat (no three-peat for Heat)
Clippers over Thunder (Clips too deep for OKC)
NBA FINALS
Bulls over Clippers (7 games)
FINALS MVP
Derrick Rose, Bulls
INDIVIDUAL HONORSMost Valuable Player
-- James Harden, Rockets
Most improved Player
-- Enes Kantor, Jazz
Defensive Player
-- Roy Hibbert, Pacers
Rookie of the Year
-- Victor Olapido, Magic
Coach of the Year
--Tom Thibideau, Bulls
And finally, the big question:
How many games will the Blazers win?
What a difference a true center and quality bench makes ... The Portland Trail Blazers will win 45 games this year, to earn themselves the seventh seed in the west.
Now it's your turn; what are your picks?
~ MKM
In Kassandra's Words
began on the Blazers Blogger Network and continues here on this site. Relocating this blog will allow me to include Blazers blogs, but to also expand it to other sports and teams as well.