Post by DiamondThief on Mar 17, 2016 21:13:58 GMT -8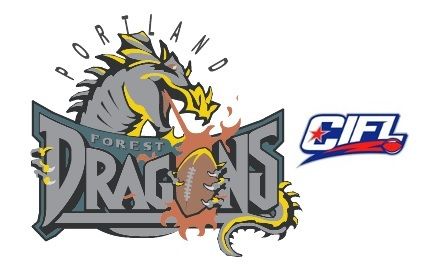 OVERVIEW
The Portland ForestDragons are a Champions Internet Fantasy League football team which was formed in February 2016. They play in the IFL Division of the CIFL, which was formed in January 2016. The team is named after the former Arena Football League's Portland ForestDragons, which played 1997-99. The current ForestDragons are based out of a Portland, Oregon Suburb, with a satellite office in Boise, Idaho from where the team will be operated for the majority of the season.
The CIFL plays its games using a combination of players from the Indoor Football League and Champions of Indoor Football. The CIFL begins the 2016 season in the fifth week of the aforementioned leagues' games Eight teams make up the league, forming two divisions, the IFL and CIF. The draft was held over a seven day span between March 10 through March 16.
Through a randomized draft order, The ForestDragons selected first in the odd numbered rounds and last in the even numbered rounds. This meant they were afforded the first selection in the draft. With that pick, they selected wide receiver Demarius Washington of the Indoor Football League's Colorado Crush. Another notable selection came in the second round with the 16th overall pick, where they selected quarterback Dylan Favre of Champions of Indoor Football's Cedar Rapids Titans. Favre is the nephew of former NFL Super Bowl winner Brett Favre.
The ForestDragons are innovative when it comes to technology and have created the league's first media guide blog and thread (this page). The team is run by using a notebook computer, tablet and cellular phone. This enables its owner flexibility in coordinating activities involving both the team and the league; 24 hours a day, seven days a week.
The ForestDragons are owned by Angela Martin, a native of the Portland area. The only female owner in the league, she is a three-year letter in high school softball and has studied tae kwon do for 12 years. She is currently a freshman in college studying communications. On March 17, Martin announced that her youngest sister, Monika, would serve as a consultant for the team.
ROSTER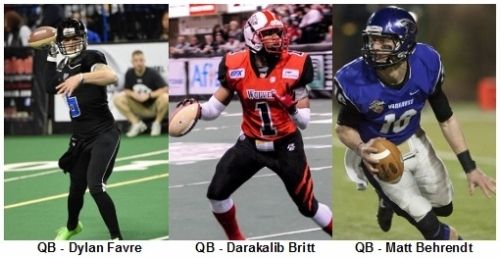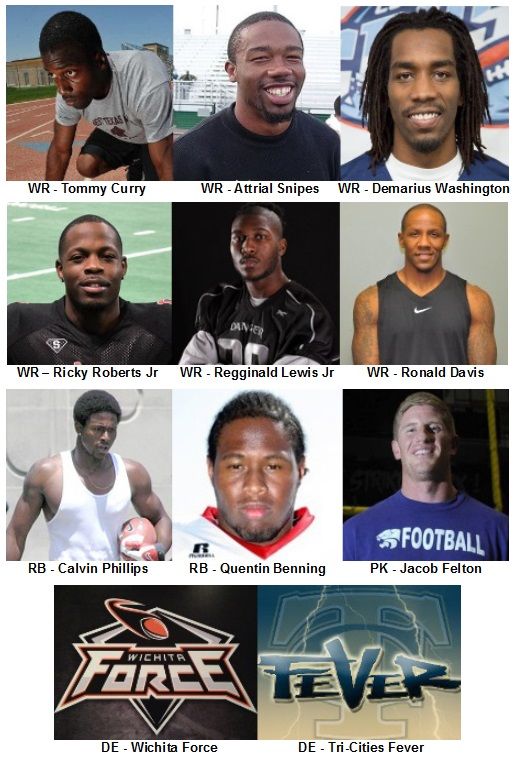 REGULAR SEASON SCHEDULE
Week 1-4 -- Bye
Week 5 (March 18-20) -- vs. Georgia Fire
Week 6 (March 25-27) -- vs. San Diego Rapids
Week 7 (April 1-3) -- vs. Rochester Raiders
Week 8 (April 8-10) -- vs. Dallas Desperados
Week 9 (April 15-17) -- vs. Quad City Steamwheelers
Week 10 (April 22-24) -- vs. Charlotte Rage
Week 11 (April 29-May 1) -- vs. Washington Commandos
Week 12 (May 6-8) -- vs. Georgia Fire
Week 13 (May 13-15) -- vs. San Diego Rapids
Week 14 (May 20-22) -- vs. Rochester Raiders
STATEMENT FROM OWNER ANGELA MARTIN
"We are excited to be involved in such a progressive football league as the CIFL. What fans can expect is start-to-end action from this group and we are thrilled with the players we have acquired. We expect them to have tremendous chemistry and a uniquely high motivation to win. If I were an opponent, I would not want to see this team on the other side of the field."


CIFL TEAM MAP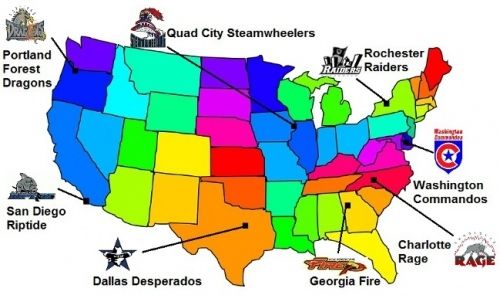 OWNER'S PICK-BY-PICK DRAFT ANALYSISRd. 1, Pick 1 -- WR Demarius Washington
: "
We looked at several players here, but Demarius' playmaking ability was too valuable to pass up. He is the type of player around which you can definitely build a franchise. We could not be more thrilled to welcome Demarius to Portland.
Rd. 2, Pick 16 -- QB Dylan Favre
: "
Dylan is a strong passer with an exceptional pocket presence. We are thrilled to be able to build our team around a player with his skill set. Obviously, he comes to us from a solid quarterbacking family, so we know the game of football is in his genes
."
Rd. 3, Pick 17 -- RB Calvin Phillips
:
"Calvin gives us a big, explosive runner with the ability to break a big run and withstand the punishment defenders in this league can bring. We are thrilled to bring him in as not only a complimentary piece, but as a featured attraction of what is turning out to be an extremely high-powered offense; an offense which is more than capable of leading our team to the CIFL championship."
Rd. 4, Pick 32 -- WR Ronald Davis
:
"Ronald is a solid receiver who will be an outstanding compliment to our first overall pick, Demarius Washington. He is always capable of a breakout game and we are looking for some great things from him. We are happy to have him come to the Rose City."
Rd. 5, pick 33 -- QB Darakatalib Britt
:
"We are ecstatic that Dak was available. We love what he can bring to the team. We feel we have an exciting player who could start for most teams. We are confident that he can back up Dylan and come in during bye weeks and be successful. We are thrilled that Dak will be in a ForestDragons' uniform this season."
Rd. 6, Pick 48 -- WR Tommy Curry
:
"We're looking forward to having Tommy in Portland. He's the kind of receiver who is always poised to make a great play. We are looking for great things from him this season."
Rd. 7, Pick 49 -- RB Quenin Benning
:
"We are absolutely elated that Quentin was still available at this point in the draft. He is going to give us some quality and depth at the running back position. Quentin and Calvin Phillips will make for an exceptional one-two punch."

Rd. 8, Pick 64 -- WR Attrial Snipes
: "
Attrial is an explosive player who we expect big things from in 2016," ForestDragons owner Angi Martin said. "We look to him to be an intragal part of our offense from day one. We are very excited about this pick.
"
Rd. 9, Pick 65 -- QB Matt Behrendt
: "
Quarterback is the most important position on the field and perhaps in all of sports. This selection brings a very talented passer to Portland. Depth is a priority for this franchise and we like what Matt can bring to this team
."
Rd. 10, Pick 80 -- DE Wichita Force
: "
Our defensive coaches are very excited to have such an opportunistic group of players on the roster. This unit collectively has the talent to stifle opposing offenses, as well as to create turnovers and get the ball back to our offense. We feel this is a tremendous pick and look forward to having these players in the Rose City.
"
Rd. 11, Pick 81 -- WR Regginald Lewis, Jr.
: "
Regginald gives us a receiver capable of exploding any given week. He is a wild card and we look forward to seeing him on the field.
"
Rd. 12, Pick 96 -- PK Jacob Felton
: "
We are excited to have a kicker of Felton's range and accuracy. We expect him to solidify our kicking game significantly.
"
Rd. 13, Pick 97 -- DE Tri-Cities Fever
: "
This squad has shown flashes of brilliance this season. It is a young group, but we feel the guys have a lot of potential and a high learning curve
."
Rd. 14, Pick 112 -- WR Ricky Roberts, Jr.
: "T
his pick is commonly referred to as 'Mr. Irrelevant,' but there is nothing irrelevant about the potential we see in Ricky. He is the type of player who will improve week in and week out. We feel that Ricky is a very exciting prospect
."
FEATURED PHOTO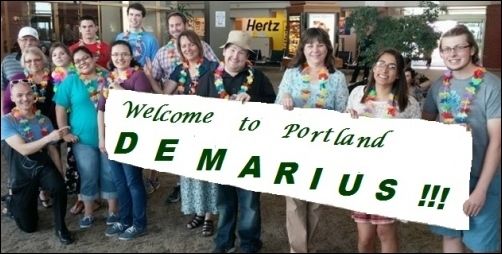 ForestDragons fans at the airport welcome first overall pick Demarius Washington to Portland
.
______________________________________________________________
Angi Says
is a periodic blog written by the general manager of the Sports Coast to Coast forum. It generally features topics from the sports which are covered on the forum.
To comment on this thread and others on this forum, please
login
or
register
.