Post by DiamondThief on May 14, 2016 15:00:14 GMT -8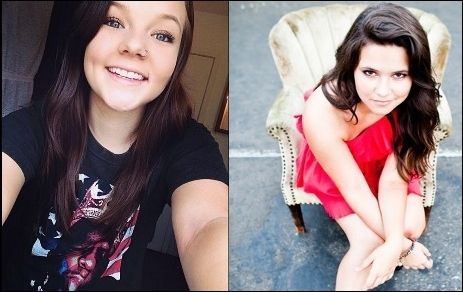 May 14, 2016 --
This is the story of two girls.
One came from a large family. She was the fifth oldest of eight children; the self-proclaimed goofball and dork. She says being a dork is a good thing and laughs every time she thinks of the words. She laughs a lot. A whole lot. But not only that, she makes people laugh. The is clearly the entertainer of the family.
And entertainer is perhaps the best word to describe her. She has been playing piano since she was five years old. She has been playing guitar since she was eight. She has been singing and writing her own music since she was 10.
She played piano in her high school's band throughout high school.
She has had her own band which has toured locally around the Portland area and, upon her graduation from high school, while vacationing with her grandparents, it was arranged so that she could sit in with a blues band at a club in Chicago.
The other's familial background is quite the opposite. Her father passed away when she was three and her mother was … let's just say, absentee. Without any other family, she spent most of her childhood in the foster care.
Despite this, she always maintained a positive, curious outlook and outreaching sense of humor.
One day, when she was about 10, she was walking home from school to what she estimates as her eighth foster home in seven years. She walked past a church and stopped. Music was coming from inside and she wanted to listen to it.
The next day she walked past the same church and stopped on the sidewalk to listen again. A secretary came out from the office and invited her inside to listen. The girl said she declined because she did not think it was okay.
The next week, she walked past and stopped again. And again. Finally, on this fourth day, she accepted the secretary's invitation. She says now that she was overwhelmed and mesmerized by the experience. She became a mainstay.
She was offered the opportunity to learn an instrument. Her foster parents saw no problem with this, so she began learning the violin. She would play it through high school.
These two girls, one from Oregon and one from Nevada, would find themselves at the University of California at Berkeley. Both under scholarship, they were music majors. It did not take long for the two to start talking and become close friends.
They often remark that they are so similar in their personalities that they share the same brain. The absolutely share the same sense of humor.
They became roommates for their sophomore years and, for lack of better terms, best friends. The violinist visited the pianists' and met her family several times on breaks from school. The family was equally impressed with her personality, outlook and compassion.
She spent her summer prior to their senior year in Oregon, even working for her best friend's family business. She was astounded that she actually had some "serious money" in her pocket for the first time in her life.
In fact, the family has "adopted" her, and she plans to make her home in Portland.
This weekend is a huge weekend for these two very different, yet very similar girls.
This is the weekend where four years of hard work, friendship and laughter culminate in their graduations from college, both with degrees in music; the first with a minor in business and the second with a minor in English.
It has been a long road for each, but it a dream for one and what the other says she felt was a near impossibility when she was younger. Seeing them both today, the pride in their eyes and smiles is more than evident.
On a personal note, I would like to say congratulations to Jessica and to Heidi. Not only have you accomplished something great in your lives, you both have proven that nothing can stop you in the future.
I believe I speak for everyone in our family and for everyone on this forum when I say; we are all proud of you as well.
-
Angi
______________________________________________________________
Angi Says
is a periodic blog written by the general manager of the Sports Coast to Coast forum. It generally features topics from the sports which are covered on the forum.
To comment on this thread and others on this forum, please
login
or
register
.