Post by Kasey on Oct 16, 2016 7:39:11 GMT -8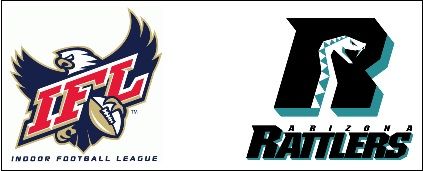 October 15, 2016
-- The Arizona Rattlers have a home in the Indoor Football League beginning in the 2017, according to a source exclusive to
SCtoC
.
In a
tumultuous week
for the Arena Football League, the Rattlers were one of five teams over Thursday and Friday to either fold or seek membership in a different league. The IFL league has approved the Rattlers' application and is formulating its schedule to include the team for the upcoming season.
The other AFL team who announced it would move to another league -- the Jacksonville Sharks -- saw its application to the IFL denied due to geographical considerations. Our source, direct to
SCtoC
, said that this decision was made to respect the integrity of the regional format.
The Rattlers, based out of Phoenix, will be the southern-most team in the IFL. The Rattlers farthest opponent is the Green Bay Blizzard; about a five-hour flight. Their nearest is the Salt Lake Screaming Eagles, about an hour-and-a-half flight. The Colorado Crush are a bit farther with an hour-and-40-minutes flight to Denver and an hour drive north to Fort Collins.
Had they joined the IFL, Jacksonville's nearest opponent would be the Cedar Rapids Titans, over a four-hour flight (nearly 17 hours by car). The Iowa Barnstormers and Green Bay Blizzard are next with reported four-hour, 20-minute flights.
The Sharks, which will have to re-brand due to the fact the AFL owns the trademark, are reportedly seeking a membership in the Arena Developmental League. That league, based in Columbus, Georgia, will be entering its first season in 2017. It features teams from Georgia, South Carolina, North Carolina, Ohio, Pennsylvania and Kentucky.
The Rattlers won five ArenaBowl titles over their time in the AFL.
The AFL announced it
will proceed
with a 2017 season consisting of the Cleveland Gladiators, Philadelphia Soul, Tampa Bay Storm and expansion Washington D.C. Valor. The Sharks and Rattlers have left the league. The Orlando Predators and Los Angeles KISS have suspended operations. The Portland Steel, a re-brand of the Portland Thunder, were owned by the league during the 2016 season. There is speculation that former owner Terry Emmert will apply for a new expansion team in the IFL. Accordiung to our sources, discussions between Emmert and the IFl have taken place over the past year, but no application has been submitted.
On this site, the
DiamondThief
wrote that this could and, perhaps should, be
the end of the AFL
.
The IFL will be set to start 2017 with the Spokane Empire, Sioux Falls Storm, Cedar Rapids Titans, Green Bay Blizzard, Iowa Barnstormers, Wichita Falls Nighthawks, Nebraska Danger, Billings Wolves and Salt Lake Screaming Eagles. There have been rumors that the Billings franchise will fold prior to the season, but no official announcement has been made.
-
MKM
To comment on this thread and others on this forum, please
login
or
register
.