Post by Brian on Aug 22, 2014 11:20:02 GMT -8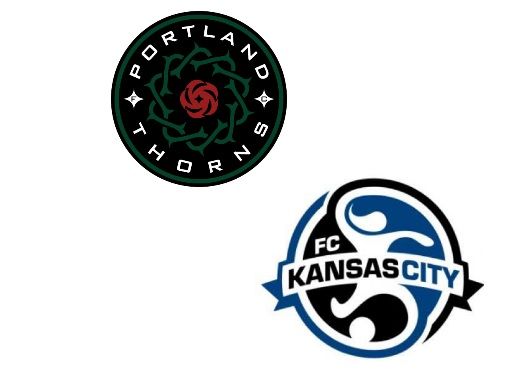 Portland Thorns FC at FC Kansas CityWhat
: The
Thorns
and
FCKC
meet in the first round of the playoffs for the second time in two years.
When
: August 23, 10 a.m. (pacific time).
Where
: Verizon Wireless Field at Durwood Stadium, Kansas City, MO.
Media
: ESPN2 (TV), ESPN3 (streaming).
Web
: Once the game begins, click to follow the running
boxscore
Fact I
: Portland has outscored FCKC by a combined margin of 10-3 in their three games this season.
Fact II
: FCKC has scored just one goal in each of the games.
Forum
: Join the conversation by registering for the forum
here
.
SEASON SERIES
April 26 - at Portland 3, Kansas City 1
June 28 - at Kansas City 1, Portland 0
July 13 - at Portland 7, Kansas City 1
NOTE
In the other semifinal, Seattle Reign FC will host the Washington Spirit on August 24 at 8 p.m. on ESPN2.
FINAL NWSL STANDINGS

Portland Thorns FC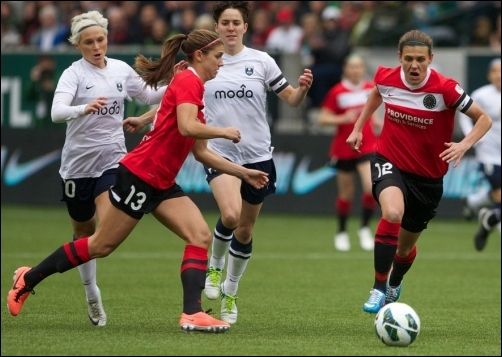 The Thorns, who finished with 36 points, sported a record of 10-8-6 with 39 goals for and 35 against. They are coming off a gritty 1-0 win over Seattle Reign FC, which enabled them to reach the playoffs, on August 17 at Providence Park. Portland is the defending 2013 NWSL champions. Alex Morgan and Christine Sinclair (
pictured
) will look to lead the Thorns past FC Kansas City in the first round of the playoffs for the second consecutive season.
SEASON LEADERSGoals
- Jessica McDonald 11, Allie Long 9, Christine Sinclair 7.
Assists
- Veronica Boquete 6, Stephanie Catley 5, Alex Morgan 4.
Shots on Goal
- Christine Sinclair 40, Alex Morgan 36, Jessica McDonald 26.
Saves
- Nadine Angerer 74, Michelle Betos 9.
PLAYERSGoalkeepers
- Nadine Angerer (1), Michelle Betos (18).
Defenders
- Rebecca Moros (2), Stephanie Catley (4), Mikki Marshall (7), Rachel Van Hollebeke (16), Emily Menges (21),
Midfielders
- Meleana Shim (6), Angie Kerr (8), Veronica Boquete (9), Allie Long (10), Tobin Heath (17), Sarah Huffman (19), Amber Brooks (22), Sinead Farrelly (24).
Forwards
- Christine Sinclair (12), Alex Morgan (13), Jessica McDonald (14), Jackie Acevedo (23), Hanna Terry (28).
Inactive
- Kat Tarr (D), Courney Niemiec (D/M).
Head Coach
- Paul Riley
Assistant Coaches
- Michael Demakis, Skip Thorp, Scot Thompson
Goalkeeper Coach
- Steve Reese
Athletic Trainer
- Katie Donnelley
Equipment Manager
- Megan Lovich
FC Kansas City
FC Kansas City finished in second place in the NWSL with 41 points. They finished with a record of 12-7-5, with 39 goals for and 32 against. The finished the regular season with a 1-0 loss to the Chicago Red Stars on Aug. 9 in Chicago. Amy Rodriquez (
pictured
) scored a team-high 13 goals for FCKC this season. She also had 3 assists and 3 game winning goals.
SEASON LEADERSGoals
- Amy Rodriquez 13, Lauren Holiday 8, Sarah Hagen 4, Erika Tymrak 4.
Assists
- Lauren Holiday 7, Jenna Richmond 4, Erika Tymrak 4.
Shots on Goal
- Amy Rodriquez 38, Lauren Holiday 35, Erika Tymrak 20.
Saves
- Nicola Barnhart 71, Sarah Keane 9.
PLAYERSGoalkeepers
- Sarah Keane (1), Nicole Barnhart (18).
Defenders
- Becky Sauerbrunn (4), Leigh Ann Robinson (13), Kassey Kallman (14), Amy LePeilbet (17), Nikki Phillips (23).
Midfielders
- Jen Buczkowski (6), Jenna Richmond (7), Merritt Mathias (9), Erika Tymrak (15), Mandy Laddish (25).
Forwards
- Liz Bogus (5), Amy Rodriquez (8), Frances Silva (10), Morgan Marlborough (11), Lauren Holiday (12), Katrina Gorry (19), Sarah Hagen (22).
Inactive
- Molly Dreska (M), Missy Geha (M)
Head Coach
- Vlatko Andonovski
Technical Director
- Huw Williams
Assistant Coach
- Goran Karadzov
Goalkeeping Coach
- Kelly Miller
Strength & Conditioning Coach
- Scott Moody
Game PreviewsFrom the Thorns official website
:
PORTLAND, Ore. — Meeting for a second consecutive season in the semifinal round of the NWSL Playoffs, No.3 seed Portland Thorns FC squares off against No. 2 seed FC Kansas City in a nationally televised match on Saturday at Verizon Wireless Field at Durwood Stadium in Kansas City, Mo. Saturday's match marks Portland's third consecutive road game in postseason play after contesting both the semifinal and championships game on the road in 2013.

Saturday's match will be carried lived on ESPN2; kickoff is set for 10 a.m. (Pacific).

Facing FC Kansas City on the road in Portland's first-ever postseason match, Thorns FC overcame a 2-0 deficit, registering three unanswered goals in a dramatic, 3-2 win in overtime on Aug. 24, 2013, at Shawnee Mission District Stadium in Overland Park, Kan. Portland stormed back after surrendering a pair of goals in the first 25 minutes as midfielder Tobin Heath tallied her first goal in a Thorns FC uniform in the 33rd minute. Portland tallied the equalizer in the 65th minute to send the match to overtime. In the first of two, 15-minute overtime halves, midfielder Allie Long netted the game-winning goal in the 103rd minute to send Thorns FC to the 2013 NWSL Championship match.

Portland's home form down the stretch was critical in helping the team secure a playoff spot. Thorns FC finished the season on a five match unbeaten streak (4-0-1) at Providence Park, including a playoff-clinching win over No. 1 seed Seattle Reign FC on Aug. 17. In the last five home matches, Portland outscored its opponents 17-6, while holding a 15-4 advantage in goals in four straight wins at home to finish out the regular season. Thorns FC shutout their final two opponents at Providence Park and clinched the third seed in the NWSL Playoffs by earning a 1-0 victory against Seattle in the team's regular-season finale on Sunday. After a scoreless first half, forward Alex Morgan broke the deadlock, making a run to the left post and heading in Long's corner kick for the game-winning goal in the 68th minute. Goalkeeper Nadine Angerer was in top form in the match, recording a clean sheet, while making five saves.

Thorns FC (10-8-6, 36pts) enter Saturday's match with a 2-1-0 regular-season record against FC Kansas City this season, having outscored the Blues, 10-3, in three meetings. Portland put on a record-breaking performance in the last meeting between the two sides at Providence Park with a 7-1 victory on July 13. Thorns FC set NWSL single-game records for goals (7) and largest margin of victory (6) in the match. Five different players scored goals (Vero Boquete, Morgan, Long, Christine Sinclair and Amber Brooks), while both Boquete and Long registered a brace. Boquete also added a pair of assists.


In eight meetings all-time, the two teams have combined to score an astounding 34 goals. Only one match has finished in a draw – the inaugural NWSL match on Apr. 13, 2013, which finished tied, 1-1. Portland has compiled a mark of 4-3-1 all-time against FC Kansas City in all competitions, while outscoring head coach Vlatko Andonovski's side 20-14. In seven of the eight matches all-time, multiple goals have been scored by at least one team six times, while both teams have scored multiple goals three times in a match.

Individual performances have stood out as well in the eight previous meetings. Long has registered five goals all-time against FC Kansas City in all competitions and forward Jessica McDonald scored her first career brace in a 3-1 win on Apr. 26 at Providence Park. A total of 10 Thorns FC players have scored a goal against FC Kansas City in the all-time series.

Portland has several players that could see their first action in the NWSL Playoffs this weekend. Comparing the 2014 squad to last year's team, only midfielders Mana Shim and Angie Kerr, defender Rachel Van Hollebeke, forward Christine Sinclair, Heath, Long and Morgan saw action in the 2013 NWSL Playoffs for Thorns FC. Defender Nikki Marshall did as well, but will be unavailable during the postseason due to injury. Two other current Portland players appeared in the playoffs last season, but with different teams: Sinead Farrelly (FC Kansas City) and Sarah Huffman (Western New York). Heath, Sinclair, Shim, Kerr, Long and Van Hollebeke all featured in the 2013 NWSL semifinal at FC Kansas City. Morgan did not appear in the semifinal match, but was available as substitute after recovering from a late-season knew injury.

Individually, McDonald finished the regular season ranked among the top goal scorers in the league. The forward ranked third tied for third with 11 goals, while she was one of just two players along with Marshall to appear in all 24 regular-season matches for Portland. Boquete ranked among the league leaders during the regular season with six assists, tying her for third in the NWSL. Sinclair finished the regular season leading the league in both shots (77) and shots on goal (40), while Long led the league in corner kicks (103) and ranked tied for fifth with nine goals. Angerer ranked both fourth in saves (74) and shutouts (4) among goalkeepers.

As a team, Thorns FC finished with the league lead in shots (361), shots on goal (177) and corner kicks (149), while ending the regular season tied for third in goals (39) and ranked second in assists (29).

Thorns FC have compiled a mark of 11-6-8 (.600) on the road in all competitions since 2013, including a 2-0-0 record on the road in the postseason.

FC Kansas City (12-7-5, 41pts) was one of two teams, along with Seattle, to go unbeaten at home during the regular season (8-0-4). Saturday's match will be the first for FC Kansas City since finishing the 2014 regular season with a 2-1 loss to the Chicago Red Stars on Aug. 9 at Benedictine Sports Complex in Lisle, Ill. FC Kansas City boasts a strong attack, scoring 39 goals during the regular season led by forward Amy Rodriguez's 13 goals, which finished second in the NWSL. Tied for second in the league in assists (7), midfielder Lauren Holiday is another scoring threat with eight goals this season. In eight games all-time against Portland, Holiday has tallied seven goals. Goalkeeper Nicole Barnhart is among the top goalkeepers in the league, leading the way with eight shutouts. She also ranks among league leaders in saves (71).
From the NWSL's official website:
CHICAGO (Aug. 20, 2014) – Lauren Holiday and FC Kansas City host Alex Morgan and defending champions Portland Thorns FC on Saturday, August 23 at 1 p.m. ET live on ESPN2 in the semifinals of the 2014 NWSL Playoffs at Verizon Wireless Field in Kansas City, Mo.

Holiday and the Blues will be looking to avenge a 3-2 home playoff loss at the same stage last season when FCKC stormed to a two-goal lead in the first 25 minutes through goals from midfielder Erika Tymrak and forward Melissa Henderson only to eventually lose following Thorns midfielder Allie Long's game-winning goal in extra time.

Midfielder Tobin Heath ignited the comeback victory with a goal in the 33rd minute before forward Tiffany Weimer scored in the 65th to force extra time and set the stage for Long's game winner in the 103rd and put Portland on the path to claim the 2013 NWSL Championship over the Western New York Flash.

But if Portland is to take down FC Kansas City this year, the Thorns will need to do something no team has been able to all season – beat the Blues at home.

FCKC comes into the contest boasting an undefeated 8-0-4 record at Verizon Wireless Field in 2014 – tied with Seattle Reign FC for the best home record.

The Thorns are 3-4-5 on their travels this season and have not won away from Providence Park since a 6-1 victory over the Washington Spirit on June 21. Following that rout, the defending champions went on a run of six road games without a win – starting with a 1-0 loss June 28 to FC Kansas City in the only previous match between the two sides at Verizon Wireless Field this year.

Despite that setback, Portland still claimed the season series with a 2-1-0 record against FCKC – including a 3-1 win April 26 and a 7-1 victory July 13 that set league records for most goals scored and largest margin of victory.

The six-goal thrashing was one of three games this season in which the Thorns scored more than five goals in a match. Still, Portland would not be in position to defend its title without the heroics of Morgan on the final day of the regular season.

The U.S. international headed home a 68th-minute corner delivered into the box by Long to score her sixth goal – and third game-winner – to go along with four assists in 14 games this season. Goalkeeper and Germany international Nadine Angerer made Morgan's tally hold up with five saves to post her fourth shutout of the year.

The Thorns were given a boost with both Heath and defender Rachel Van Hollebeke returning to the starting lineup for the first time since suffering a sprained right knee and concussion symptoms, respectively.

Heath has yet to score in the five games she has played this season for Portland. However, a host of players have stepped up in her absence – including Long (9 goals, 3 assists), forwards Jessica McDonald (11 goals) and Christine Sinclair (7 goals), midfielder Veronica Boquete (4 goals, 6 assists) and defender Stephanie Catley (5 assists).

Stopping the Thorns offense – tied with FCKC for third in the league – has been a tough task all season and one that will fall to the No. 3 ranked defense led by U.S. internationals Becky Sauerbrunn and Nicole Barnhart.

Sauerbrunn, the 2013 NWSL Defender of the Year, and Barnhart, the 2013 NWSL Goalkeeper of the Year, continued their strong form in 2014.

Behind her backline of Sauerbrunn, Leigh Ann Robinson, Nikki Phillips and Merritt Mathias, Barnhart recorded a league-best eight shutouts – including in six consecutive starts, which included a scoreless streak of 587 minutes.

It was a defensive performance that served as the backbone of a seven-game winning streak from May 25 to July 6 that tied the NWSL record previously set earlier in the season by Seattle.

In addition to a strong defense, FC Kansas City's attacking contingent of U.S. internationals has also been vital to the club's success this season.

Holiday, the 2013 NWSL MVP, recorded eight goals and seven assists this season and forward Amy Rodriguez ranked second in the league with 13 goals, while forward Sarah Hagen (4 goals in 9 games) and Tymrak (4 goals, 4 assists) were also key contributors.

The Thorns and FC Kansas City are the only two teams that made the playoffs in 2013 to return to the postseason in 2014.