Post by DiamondThief on Feb 13, 2015 19:33:21 GMT -8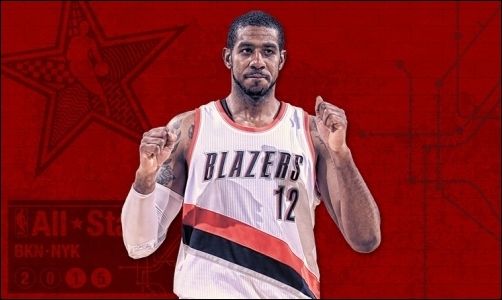 NBA All-Star Weekend is here and everything is set. Almost.
We know all the rosters and injury replacements, but one question remains: Who will coach Steve Kerr anoint to start in the All-Star Game in place of New Orleans' Anthony Davis, who had to withdraw after suffering a shoulder injury. Davis, Memphis' Marc Gasol, Clippers' Blake Griffin, Lakers' Kobe Bryant and Golden St.'s Stephen Curry were voted as the West's starting lineup. Bryant and Griffin are injured and Kerr announced on Wednesday night that Golden St.'s Klay Thompson and Houston's James Harden would replace them.
Kerr still has to make a decision on who will replace Davis in the starting lineup. The leading candidates seem to be Portland's LaMarcus Aldridge, San Antonio's Tim Duncan and Oklahoma City's Kevin Durant. Aldridge, playing in his fourth All-Star Game, is the best choice. Here are five reasons why:
1
. Aldridge is averaging 23.6 points and 10.4 rebounds per game on the third best team in the west. Duncan's numbers are 14.5 points and 9.9 rebounds and his team is in sixth place. In fact, Duncan's selection to the game is more of a lifetime achievement award than his production this season.
2
. Durant's numbers are good, but his team is not even in the top eight in the Western Conference. Beside that, Durant has only played in about half of the Thunder's games. Quite frankly, that fact should make him ineligible to even be on the team, let alone start.
3
. Aldridge would give the West a traditional starting lineup. Yes, Harden may be listed as a shooting guard, but he often plays the small forward spot so that is not much of a stretch. Pairing Aldridge with Gasol would give the West a formidable starting front line.
4
. Aldridge has shown a huge amount of heart this season, delaying surgery to come back and play despite a torn ligament on his left thumb. He is wearing a splint and playing better than he ever has, according to most fans.
5
. It would give the NBA a chance to showcase a player and his team who tend not to get the full force of the league's promotional power. Large markets and superstars has been highlighted by the league in its promotion for decades now. Starting Aldridge could expose fans to another player who deserves some accolades, who plays on a team which is often on the short end of the NBA's promotional plan.
6
. Aldridge is a four-time all-star (I agree with him that this should be his sixth). He is arguably the best power forward in the NBA (in the very least, the best power forward on a playoff situated team). Unlike perhaps some others, he would appreciate the nod immensely. Aldridge is a team player on a team with great chemistry, but he takes such individual honors seriously and as great personal honors. His appreciation level would be off the charts.
7
. He's a great player who brings it every night. He is a great person with great character. if Kerr, a former player, wants to show that the league rewards its high character guys, you can't get any better than a guy who enjoys sitting at home watching
Law and Order
with his mom.
8
. Quite simply, he deserves it.
You can add to this list with your reasons as well in the comment section.
-
Angi
To comment on this thread and others on this site, please
login
or
register
.