Post by SurferGirl on Apr 11, 2015 14:26:33 GMT -8
April 11
--
ESPN Los Angeles radio host Ramona Shelburne recently stated that she thought Blazers power forward LaMarcus Aldridge is more available than the current perception would indicate.
Shelbourne's statements have stirred up a group of Lakers fans who believe they have a chance at landing the ninth-year forward, whose contract expires at the end of this season, in free agency. The statements were relayed by Ryan Ward on
www.lakersnation.com
. To his credit, Ward sticks to a summary of Shelburne's statement, pretty much straight up as a news article.
Shelburne's statement:
"I think LaMarcus Aldridge is actually a lot more in play than people think.

"You have that group there. How can you really improve that group up in Portland? I think Neil [Olshey] has done a great job up there, but it's Portland, he's never quite fit in and they've made it really clear that Damian Lillard is the face of their franchise."
EPSN L.A. radio host Ramona Shelburne
The report has stirred the Lakers pot and has several fans believing they could land the Blazers leader. Most of the fans' points, in the comment section, boast the market size, Lakers owners willingness to open their collective wallet and past history of luring free agents. Some fans are even listing their preferred depth charts with Aldridge. Others are concerned with how adding Aldridge would affect the development of Julius Randle, who was selected with the seventh pick in last summer's draft, but has missed what would have been his rookie season with an injury.
The Lakers also will have a lottery pick in this June's draft.
What Lakers fans' comments -- and Shelburne's statement -- seem to lack is a knowledge of what is going on in Portland with statements Aldridge has made about wishing to be the greatest Blazer of all time and his connection with his teammates, among other things.
Saying Aldridge is more in play than people think is one thing, but it's another to say that Aldridge has "never quite fit in" and that "they've made it clear that Damian Lillard is the face of their franchise." I don't see either to be accurate in the least.
Claiming Aldridge does not fit in makes no sense. If anything, he is the epitome of this team. His inside-out work with Lillard (and before that Brandon Roy) has always made for a great connection. The offense runs through him and the team is renowned internationally as a team with tremendous chemistry. Under coach Terry Stotts, Aldridge has flourished. He's led the team in scoring the past several seasons and has become a double-digit rebounder in the past two seasons. He has made four straight All-Star teams. This team is extremely close knit, from the starters to the bench.
Lillard certainly gets a lot of media attention and being a guard he probably has more of an opportunity to make a media splash than Aldridge. Obviously, Lillard's series winner over the Rockets last May was a huge splash. However, without Aldridge's 46 and 43 points in the game one and two wins in the series, respectively, is why the Blazers were in position for Lillard to hit that shot and advance to the second round. Lillard gets a lot of the media attention, but that does not seem to affect Aldridge. It certainly has not made Lillard the face of the franchise in Portland. While Portland may be a small market, there seems to be plenty of accolades for both in Rip City. I was thinking about this for a while and came up with some comparisons.
Look at the Miami Heat over the past years. LeBron James was the primary threat, but the face of the franchise was always Dwyane Wade. That transition never changed. Now look at the Cleveland Cavaliers. James is the primary threat, but Kyrie Irving gets a lot of attention, similar to that of Lillard in Portland.
The Blazers media staff promotes both, but still refers to Aldridge as the face of the franchise. In fact, Lillard goes out of his way to call the Blazers Aldridge's team. Shelburne's assessment holds no water.
Going to the earlier part of Shelburne's statement, the Blazers can improve the team. As a matter of fact, 30 of 30 general managers in the league will tell you that they can improve their rosters. The Blazers brought in Chris Kaman and Steve Blake, traded for Arron Afflalo, and have been developing CJ McCollum and Meyers Leonard. In fact, the playoff outlook for the Blazers would be improved without the injury to Wesley Matthews (and now Afflalo). The team still can get better. They are probably missing just another piece, which Neil Olshey will likely look at adding this summer.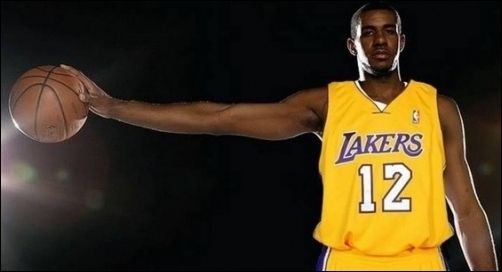 A Lakers fan's pipe dream
In that comments section, I decided to educate fans as to why Aldridge is most likely to stay in Portland:
"I pay attention to a lot of ESPN, but I've never heard of this Ramona Shelburne person. What I can tell you is that this is a pipe dream and that this Ramona character doesn't have a clue what she's talking about. It reminds me of a couple of summers ago when that ESPN idiot Bill Simmons insisted that the Blazers HAD to trade Aldridge immediately (he even came up with countless ridiculous trade scenarios). In truth, Simmons was wrong. There was no urgency in the least.

Key reasons Aldridge is going to re-sign with Portland: 1. The Blazers can offer him five years and a couple more million dollars than any other team, per the CBA; also, no other team can offer him more than a four-year deal. 2. He has gone on record that he wants to be the greatest Blazer ever, and he is on pace to do that with a five-year deal. 3. He wants to play for a contender, and the Lakers aren't even close to that and likely won't be for several years, if that. 4. He has great camaraderie and chemistry with his teammates; something he won't have with a new team. 5. He hates playing center; in Portland he will not be asked to play center except for the rare occurrence when team goes with a small lineup. 6. Terry Stotts' offense allows him to play inside and out, both of which is more than capable and enjoys; why go somewhere else and risk being asked to do something different at this point in his career."

There is a 99% chance that he re-signs with Portland, and the other 1% is that he signs with Dallas, which would allow him to play in his hometown. Sorry guys, but there is absolutely a zero chance Aldridge is going to sign with the Lakers."
Most of the comments pretty much echo the entitlement and arrogance to which we have become accustomed among Lakers fans. It's the reason why, despite being from the Los Angeles area, I have never been a fan of the Lakers (not so much the Clippers either). It should seem clear that, even in the remote chance Aldridge does not sign again with the Blazers, going through another rebuilding process with the Lakers is not something which would interest him.
So is Aldridge more available than most are projecting? Perhaps a tad, but it remains that he is unlikely to go anywhere, let alone the Lakers.
-
Julianne
-------------------------------------------------
This is the debut entry of
From Behind Enemy Lines
on SCtoC. Three entries of this blog appeared on the now-defunct
Blazers Blogger Network
. Julianne is a native of Oxnard, California and the President of this forum. Follow her on twitter:
Julianne412
.
To comment on this thread and others on this forum, please
login
or
register
.