Post by Kasey on May 25, 2015 11:14:18 GMT -8
May 25
-
Much is being said of the moves Blazers President of Basketball Operations Neil Olshey may make this summer to assemble the roster for 2015-16 and beyond.
LaMarcus Aldridge, Wesley Matthews, Robin Lopez, Dorell Wright, Joel Freeland and Alonzo Gee are all unrestricted free agents. Chris Kaman has a team option, and Steve Blake and Arron Afflalo have player options.
Damian Lillard, Nicolas Batum, CJ McCollum and Meyers Leonard are locked in for next season. Allen Crabbe is under contract for next season as well, but it is not guaranteed. Tim Frazier is signed for next season, but his deal is also non-guaranteed.
As with any year, the rumors and speculations are running wild. With three free agents in the starting lineup, the rumors are probably only beginning to fly. Here, I'm going to examine what I believe will happen, per player, to the Blazers roster. I've listed these in the chronological order in which I feel they are likely to be addressed.
LaMARCUS ALDRIDGE2015-16 Salary: N/A
. We start with the L-Train because nothing is going to happen to any other player before his future is determined. Aldridge is the focal point of the team and will be offered the max contract. The real question is whether he will sign a five-year deal or a one-year deal this year followed by a five-year next summer. For security's sake, the former would be the way to go, not having to worry about all this contract talk for another half decade. The latter, however is more likely. Signing for five years now gives him 30 percent of the team's salary cap. signing for one year (or two) and re-signing after that would give him 35 percent of a higher cap, which is expected to make a drastic jump once new television revenue kicks in next summer. The difference over time is expected to be well over $20 million. The Blazers are the only team which can offer him max money, five years and a no-trade clause. Olshey and owner Paul Allen have made it clear that they want Aldridge back no matter what it takes.
The threat
: The Spurs have already said Aldridge is their number one free agency target. Though they can't offer more than the Blazers, his son and son's mother live in San Antonio and that could be a big enticement.
The result
: Aldridge is going to entertain offers, but will sign the one year contract now and likely re-up with the Blazers next summer for what I like to call the "extended max."
WESLEY MATTHEWS2015-16 Salary: N/A
. Matthews' situation is every bit as interesting as that of Aldridge, but for different reasons. There are a couple schools of thought here. One says his torn Achilles lowered his free agency value. The other points to the difference in the Blazers with and without him in the lineup. There's no confusion here; regardless of what other sites may say, the Blazers want him back. They know his value to the team and they know what it means to have him in the lineup with his three-point shooting, driving to the hoop and lock-down defense. They also know the heart he has shown. Matthews enjoys fan interaction and clearly loves being in Portland. He is Aldridge's best friend. He could also sign short-term or long-term. There will be many offers out there, but the feeling is that Matthews would like to come back.
The threat
: Non-specific, but perhaps his hometown Milwaukee Bucks who could pair him with Giannis Antetokounmpo on the wing. He will receive at least three serious offers.
The result
: Welsey will sign a five year contract with the Blazers for around $13-14 million per season.
ROBIN LOPEZ2015-16 Salary: N/A
. There is no player in my Blazers memory who is more "Portland" than Fropez. He's the tough, blue-collar guy which every team needs. He wasn't quite the same after coming back from the hand injury which sidelined him for a third of the season, but an off season of workouts and confidence building should help that. His brother, Brook is also a free agent. Robin will not attract the same money which his brother will, but for what he gives the Blazers (not the least of which is the ability to allow Aldridge to strictly play power forward). He noted in his exit interview that while he realizes this is a business, be likes the culture in Portland and would like to return. Portland also may be the only place where he his guaranteed a long-term starting role.
The threat
: Unknown. However, there are plenty of teams who could look to bring him in to solidify the middle.
The result
: Lopez will come back on a three-year contract which will pay him about $11-12 million per season.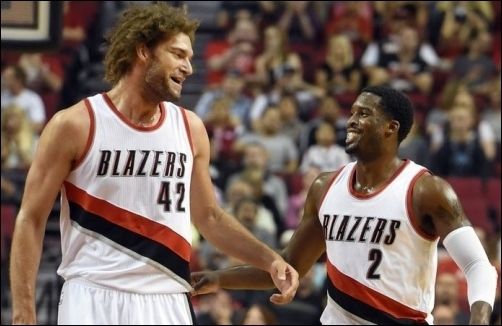 ARRON AFFLALO2015-16 Salary: $7,937,500 (if he envokes his player option)
. The Blazers' mid-season addition will have several options this summer. Afflalo struggled as he was thrust into the starting lineup due to Matthews' injury. If he was not a free agent (he has indicated he will decline the player option on his current contract to test the market), I would say that a full off-season and training camp with the team is just what he needs. The problem here is that Matthews is the starter and will play some heavy minutes. Pair with that the fact the team is dedicated to bringing along McCollum and it's easy to see there are just not enough minutes to go around. Afflalo is a starter in the NBA and that fact alone could see him on another team's roster next season. He could demand as high as the $10 million range after making nearly $8 million this season. Personally, I like Afflalo. He's a positive player with a tremendous attitude.
The threat
: Any team looking for a solid all-around shooting guard.
The result
: After signing Aldridge, Matthews and Robin, there simply won't be enough money (not to mention minutes) to bring back Afflalo and fill out the rest of the roster.
DORELL WRIGHT2015-16 Salary: N/A
. Wright's case is as interesting as any of the others. He hasn't been utilized as well as he could be, but he's always stepped up when called upon. He can hit the three, and his defense and rebounding has been strong in his two seasons with the Blazers. Additionally, the experience he brings is invaluable to any team. He has not complained about the lack of playing time, but there's no question he would like more time on the court. He has also said he would be interested in re-signing with the Blazers. Wright's price tag is not all that high (he made $3.15 million this season), so the Blazers could afford to keep him. He's one of those veteran players who always seems to be in demand around late July.
The threat
: Younger teams looking to add veteran leadership and mentoring.
The result
: While he would like to return and would be an asset to the Blazers, the promise of more playing time is likely to entice him away to a younger team looking to become a contender.
CHRIS KAMAN2015-16 Salary: $5,000,000 ($1,000,000 guaranteed)
. Air Sasquatch was invaluable in a couple of areas to the Blazers. He was exceptional in spelling Lopez for 18-20 minutes per game, bringing offense, rebounding and defense. He was dinged up over the course of the season, but should be healed up and ready to go for what will be his 13th season. The other area was his mentorship of Leonard, Freeland, and even Lopez. Every time one would come off the court, he could be seen on the sideline providing a critique of what he saw. Even if his teammate's stint was an unsuccessful one, the instruction was constructive. Essentially, Kaman was an assistant coach on the court. His minutes would likely be reduced to about 15 per game and that would probably be just fine with him as it could prolong his season. The Blazers have a team option here. One million is already guaranteed and he would be set to earn $5 in 2015-16 should the team exercise the option.
The threat
: Actually, it's probably pretty low, depending on how the Blazers act.
The result
: Olshey exercises the team option to bring Kaman back for his experience and mentoring.
STEVE BLAKE2015-16 Salary: $2,170,465 (if he exercises his player opiton)
. Blake has a player option for the second year of a two-year deal. All indications are that he will exercise the option an come back for another season. For that reason alone, I don't even consider him a free agent. He lives in Portland year-around and he would like nothing more than to finish his career in Rip City. Blake was brought in to do exactly what he did for the Blazers this season; to run the offense and to give Damian Lillard some rest. He still has a couple more years in the tank. Blake is not the long-term answer to back up Damian, but could serve as a mentor to a player like Tim Frazier to groom him into that role (see more on Frazier below). The proverbial ball is literally in Blake's court.
The threat
: None.
The result
: Blake exercises his player option and returns for his 13th NBA season, and sixth overall with the Blazers.
JOEL FREELAND2015-16 Salary: N/A
. The British Bulldog's future with the Blazers is dependent on anything and everything you see above, as well as what the Blazers do with the 23rd pick in this year's draft. He's made strides in his improvement. Coming into his second year, he beat out Meyers Leonard for the backup center spot, and coming into his third, he beat out Thomas Robinson for the backup power forward spot. Regardless of what happens with Freeland, he is an NBA-quality player. He's the enforcer on the team. What could hurt his chances are the fact he mas missed chunks of the past two seasons due to injury. He made just over $3 million this season and would likely sign for a similar amount.
The threat
: Any team which could guarantee him. 20 minutes a game.
The result
: Freeland will re-sign with the Blazers, probably on a one or two year deal; the latter which likely include a team option for the second year.
ALONZO GEE2015-16 Salary: N/A
. 'Zo's potential return will depend on how deep the small forward position becomes after the draft and any potential outside free agent signees. He'll be entering his seventh year in the league, and he's a strong defender who can also hit the three. There's a lot to like in his game. The positive is that he made just over $1 million this season, so his price tag won't be all that high. The negative is that Terry Stotts did not utilize him to his full potential since he was brought over in the trade with Afflalo. He could be seen as a bit of an insurance policy. Personally, I would like to see him in the rotation, but I just don't see where.
The threat
: It's a good bet that any team looking for depth on the wing will have interest in Gee.
The result
: He will sign elsewhere for about $2 million a season where he will have a real chance to crack that team's rotation and play meaningful minutes.
TIM FRAZIER2015-16 Salary: $845,059 (non-guaranteed)
. Frazier is signed through training camp. The Blazers will take a good look at him. From the limited sample we saw at the end of the season, he could very well be groomed as the long-term backup to Lillard. He can run the offense very quickly and is a pass-first point guard, which helps the second unit. In fact, pairing him with CJ in the backcourt could pay huge dividends. Frazier won both D-League Most Valuable Player and Rookie of the Year and is looking to take his next step in his career. He will need to limit his turnovers and improve his shot, but there is unlimited upside here. I would go as far as to say that's a no-brainer.
The threat
: None really, as the Blazers will be able to retain him after training camp.
The result
: The team does just that, so he can learn for a season under Blake.
NICOLAS BATUM2015-16 Salary: $12,235,750
. There are those fans who think Nico should be on the trading block. That's probably drastic. He didn't have the season he had hoped, but that seems like an anomaly. Nagging injuries hampered him all season, but following the All-Star break, he played much more like the all-around player fans have come to expect. It has been said that Batum is the glue which keeps the starting unit together. I can see that. He is adaptable and plays the game required of him, rather than the game which requires him to fill up the stat sheet. Packaging up with the 23rd pick to move up in this draft would be a complete mistake, as there really aren't a whole lot of game changers (if any) in this draft.
The threat
: None.
The result
: Olshey is going to do everything to keep the core together. Trading Batum would undermine that.
DAMIAN LILLARD2015-16 Salary: $4,236,287
. Dame will be in the fourth and final year of his rookie contract. There has been mention of the team extending his contract to max numbers, but it is unnecessary at this point. Lillard will be a restricted free agent next summer when the new TV money kicks in. He will receive an offer from another team, but clearly the Blazers will match it with a five-year deal of it's own and keep the 2013 Rookie of the Year on the roster through the 2020-21 season. Extending him early makes no sense for a pair of reasons: 1. An extension would keep him on the roster through only the 2019-20 season rather than a season beyond; 2. An extension this summer critically hampers Olshey's ability to round out the roster with other free agents.
The threat
: None.
The result
: Lillard and the team put off his contract negotiations until next summer which enables more flexibility this season and allows Damian to sign for more money next summer.
ALLEN CRABBE2015-16 Salary: $947,276 (non-guaranteed)
. Crabbe's 2015-16 contract is not guaranteed, but all signs are that he will be back. He has played well in stretches, shooting well from three-point land and has become a much better defender than some may have thought. It will be tough for him to crack the rotation once again, but the team was 8-0 in the regular season with him in the starting lineup. The biggest dilemma for Crabbe is that there is a logjam at shooting guard and not a lot of minutes at small forward to go around. Still, he has talent and will be back.
The threat
: None.
The result
: Crabbe will have a chance to earn playing time over the next season, but beyond that is anyone's guess.
MEYERS LEONARD2015-16 Salary: $3,075,880
. Leonard is in the same situation as Lillard when it comes to the duration of his contract. He and McCollum are the most improved Blazers this season and much of that came when the team finally figured out that Leonard is best utilized as a stretch four. Ironically, in his new role his rebounding improved. improved. Fans and the team are excited about the progress he has made. Leonard's contract situation won't be addressed until the summer of 2016 when he will become a restricted free agent. His future will depend on his performance next season. There is a high ceiling here and if he keeps reaching for it, there's no reason to question that the Blazers will match any reasonable offer for his services.
The threat
: None.
The result
: Leonard finds himself in the rotation and the Blazers prepare to address his contract following the season.
CJ McCOLLUM2015-16 Salary: $2,525,160
. Three-Jay will be on the third year of his rookie contract and the team will likely pick up the option for his fourth in the fall, which will make him a Blazer through 2016-17. They are clearly pleased with the progress he has made, particularly over the latter part of the regular season and the playoffs. The team will look to him for an increased role heading into next season. He became more effective as he became more adept at mixing his outside shooting with his drives to the hoop. There is a lot of upside and the Blazers have two full years to decide on McCollum's future with the team before he becomes a free agent the summer of 2017.
The threat
: None.
The result
: McCollum will be around for a while, and will see an increased role over the next couple of seasons.
Assuming all this happens, and for our purposes here, that's exactly what we'll do, let's see what we have:
Centers
- Robin Lopez, Chris Kaman
Power Forwards
- LaMarcus Aldridge, Meyers Leonard, Joel Freeland
Small Forwards
- Nicolas Batum, Allen Crabbe
Shooting Guards
- Wesley Matthews, CJ McCollum
Point Guards
- Damian Lillard, Steve Blake, Tim Frazier
That leaves three open spots. The 23rd pick in the draft will occupy one of those, which leaves two spots for the acquisition of free agents. Under our scenario, Olshey will look to fill holes at small forward and possibly center. Of course, those are speculations and conjectures for another blog entry.
One note to make is that while Brandon Roy's contract ($19.3 million in 2014-15) has not counted against the salary cap during Olshey's tenure, 2014-15 is the final season that Allen is on the hook for it. As you may recall, Brandon was amnestied by the Blazers on Dec. 15, 2011, just prior to what would have been the second year of his contract. Again, this does not affect the salary cap, but it does make Allen's wallet a bit heavier, and makes the impact of going over the cap this year perhaps a little easier to swallow from a financial standpoint.
Also regarding Brandon, the Blazers would be able to sign him this summer. Mind you, that would not be to play next season, but so that he could be signed and formally retire as a Blazer.
~
Kassandra
______________________________________________________________
In Kassandra's Words
began on the now-defunct Blazers Blogger Network and continues here on this site. Relocating this blog has allowed me to include Blazers blogs, but to also expand it to other sports and teams as well. Feedback is welcome; however, I would request that it be directed toward the topic covered..
To comment on this thread and others on this forum, please
login
or
register
.