Post by Kasey on Sept 11, 2016 6:37:37 GMT -8
The following entry is a repost of my blog from seven years ago, on the 10th anniversary of the 9/11 attacks. It is as it originally appeared, with some minor changes to reflect the time.
"
H
ave you forgotten, how it felt that day; with your home land under fire and her people blown away. Have you forgotten, when those towers fell. We had neighbors still inside goin' through a livin' hell."
The question in Darryl Worley's song (co-written with Wynn Varble) is as pertinent today as when it was when the song was released shortly after the largest terrorist attack on American ground, September 11, 2001. Of course, it was one of those moments where everyone remembers where they were on a day which saw over three thousand people lose their lives on American soil due to terrorist attacks from a seemingly unknown source.
It was something which was never supposed to happen. The United States was supposed to be invincible within it's borders. To the average person, this was unthinkable.
More died on that day than on the day the Japanese bombed Pearl Harbor in 1941.
It wasn't just those in the twin towers, the Pentagon and on the plane bound for San Francisco which was to be hijacked to fly into the white house, who lost their lives on that day. The death toll would grow to include, amongst others, over 400 emergency services workers in New York City alone.
And it wasn't just Americans who were killed that day. Citizens of over 90 nations fell to the attacks. According to NYmag.com, 1,609 people lost a spouse and, in the number which most alarms me personally, 3,051 children lost a parent.
* * *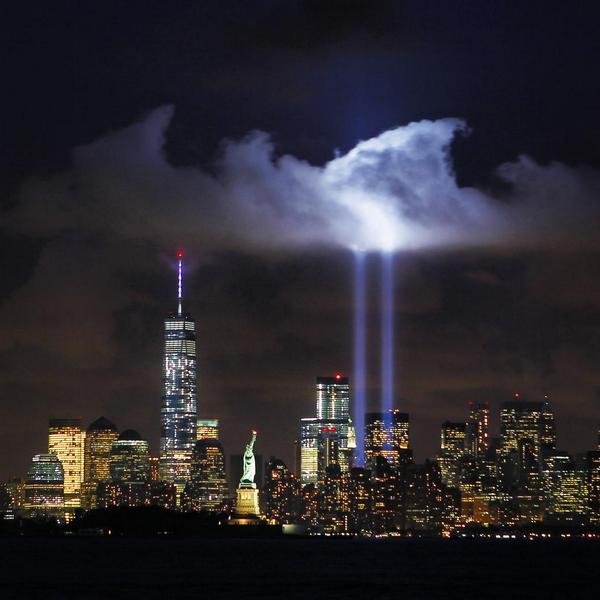 The annual Tribute in light on the eve of the 13th anniversary of 9/11 in 2014. (
Photo by Gary Hershorn)
We mourned. The world mourned with us. On our televisions, we saw countless interviews with witnesses, intended victims and those wondering of the whereabouts of loved ones.
The reality of what had happened began to give way to healing, many of us could not get enough of the coverage. We simply wanted to understand. Foremost we wanted to understand who was behind this and why.
The answer to who came quickly, and was followed very soon by the philosophical why. That seemed to only fuel the fire as we learned it was an attack on our way of life. In other words, we were attacked because of how we spend our days. We were attacked because we live by the very values and goals our founding fathers laid out for us.
If you really look at the big picture, the perpetrators did not meet their goal. We licked our huge wound and, better or worse, moved on with our day-to-day lives. We eventually resumed our routines.
We remembered the day. The fallen remained on our minds. We continued to sympathize with those who lost someone at the World Trade Center and the Pentagon. We lamented and smiled when we thought of those who gave their lives to prevent the fourth plane from reaching its intended target -- the White House. We take a certain comfort in the fact that those heroes took the plane back from hijackers before it crashed in Pennsylvania.
We also got angry.
* * *
I was nine years old on September 11, 2001. My oldest brother had just begun high school, while the rest of the six of us were being homeschooled by my mother. My youngest sister had yet to be born.
My dad had gone to work early that day and at about 7:30 a.m., he called my mother to tell her to turn on to any of the major news networks. She did. my second-oldest brother and I saw the images of the north -- then the south -- towers as they collapsed into rubble to the ground in lower Manhattan.
It seemed more like a movie than something which could actually happen. But the familiar voices of the news anchors were evidence that this was, indeed, very real. They were not actors; they were journalists.
I watched in horror for about a half hour, then could not watch any longer. My mom attempted to explain as best she could. While I could no longer watch, I was listening intently. I became increasingly horrified when I kept hearing updated numbers of casualties, as well as other terrifying reports such as those who lept from the upper floors of the World Trade Center in an effort to avoid the mortally excruciating heat. I listened for hours. As I listened to the reports and analysis, I could understand the gravity of what was happening.
Suffice to say, mine and my siblings lesson plans changed drastically that day.
* * *
As I write this blog, I sit next to my sister, Jessica, who was just seven when the attacks occurred. The following words are from her:
"I did not understand what was happening when my family watched the reports of the terrorist attacks. I knew it was very bad and that people were dying inside our country. The thing I had to learn was why someone hated us so much that they would try to kill so many people inside our country. My parents always told me that governments had disagreements but that basically most people around the world were very similar. I've since learned and believed that to be true. I think most people just want to find happiness and love. I remember watching the news and asking my mother a ton of questions. I wanted to know what was going on, why and what our country was going to do about it. Knowing that my parents both served as soldiers, I felt reassured and safe. I felt there was no way my mom and dad would ever let harm come to me or my brothers and sisters. Despite all that had happened and all I had heard on the news, I was confident of that. I still don't think I completely understand why someone would hate us or anyone that much. I am not naive. I know the hate is real but I just don't get it. I think a lot of that day 10 years ago. My prayers often include thoughts of those who've been wronged or hurt by others to find peace and forgiveness. On this 10th anniversary of nine-11, my prayers and compassion go out to those who lost or knew someone who died on that day. I also will pray that nothing like this ever happens to us again."
* * *
Following the events of September 11, 2001, the nation changed, if only for a time. We were stunned, yes, but there was an increased sense of patriotism. We were a little nicer to one another. We were a little more together. Our Congress even tossed aside partisanship to show to the world the unity which ultimately connects us.
Our flag meant something more at this time. The Star Spangled Banner and God Bless America at our sporting events not only brought increased tears, but a sense of pride and comfort. Musical artists such as Worley, Alan Jackson and Toby Keith presented songs which offered both reflection and motivation to move forward.
Our president vowed that no individual, group or country who enacted, supported or harbored terrorists were free from our grasp. He vowed to track down the leader of the organization responsible for the September 11 attacks.
* * *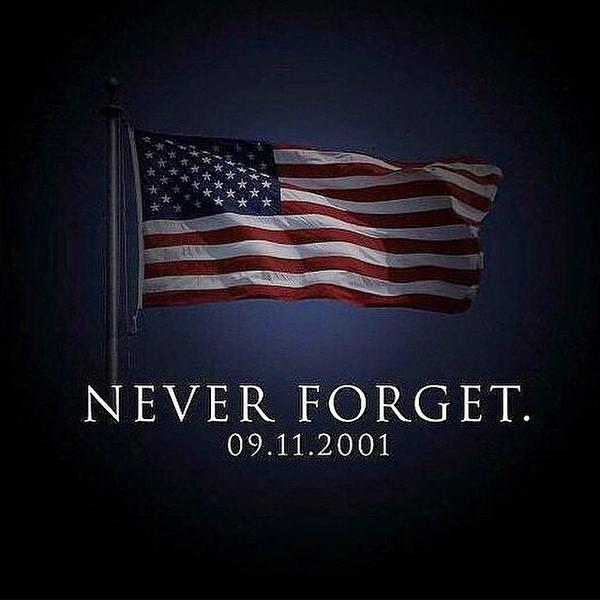 I've heard time and time again that the best way for we citizens to counter those who want to negatively impact our way of life is to simply continue living our lives. Our founding fathers drafted and signed the outline for this. As long as we follow our constitution, and pursue our dreams, loves, hobbies, freedom, liberty and happiness -- no one can ever defeat us.
They may wound us for a bit, but we will come back stronger and more focused. As long as we strive for our dreams, then we will never lose.
* * *
I believe all these things, namely because I've seen evidence of them. Jessica, my sister who contributed to this blog above, is already an accomplished musician and is actively following her dreams. The look in her eyes when she plays her piano or her guitar is priceless. I see what she wants to accomplish and what it means to her.
No terrorist nor action can defeat that love. No terrorist nor action can defeat that spirit.
Like Jessica, I pray for those souls we lost as a part of September 11. I also pray for those who dream a dream which cannot be silenced. I pray for the dreamers.
* * *
The one thing we have to do is remember. We have to remember that day. When we hear Have You Forgotten? we have to be able to say, "No, we haven't. We honor those who came before us and we honor those who continue to live their lives and follow their dreams."
Have we forgotten September 11? No, I don't think we have. On this 157h anniversary of the attacks, we're still very cognizant of the tragedy of that day. We should be. It reminds us of our resiliance. It reminds us of our desires. It reminds us of our way of life. It reminds us to treasure that which drives us.
It should remind us that if we want to take a trip to the beach, to do it. It reminds us that if we want to strive to be our best, to do it. It reminds us that if we want to be fans of our favorite sports team(s), to do it.
We have not forgotten. We will never forget.
~ KassandraIn Kassandra's Words
began on the Blazers Blogger Network and continues here on this site. Relocating this blog will allow me to include Blazers blogs, but to also expand it to other sports and teams as well. Click here for access to the more than 100 entries on the Blazers Blogger Network (note that the link will take you to the most recent of the entries, prior to when this blog was moved to this site).