Post by DiamondThief on Nov 30, 2014 21:56:06 GMT -8

Early in this, his third NBA season, Blazers center Meyers Leonard introduced us to a new friend.
That's right, Meyers Leonard's Mustache has taken the BlazerNation by storm and why not? The Blazers finished with a 12-3 record in November, which include a nine-game winning streak. Unfortunately, there is a threat that the Mustache is nearing its final days.
In an EXCLUSIVE to Sports Coast to Coast (SC2C), I had the opportunity to get some insight from the Mustache on Nov. 30. That interview is as follows.
DiamondThief
:
When did you find out that you were your own entity, rather than just something on the lip of an NBA player?
Meyers Leonard's Mustache:
"I came into this world at the beginning of November and I've been in it to win it ever since, but it wasn't until the Nets game that Meyers got to be a starter in that I really started to think 'Hey, I might be destined for greatness.'"
DiamondThief: You've been growing and developing for a while, much like your host, Meyers Leonard, what do you think it will take for you to reach your full potential?
Meyers Leonard's Mustache:
"The true quality of a mustache depends a little bit on size, a little bit on style, and a lot on attitude. With time I think I could beef up some more (and a little mustache wax never hurt anybody) but what I lack in the first two categories I think I make up for in the third. I know I'm rad, and that's what really counts."
DiamondThief: What do your feel it will take for Meyers to reach his full potential, and do you think the two of you will near to it simultaneously?
Meyers Leonard's Mustache:
"I think Meyers really just needs to stay focused and ready for when an opportunity comes his way to show what he can do. He's shown a lot of improvement in the last year—he's no longer playing with his back to the basket, he's been taking jumpshots, he's looking tighter and more in control. The Blazers just need to keep giving him chances to make use of his speed, athleticism, and ability to hit threes. And I help, of course. I give him that little something more."
DiamondThief: What do you see your full potential to be?
Meyers Leonard's Mustache:
"In my dreams, I see myself on the mustache Mount Rushmore, alongside Tom Selleck, Mark Twain, Hulk Hogan, and Salvador Dali's mustaches."
Salvador Dali, Mark Twain, Tom Selleck, Hulk Hogan
DiamondThief: Are there room for other mustaches in the world or is it time for the others to disappear?
Meyers Leonard's Mustache:
"
There can never be too many mustaches in this world."
DiamondThief: When you were young, which mustaches did you aspire to be like?
Meyers Leonard's Mustache:
"When I was really young I dreamed of being a massive Sam Elliot-style mustache, but when I got a little older I realized I really aspired to the Freddie Mercury look: not quite as overstated, but a rock solid stache with a whole lot of attitude."
DiamondThief: What will it take for the Blazers to get to the finals?
Meyers Leonard's Mustache:
"
I don't want to overplay my importance here, but I think I might be the X-factor."
DiamondThief: The Blazers players have great camaraderie. What is the camaraderie between yourself, Joel Freeland's beard and that stuff on Damian Lillard's chin?
Meyers Leonard's Mustache:
"All of us on the team have a great rapport. Chris Kaman's beard is probably my closest personal friend after Meyers. He always has crazy stories."

DiamondThief: It has been suggested that Meyers should have gotten rid of you after the Blazers' nine-game winning streak was snapped by the Grizzlies. How do you feel about that?
Meyers Leonard's Mustache:
"It hurt my feelings, but haters are just more fuel for the fire. You're welcome for the nine wins, guys."
DiamondThief: If there is one thing out there that you could tell the BlazerNation that you feel they do not know about you, what would that be?
Meyers Leonard's Mustache:
"I love a good 70s groove. "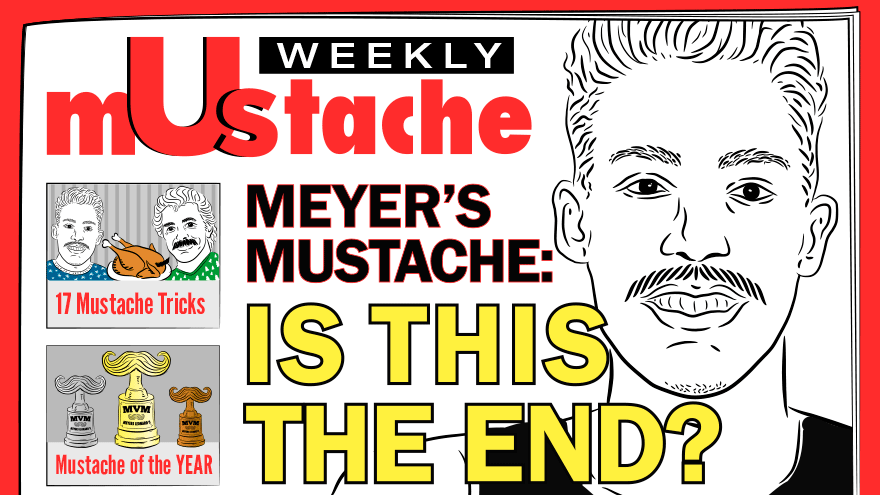 Photo Courtesy of the Weekly Mustache
To comment on this thread and others on this site, please
login
or
register
.