Post by DiamondThief on Apr 2, 2015 23:44:45 GMT -8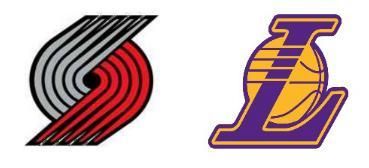 Portland Trail Blazers at Los Angeles Lakers
What
: The Blazers visit the City of Angels to take on the Lakers.
When
: Friday, April 3 at 7:30 p.m. (PT)
Blazers Media
: TV - CSNNW. Radio - Rip City Radio 620 AM.
Lakers Media
: TV - Time Warner Cable SportsNet - 710 AM ESPN/1330 A.
National Media
: ESPN.
Previous
: Jan. 5 -
Blazers 98, Lakers 94
. Jan. 11 -
Blazers 106, Lakers 94
. Feb. 11 -
Blazers 102, Lakers 86
.
Note
: Blazers guard Wesley Matthews, who is rehabilitating his torn achilles in Los Angeles, will see the team play live for the first time in nearly a month.
Forum
: To comment, please
login
or
register
.
The Blazers are 48-26, 18-18 on the road and 28-17 in conference games. They are coming off a 126-122 home loss to the Clippers on April 1. They are averaging 102.9 points (8th in the NBA) and allowing 98.3 (9th). The Blazers, who have won four of five, are first in the Northwest Division and fourth in the Western Conference.
The Lakers are 20-54, 11-25 at home and 8-36 in conference games. They are coming off a 113-92 home loss to the Pelicans on April 1. They are averaging 98.8 points (15th in the NBA) and allowing 104.8 (25th). The Lakers, who have lost three of four, are fifth in the Pacific Division and 14th in the Western Conference.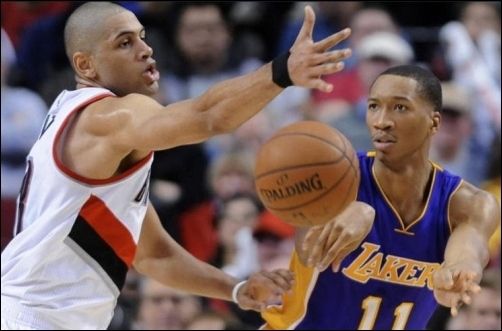 Blazers' Nicolas Batum; Lakers' Wilson Chandler
PORTLAND TRAIL BLAZERSPROJECTED STARTERS
SF - 88 Nicolas Batum (
9.7 pts, 5.8 reb, 4.8 ast
)
PF - 12 LaMarcus Aldridge (
23.6 pts, 10.3 reb, 1.8 ast
)
C - 42 Robin Lopez (
9.5 pts, 6.9 reb, 0.9 ast
)
SG - 4 Arron Afflalo (
13.6 pts, 3.2 reb, 1.7 ast
)
PG - 0 Damian Lillard (
21.0 pts, 4.7 reb, 6.3 ast
)
RESERVES
G - 5 Steve Blake; 10 Tim Frazier; 3 CJ McCollum
F - 23 Allen Crabbe; 33 Alonzo Gee
C - 19 Joel Freeland; 35 Chris Kaman; 11 Meyers Leonard
INJURY REPORT
G - 2 Wesley Matthews (achilles) - out
F - 1 Dorell Wright (hand) - out
HEAD COACH
Terry Stotts
STATISTICAL LEADERS
Points - LaMarcus Aldridge 23.6
Rebounds - LaMarcus Aldridge 10.3
Assists - Damian Lillard 6.3
Blocks - Robin Lopez 1.5
Steals - Damian Lillard 1.2
FG - Robin Lopez 52.6%
FT - Damian Lillard 86.3%
3pt - Meyers Leonard 43.3%
LOS ANGELES LAKERSPROJECTED STARTERS
SF - 11 Wesley Johnson (
9.7 pts, 4.0 reb, 1.6 ast
)
PF - 4 Ryan Kelly (
5.6 pts, 2,8 reb, 1.3 ast
)
C - 28 Tarik Black (
5.4 pts, 5.5 reb, 0.7 ast
)
SG - 17 Jeremy Lin (
11.4 pts, 2.6 reb, 4.7 ast
)
PG - 6 Jordan Clarkson (
10.9 pts, 3.1 reb, 3.1 ast
)
RESERVES
G - 15 Jabari Brown
F - 5 Carlos Boozer; 21 Ed Davis
C - 27 Jordan Hill; 50 Robert Sacre
INJURY REPORT

G - 24 Kobe Bryant (shoulder) - out
G - 2 Wayne Ellington (shoulder) - out
G - 9 Ronnie Price (elbow) - out
G - 0 Nick Young (knee) - out
F - 30 Julius Randle (leg) - out
HEAD COACH
Byron Scott
STATISTICAL LEADERS
Points - Jordan Hill 12.3
Rebounds - Jordan Hill 8.2
Assists - Jeremy Lin 4.7
Blocks - Ed Davis 1.3
Steals - Jeremy Lin 1.2
FG - Ed Davis 61.4%
FT - Ryan Kelly 83.6%
3pt - Jordan Hill 37.5%
NOTE
:
We use a different standard than the NBA for the individual statistical leaders. Our leaders apply to players who have played at least half their teams' games this season; in this case, roughly 37 games, as well as other basic statistical minimums. Leaders who are listed as "out" due to injury are not listed
.
ANGI'S TAKESBLAZERS
: Portland suffered a bit of a setback in their quest to solidify home-court advantage in the first round of the playoffs with their loss to the Clippers; a game in which they gave up 71 points in the second half. With a win, the Blazers can earn their first season sweep of the lakers since the 1993-94 season. Aldridge, who led the way with 29 points against the Clippers, has been rock-solid this season while playing through multiple hand injuries. Batum scored 16 of his 21 against the Clippers in the first half and has been more aggressive on offense of late. Lillard had a double-double with 18 points and 10 assists. Lopez should have no issue with Black or Hill in this one. Afflalo is beginning to find consistency with the Blazers. Kaman is been strong off the bench lately and McCollum has been productive of late. Blake and Freeland are reliable players who know and embrace their roles. Wright injured his hand against the Clippers and will be out, which will give the team an opportunity to place new Blazer Frazier on the active list. He could see some time if the score is not close late in the game.
LAKERS
: Los Angeles is a mess this season, and injuries have played a large part of that. Bryant, Ellington and Randle are out for the season. Additionally, the Steve Nash era is over, as the Lakers on April 1 waived the 41-year-old point guard following his retirement announcement last week. That does not leave much on the roster. Hill is the active player who leads most categories, but he came off the bench in their loss to the Pelicans. Clarkson is a promising point guard who could have an opportunity to win the position long-term should he finish the season well. Lin is a capable backup who has been starting with the team. Kelly and Black likely would be at the end of the bench on many teams in the league. Johnson would be a solid backup on most teams. Boozer is probably the best player on the active roster, but has not seen action much. The Lakers seem to be examining future talent as the regular season runs its course.
THE BLAZERS WIN IF
: They get out to an early large lead, keep the Lakers off the boards and don't let any Laker score more than 18 points.
THE LAKERS WIN IF
: The Blazers take them lightly, Clarkson has a monster game and they shoot at least 50 percent from the field.
MATCH UP TO WATCH
: Nicolas Batum vs. Wesley Johnson.
OFFICIALS

Jason Phillips, Kane Fitzgerald, Karl Lane.
QUOTEABLE
Blazers' coach Stotts on the loss to the Clippers:
"Look, you hate losing games. You hate losing at home and you hate losing to a team that you might see in the playoffs. There's a lot of things not to be happy about tonight."
Lakers' Jeremy Lin on the loss to the Pelicans:
"There was a stretch where it felt like they hit everything and we didn't hit anything. That's all they really needed. I remember thinking in the middle of the game: 'Well, defensively it wasn't really good and they're getting easy shots.'"
FEATURED TWEETSEXTRA
Wanted to give a shout out to the Trail Blazers Stunt Team. They do a great job in their in-game entertainment and certainly deserve some recognition.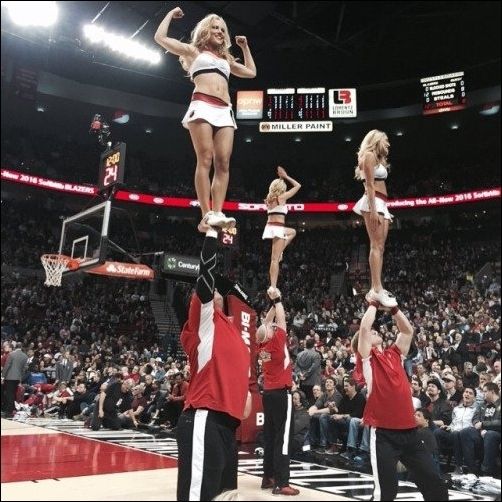 MATCH UP MEME
Courtesy of
SurferGirl
, our newest Blazer has gone from playing for the Maine Red Claws to playing in Oregon for the Blazers. Despite crossing the country, his "from" and "to" cities seem to look quite familiar.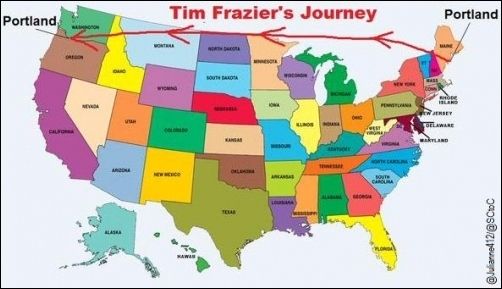 To comment on this thread and others on this forum, please
login
or
register
.