Post by DiamondThief on Apr 7, 2015 17:22:24 GMT -8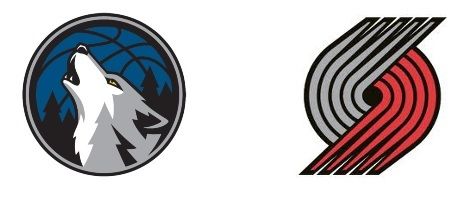 Minnesota Timberwolves at Portland Trail Blazers
What
: The pesky Timberwolves are in Rip City for the final time this season to face the Blazers.
When
: Wednesday, April 8 at 7 p.m. (PT).
Timberwolves Media
: TV - FS North - 830 WCCO.
Blazers Media
: TV - CSNNW. Radio - Rip City Radio 620 AM.
Previous
: Nov. 30 -
Blazers 107, Timberwolves 93.
Dec. 10
- Timberwolves 90, Blazers 82.
March 7
- Timberwolves 121, Blazers 113.
Note
: The last Timberwoves' victory against a Western Conference opponent came against the Blazers.
Forum
: To comment, please
login
or
register
.
The Timberwolves are 16-61, 7-31 on the road and 4-10 in division games. They are coming off a 116-111 road loss to the Kings on April 7. They are averaging 97.6 points (22nd in the NBA) and allowing 105.9 (28th). The Timberwolves, who have lost their last seven, are fifth in the Northwest Division and last in the Western Conference. They have been eliminated from the playoffs.
The Blazers are 50-27, 31-8 at home and 10-3 in division games. They are coming off a 106-96 road loss to the Nets on April 6. They are averaging 102.8 points (10th in the NBA) and allowing 98.0 (10th). The Blazers, who have won six of their last eight, are first in the Northwest Division and fourth in the Western Conference. They have clinched the Northwest Division title.
Blazers' Nicolas Batum and Robin Lopez; Timberwolves' Andrew Wiggins
MINNESOTA TIMBERWOLVESPROJECTED STARTERS
SF - 22 Andrew Wiggins (
16.4 pts, 4.4 reb, 1.9 ast
)
PF - 3 Adreian Payne (
6.8 pts, 5.3 reb, 0.9 ast
)
C - 41 Justin Hamilton (
5.2 pts, 2.9 reb, 0.8 ast
)
SG - 23 Kevin Martin (
19.9 pts, 3.7 reb, 2.2 ast
)
PG - 8 Zach LaVine (
9.0 pts, 2.5 reb, 3.3 ast
)
RESERVES
G - 7 Lorenzo Brown
F - 10 Chase Budinger; 4 Robbie Hummel; 50 Arnize Onuaku
INJURY REPORT

G - 12 Gary Neal (ankle) - out
G - 9 Ricky Rubio (ankle) - out
F - 24 Anthony Bennett (ankle) - out
F - 21 Kevin Garnett (knee) - out
F - 15 Shabazz Muhammad (finger) - out
C - 5 Gorgui Dieng (head) - out
C - 14 Nikola Pekovic (ankle) - out
HEAD COACH
Flip Saunders
STATISTICAL LEADERS (per game)
Points - Kevin Martin 19.9
Rebounds - Kevin Garnett 6.6
Assists - Zach LaVine 3.3
Blocks - Justin Hamilton 1.0
Steals - Andrew Wiggins 1.1
FG - Justin Hamilton 49.7%
FT - Kevin Martin 88.1%
3pt - Kevin Martin 39.6%
PORTLAND TRAIL BLAZERSPROJECTED STARTERS
SF - 88 Nicolas Batum (
9.7 pts, 5.9 reb, 4.8 ast
)
PF - 12 LaMarcus Aldridge (
23.4 pts, 10.4 reb, 1.8 ast
)
C - 42 Robin Lopez (
9.5 pts, 6.9 reb, 0.9 ast
)
SG - 4 Arron Afflalo (
13.5 pts, 3.2 reb, 1.7 ast
)
PG - 0 Damian Lillard (
21.1 pts, 4.7 reb, 6.2 ast
)
RESERVES
G - 5 Steve Blake; 10 Tim Frazier; 3 CJ McCollum
F - 23 Allen Crabbe; 33 Alonzo Gee
C - 19 Joel Freeland; 35 Chris Kaman; 11 Meyers Leonard
INJURY REPORT
G - 2 Wesley Matthews (achilles) - out
F - 1 Dorell Wright (hand) - out
HEAD COACH
Terry Stotts
STATISTICAL LEADERS
Points - LaMarcus Aldridge 23.4
Rebounds - LaMarcus Aldridge 10.4
Assists - Damian Lillard 6.2
Blocks - Robin Lopez 1.5
Steals - Damian Lillard 1.2
FG - Robin Lopez 52.5%
FT - Damian Lillard 86.5%
3pt - Meyers Leonard 43.2%
NOTE
:
We use a different standard than the NBA for the individual statistical leaders. Our leaders apply to players who have played at least a third of their teams' games this season; in this case, roughly 26 games, as well as other basic statistical minimums. Leaders who are listed as "out" due to injury are not listed
.
ANGI'S TAKESTIMBERWOLVES
: Minnesota's injured list could comprise a solid team in and of itself. The Timberwolves have the worst record in the Western Conference, but they have also dealt the Blazers two of their three division losses. Rubio has been shut down for the season, and they are also missing Pekovic, Dieng and Muhammad. What they have is leading rookie of the year candidate Wiggins and veteran sharpshooter Martin. Wiggins has averaged 20.5 points and 7 rebounds per game in the two wins over the Blazers. Martin has only faced the Blazers once this season, but had a team-high 29 points on March 7. Garnett is not putting up huge numbers this season, but the 20-year veteran still has a little left in his tank. LaVine is an athletic guard who would have higher averages with more playing time. Budinger can provide some scoring and decent off the bench.
BLAZERS
: Portland seems to have given up on the idea of homecourt advantage in the first round of the playoffs. Though it goes against his original statements, Stotts may continue to rest players somewhat. Aldridge should have no problem against the Timberwolves, as he has averaged 19 points and 11 rebounds against them this season. Lillard has set per-game marks of 24 points and 7 assists versus the Timberwolves. Leonard, who started in place of Aldridge against the Nets, had 17 points and 15 rebounds. This game could be another opportunity for him to have a strong game. McCollum scored 15 against the Nets in his first career start. Batum, who scored 17 against Minnesota on March 7, is primed for another solid outing. The Timberwolves' Justin Hamilton is no challenge for Lopez, who could also have a breakout game if the Blazers get him the ball early.
THE TIMBERWOLVES WIN IF
: Score in transition, force turnovers, and both Wiggins and Martin have strong offensive outings.
THE BLAZERS WIN IF
: Do not overlook the Wolves, shoot at least 45 percent, and win the rebounding edge.
MATCH UP TO WATCH
: Andrew Wiggins vs. Nicolas Batum.
OFFICIALS

Bennett Salvatore, Nick Buchert, Kevin Scott.
QUOTEABLE
Timberwolves coach Flip Saunders on the losing streak:
"Our biggest thing right now is young players that have never gone through this. They're in uncharted waters. We're trying to get them to push through and understand what this is all about and what they have to do to be prepared."
Blazers' Meyers Leonard on his big night against the Nets:
"You know, every now and then, I have to remind myself that you can do more things on the court except for just standing at the three-point line or just run the court and take up space. For (Stotts) to say that he's counting on me, that gave me a little boost and certainly from there I made a few plays. But it has to come from within as well moving forward."
FEATURED TWEETSEXTRA
Meyers Leonard had his game of the season on April 6 in the Blazers loss to the Nets. He scored 15 of his 17 points in the fourth quarter. His 15 rebounds were a career high, and his 4 assists and 2 steals tied career highs. Said Coach Terry Stotts after the game:
"Meyers was terrific, especially in the second half. He was more aggressive looking at the basket when he got the ball in the paint. We needed him to score. I told him we needed him to look at the basket. What he was able to do inside and outside obviously was a big factor in the second half."


MATCH UP MEME
Hey may be injured, but any match up against the Timberwolves screams for a Non/Nikola Pekovic meme.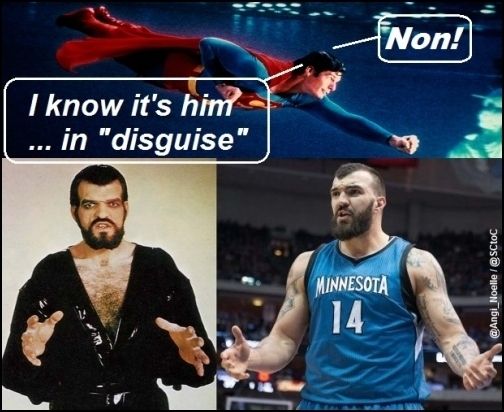 To comment on this thread and others on this forum, please
login
or
register
.