Post by Kasey on Apr 25, 2015 12:23:15 GMT -8
April 25
-
The team wins a few games. The team loses a few games.
As delirious as those wins are, and as frustrating as those losses can be, there are those who believe hoards of fans are jumping on and off the team's bandwagon on multiple whims. That notion seems only to intensify during a playoff push and certainly can be rampant among those with lesser sports -- and basketball - intelligence quotients.
However, the majority know that there are no hoards of bandwagon jumpers at this point in the season. There are those frustrated with The Blazers' losses in games one and two of their series against Memphis. There have been several lackluster performances. Damian Lillard has shot just 27 percent from the field through two games (9 percent from beyond the arc). Nicolas Batum is averaging 7 rebounds and 5.5 assists, but has also shot just 37 percent and is averaging 3.5 assists per game. CJ McCollum has fared even worse, shooting just 19 percent, has missed all six of his three-point attempts and has been largely ineffective on defense.
These are the most glaring shortcomings. Has Memphis' defense had something to do with all that? Absolutely. But not all of it. Lillard's shot selection has largely been putrid and, as the team's starting point guard, he has been very lax in getting his teammates involved. Personally, I would have expected more than 4 assists from him in two games.
With the lousy performances -- and yes, we can call them lousy -- we become critical. True fans should be critical. Calling out players who are not cutting it on the floor is something we should do. Being a fan is not all about cheers and high-fives. Hopefully our team provides us many opportunities for those. Being a fan also means to criticize. We don't do so because we've suddenly turned against our team. We criticize out of frustration, and that frustration comes directly from the passion we feel for our team.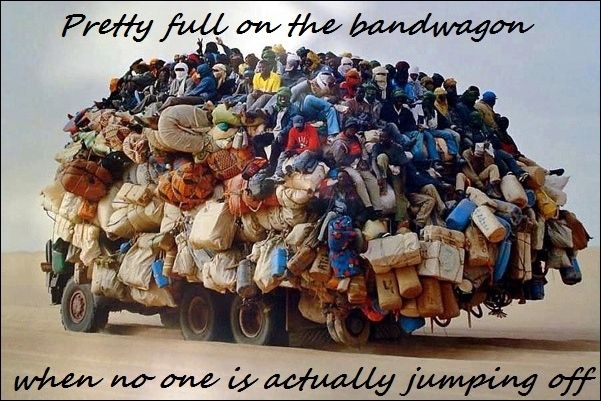 Of course, now you have several out there with a sense that they are superior fans attempting to call out bandwagoners. Tweets from Pinwheel Empire and Blazer Gang in particular were running rampant following the Blazers 97-82 loss in game two. People are allowed to say pretty much whatever they wish on the internet. However, that doesn't make it true. The old internet staple for proof, "I said it so it's true" means absolutely nothing.
There are a couple of problems with accusing people from jumping off the bandwagon.
First, it's simply not true. No one jumps off a bandwagon due to a couple of losses; especially in a playoff series where the first two playoff games were on the road against a team the Blazers did not defeat during the regular season. What we're seeing is frustration and disappointment. As I mentioned above, that's just our passion. We haven't stopped being fans. We haven't stopped loving our team. We haven't stopped feeling that swelling of passion. We are concerned. We want the team to win and with our criticisms, that's really all we're saying. Are there hoards of people jumping off this Blazers bandwagon? Nope. Not even close. We need to pay no mind to those who haven't a clue as to the difference in team and player criticisms due to our passion ... and jumping off the bandwagon. Essentially, these comments are neither true or credible.
Second, I question how any fan is qualified to judge anyone else's fandom. The facebook "business," Blazer Gang, tends to do this a lot. In fact, in late November after the Grizzlies snapped the Blazers' nine-game winning streak, they accused several of jumping off the bandwagon (as the runners of the site often do, however, they later deleted the post). I had called them on it in the comments section, to which their response was: "You haven't seen what I have," even though we both were looking at the same internet. To their credit, Pinwheel Empire and other sites don't throw out the jumping "off the bandwagon term as much, though the occurrences have been more frequent as of late. Who are these people to be judging the fandom of another? So they created a fansite or a business page. Great. Hooray. Despite the freedom of the internet, no one has the right to truly question anyone's fandom. It's great these people are fans and love their team (or, in Blazer Gang's case, using the Blazers to make its own money), but they are by no means any greater a fan than anyone else in the BlazerNation. Even the Blazers in-house media aren't any greater a fan than most you will find in the BlazerNation; they simply have better access to the team than the rest of us. When it comes down to it, no one is qualified to question the fandom of another; not even if they believe they are somehow a superior fan than others.
This all is clear. Hey, I follow the same twitter and facebook accounts as the rest. I see just what you do.
______________________________________________________________
It takes great care, love and passion to criticize your team;
perhaps even more to criticize than to praise.
______________________________________________________________
Is this personal to me? Not at all. Would I ever jump off the bandwagon? Obviously not; say what you will about me, but no one could ever credibly make that claim.
Now, I'm not sitting here at my keyboard and trying to tell you that there aren't a few fans out there who are feeling pessimistic about the Blazers chances to come back and win this series. Things will have to clearly turn around if they are to do so, but we are all hoping they accomplish the improbable. As of yet, the whole
jumping off the bandwagon
claims are silly and ridiculous.
There have been some solid performances in this series by Blazers as well. LaMarcus Aldridge has been outstanding in the first two games, but even the L-Train cannot do it all. He is averaging 14 rebounds and 4 blocks a game to go along with 28 points per game. He's shooting just 37 percent. However with the team trailing through most of the series, the offense has run through him and he's almost singlehandedly kept the Blazers in the first two games.
Then there's Meyers Leonard, who may just be the most effective Blazer in this series. He's gone 6-9 from the field, 4-5 from three-point land to average 8.5 points to go along with his 8 rebounds per game. The only problem is that every time he seems to get hot from the field, Terry Stotts takes him out of the game (he's averaging just over 17 minutes per game). For Meyers to be more effective, Stotts has to loosen up his etched-in-stone substitutions. The Blazers have not even relied upon Allan Crabbe for offense in this series, but he's shot 4-5 from the field and 2-2 from beyond the arc.
Praise and criticism can go hand-in-hand, even if they are converse statements. It's natural. It clearly does not mean we are writing off the team, nor distancing ourselves from the Blazers. It takes great care, love and passion to criticize your team; perhaps even more to criticize than to praise. Quite honestly, it comes down to ignorance and arrogance.
It's unfortunate that some out there don't understand the difference between that passion and jumping off a bandwagon, and that they think they are actually qualified to make the latter judgment of another.
~
Kassandra



______________________________________________________________
In Kassandra's Words
began on the now-defunct Blazers Blogger Network and continues here on this site. Relocating this blog has allowed me to include Blazers blogs, but to also expand it to other sports and teams as well. Feedback is welcome; however, I would request that it be directed toward the topic covered..
To comment on this thread and others on this forum, please
login
or
register
.