Post by DiamondThief on Apr 29, 2015 13:32:09 GMT -8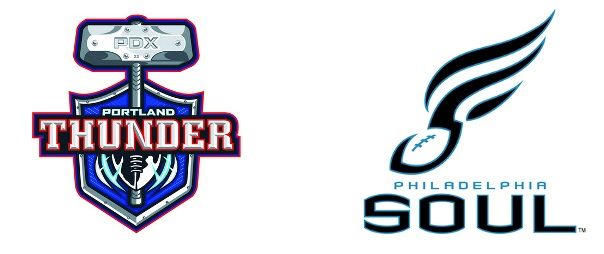 Portland Thunder at Philadelphia Soul
What
: The Thunder are in the City of Brotherly Love to face the Soul.
When
: Saturday, April 25 at 7:30 p.m. (PT).
Where
: Wells Fargo Center; Philadelphia, PA.
Thunder Media
: Radio - 750/102.9 The Game.
National Media
: Stream - ESPN3.
Schedule
: N/A.
Series History
: This is the first ever meeting between the teams.
Note
: Heading into this week, the combined records of the three teams on the Thunder's current road trip is 14-1.
Forum
: To comment, please
login
or
register
.
The Thunder are 2-3 overall, 0-2 on the road and 0-1 in inter-conference play. They are coming off a 64-45 road loss to the Arizona Rattlers on April 25. They are averaging 45.8 points per game (9th in the AFL), allowing 52.6 points (6th), and are averaging 268.4 yards of total offense. The Thunder are second in the Pacific Division and fourth in the National Conference.
The Soul are 5-0 overall, 2-0 at home and 1-0 in inter-conference play. They are coming off a 55-42 road win over the New Orleans VooDoo on April 26. They are averaging 61.0 points per game (1st in the AFL), allowing 49.6 points (4th), and are averaging 311.8 yards of total offense. The Soul are first in the East Division and first in the American Conference.
PORTLAND THUNDER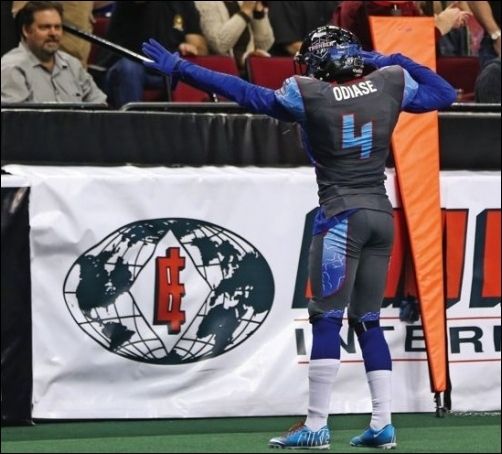 Thunder DB Osagie Odiase (photo courtesy
Portland Tribune
)
ROSTER# - name (pos)
1 - Darron Thomas (QB)
2 - Jared Perry (WR)
3 - Kyle Rowley (QB)
4 - Osagie Odiase (DB)
5 - V'Keon Lacey (WR)
6 - Okechukwu Okoroha (DB)
7 - Marquis Jackson (DL)
8 - KC Obi (DL)
9 - Duane Brooks (WR)
10 - Kevin Goessling (K)
15 - Perez Ashford (WR)
20 - Bryce Peila (DB)
21 - Allen Chapman (DB)
28 - Remond Willis (LB)
32 - Brandon Tett (LB)
50 - Jeraill McCuller (OL)
52 - Frank Trotter (DL)
66 - Jake McDonough (OL/DL)
70 - John Martinez (OL)
75 - Jordan Mudge (OL)
79 - John Collins (OL)
91 - Sione Tuihalamaka (DE)
Mike Hohensee - Head Coach
Ernesto Purnsley - Assistant Head Coach/Defensive Coordinator
Lee Johnson - Special Teams Coordinator/Assistant Defensive Coordinator
Will Harrell - Offensive/Defensive Line Coach
STATISTICAL LEADERS
Passing Yards - Kyle Rowley 1,239
Passing TDs - Kyle Rowley 22
Rushing Yards - John Martinez 27
Rushing TDs - John Martinez 4
Receptions - Jamar Howard 45
Receiving Yards - Jamar Howard 610
Receiving TDs - Jamar Howard 13
Tackles - Andre' Martin 21.5
Sacks - Marquis Jackson 4
Interceptions - Beyce Peila 2
PHILADELPHIA SOUL
Soul QB Dan Raudabaugh (photo courtesy philadelphiasoul.com)
ROSTER# - name (pos)
1 - Kent Richardson (DB)
2 - Beau Bell (LB)
3 - Marco Thomas (WR)
5 - Dan Raudabaugh (QB)
6 - Brandon Freeman (DB)
9 - Bryan Randall (QB)
11 - Xavier Boyce (WR)
12 - Bryan Robinson (DL)
13 - Padric Scott (DL)
18 - Joe Goosby (LB)
19 - Ryan McDaniel (WR)
21 - Shaun Kauleinamoku (WR)
22 - Dwayne Hollis (DB/KR)
23 - LaRico Stevenson (DB)
24 - Tommy Taggart (FB/DL)
25 - James Romain (DB)
28 - Tommy Frevert (K)
42 - Caleb Bostic (DE)
72 - Keith Newell (OL)
74 - Shannon Breen (OL)
76 - Adam Smith (OL)
77 - Neal Tivis (OL)
93 - Curtis Young (DL/LB)
99 - Justin Lawrence (DL)
Clint Dolezel - Head Coach
Phil Bogle - Assistant Head Coach
Derek Stingley - Defensive Coordinator
Steve Criswell - Assistant Coach
STATISTICAL LEADERS
Passing Yards - Dan Raudabaugh 1,446
Passing TDs - Dan Raudabaugh 34
Rushing Yards - Tommy Taggart 111
Rushing TD's - Tommy Taggart 6
Receptions - Marco Thomas 44
Receiving Yards - Ryan McDaniel 505
Receiving TDs - Ryan McDaniel 13
Tackles - LaRico Stevenson 26
Sacks - Bryan Robinson 2
Interceptions - James Romain 3
ANGI'S TAKESTHUNDER
Portland faces it's second straight undefeated opponent and it will have to do so without its leading receiver, Jamar Howard, who is
out for 5-6 weeks
with a leg injury suffered last week in San Jose. They have allowed 64.5 points per game over their last two games. Rowley has had some issues, but is still entrenched as the team's starter. He threw for 205 yards and 3 touchdowns against the Sabercats, but also had 2 interceptions. Lacey has shown flashes of brilliance, but has largely been in Howard's shadow this season. Lacey had 8 catches for 77 yards and a pair of touchdowns last week. Odiase turned in a solid performance against the Sabercats with 8 tackles and a fumble recovery. The Thunder will suit up their fifth kicker in less than a season and a half, as they added Kevin Goessling this week.
SOUL

Despite making the playoffs a season ago, Philadelphia may be the big surprise of the AFL season thus far. They Soul have yet to win a game by less than seven points and have won their last four games by at least 11 points. Raudabaugh has been superb all season long. He leads the league in touchdown passes with 34 and is second in passing yards with 1,446. Taggart's numbers last week against the VooDoo look uncharacteristically like NFL rushing numbers; 11 rushes for 47 yards and 3 touchdowns all of which came in the first 16 minutes of the game. He has the potential to break one on every time he gets the ball. Stevenson turned in a great performance against the VooDoo, registering 9 tackles and an interception. Richardson had 7 tackles in that game.
QUOTABLE
Thunder head coach Mike Hohensee:
"We dug our own hole (against the Sabercats). We played undisciplined football, and we can't be successful if we continue to make mistakes."
Soul head coach Clint Dolezel:
"We have a few things to clean up as we came out in the second half a little complacent (against the VooDoo). The defense continues to improve every week and we need to continue that trend across all facets – offense, defense and special teams."
FEATURED TWEETSEXTRA
The Thunder signed kicker Kevin Goessling this week, who will become the team's fifth kicker in just 24 regular season games. Goessling (see his tweet above) holds the record as Fresno State's all-time leading scorer with 373 points. He also holds the Bulldogs' records for highest field goal percentage at 93.8 and longest make of 58 yards. He will make his debut in this game. Below are the four kickers who have come before.
To comment on this thread and others on this forum, please
login
or
register
.