Post by Kasey on Jul 19, 2015 12:09:22 GMT -8
Portland Thunder at Spokane Shock
What
: The Thunder and Shock renew their northwest rivalry with a playoff spot on the line.
When
: Saturday, July 25, 7:30 p.m. (PT).
Where
: Veteran's Memorial Arena; Spokane Shock.
Regional Media
: TV - CSNNW. Radio - Freedom 970.
National Media
: Stream - ESPN3.
This season
: April 9 -
Thunder 47, Shock 43
. June 21 -
Shock 69, Thunder 54
.
Series History
: Shock lead the series, 4-1 (2-0 at home).
Note
: This is the final division game for each team this season.
Forum
: To comment, please
login
or
register
.
HELPFUL LINKS
Arena Football League Schedule and Results 2015
Portland Thunder Schedule 2015

Spokane Shock Schedule 2015
Portland Thunder Season Preview
The
Thunder
are 4-11 overall, 0-7 on the road and 1-4 in division play. They are coming off a 49-55 overtime road loss to the San Jose SaberCats on July 18. They are averaging 47.7 points per game and are allowing 55.5 points per game. The Thunder are third in the Pacific Division and fifth in the National Conference.
The
Shock
are 5-10 overall, 3-5 at home and 1-4 in division play. They are coming off a 52-45 home win over the Arizona Rattlers on July 17. They are averaging 47.5 points per game and are allowing 55.9 points per game. The Shock are second in the Pacific Division and third in the National Conference.
BREAKDOWNYards per Game
- Thunder 253.3; Shock 298.5
3rd Down Conversion
- Thunder 43.5%; Shock 43.3%
4th Down Conversion
- Thunder 35.1%; Shock 41.9%
Total Tackles
- Thunder 496; Shock 516
Tackles for Loss
- Thunder 38; Shock 35
Total Sacks
- Thunder 22; Shock 23
Fumbles
- Thunder 10; Shock 17
Interceptions
- Thunder 9; Shock 13
PORTLAND THUNDER
Thunder FB John Martinez
(
photo courtesy
The Portland Tribune)
ROSTER# - name (pos)
2 - Duane Brooks (WR/KR)
3 - Kyle Rowley (QB)
4 - Osagie Odiase (DB)
5 - V'Keon Lacey (WR)
6 - Jared Perry (WR)
7 - Marquis Jackson (DL)
8 - KC Obi (DL)
9 - Jake McDonough (OL/DL)
10 - Varmah Sonie (DB)
11 - Dexter Davis (JLB)
13 - Matt Pierce (DB)
14 - Maurice Williams (WR)
15 - Perez Ashford (WR)
16 - De'Mon Glanton (DB)
18 - Alex Carder (QB)
20 - Bryce Peila (JLB)
21 - Dwight McLean (DB)
23 - Zach Ramirez (K)
42 - Adrian Hamilton (DE)
52 - Frank Trotter (DL)
70 - John Martinez (OL)
73 - Sam Longo (OL)
79 - John Collins (OL)
99 - Robert Hayes (MLB)
Mike Hohensee - Head Coach
Ernesto Purnsley - Assistant Head Coach/Defensive Coordinator
Lee Johnson - Special Teams Coordinator/Assistant Defensive Coordinator
Will Harrell - Offensive/Defensive Line Coach
STATISTICAL LEADERS
Passing Yards - Kyle Rowley 2,962
Passing TDs - Kyle Rowley 56
Rushing Yards - John Martinez 59
Rushing TDs - John Martinez 13
Receptions - V'Keon Lacey 91
Receiving Yards - Jared Perry 1,083
Receiving TDs - Jared Perry 24
Tackles - Osagie Odiase 62.5
Sacks - Marquis Jackson 7.5
Interceptions - two with 2 2
KO Return Ave - Duane Brooks 22.1
KO Return TDs - Duane Brooks 6
*
not on active roster
REMAINING SCHEDULE
Jun. 25 - at Spokane Shock, 7 p.m.
Aug. 1 - vs Las Vegas Outlaws, 7 p.m.
Aug. 8 - at Arizona Rattlers, 6 p.m.
SPOKANE SHOCK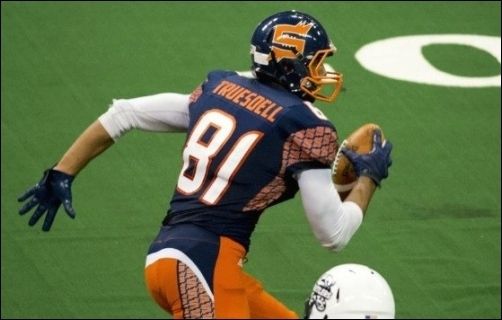 Shock WR Nick Truesdell
(
photo courtesy khq.com
)

ROSTER# - name (pos)
1 - Braylon Bell (WR)
2 - Jabin Sambrano (WR)
3 - Ruschard Dodd-Masters (DB)
5 - Anthony Amos (WR)
6 - Taylor Rowan (K)
8 - Warren Smith (QB)
9 - Sergio Gilliam (DB)
11 - Micah King (MLB)
12 - Arvell Nelson (QB/LB)
13 - Rashaad Carter (WR)
23 - Jeff Richards (DB)
26 - Mike McMillan (DB)
31 - John Setzer (DB)
36 - Bryson Kelly (NG)
42 - Rory Nixon (FB)
44 - James Ruffin (DE)
50 - Kevin McCullough (JLB)
51 - Sam Tupua (OL)
56 - Derrick Summers (DE)
66 - Deveric Gallington (FB)
67 - Terrance Taylor (NG)
74 - Larry Banks (OL)
75 - Patrick Afif (OL)
81 - Nick Truesdell (WR)
Andy Olson - Head Coach
Travis Crusenberry - Defensive Coordinator
Will Mulder - Defensive Backs Coach
STATISTICAL LEADERS
Passing Yards - Warren Smith 1,816
Passing TDs - Warren Smith 32
Rushing Yards - Warren Smith 119
Rushing TD's - Warren Smith 5
Receptions - Anthony Amos 94
Receiving Yards - Anthony Amos 1,038
Receiving TDs - Nick Truesdell 21
Tackles - Ruschard Dodd-Masters 62
Sacks - James Ruffin 9.0
Interceptions - Mike McMillan 4
KO Return Ave - Anthony Amos 18.4
KO Return TDs - Sergio Gilliam 1
* not on active roster

REMAINING SCHEDULE
Jun. 25 - vs Portland Thunder, 7 p.m.
Aug. 1 - at Cleveland Gladiators, 4 p.m.
Aug. 8 - at Las Vegas Outlaws, 7:30 p.m.
DAVID'S TAKESTHUNDER
The Thunder had a prime opportunity to control its own playoff destiny last week against San Jose. Unfortunately, Portland didn't keep the boot on San Jose's throat while up with a 20-0 lead after the first quarter, and it allowed the SaberCats to gain momentum and get back into the game. The SaberCats struggled to maintain WR Jared Perry, who burned the defensive backfield with 156 receiving yards and 2 touchdowns, but two interceptions by Kyle Rowley was the difference between victory and their disappointing fate in overtime. Now they travel to Spokane for the third divisional match-up that could make or break their playoff chances. The Thunder have been much more competitive since their 54-69 loss to the Shock on June 21 at the Moda Center. They're 1-2 the past three weeks, but could very well be 3-0 if not for some mental mistakes on the field. How this team responds to a bittersweet overtime loss will determine if Portland comes away with a victory or another loss in a game that is clearly a must-win.
Player to Watch:
Kyle Rowley (QB)
Rowley has had a Jekyll and Hyde season for the Thunder in 2015. He's shown moments of excellent play that made the Thunder competitive in the last half of the 2014 season and made plays that made him the ArenaCup and ArenaBowl MVP for the Spokane Shock. He's also thrown 18 interceptions, which ranks 2nd in the AFL behind Tampa Bay's Jason Boltus (20), and his completion percentage hasn't been higher than 60% since 2013. He's shown he's capable of his vintage performances, as shown in the 72-48 win over Jacksonville in which he completed 75% of his passes for 6 touchdowns and didn't throw an interception, but he's struggled to have a complete performance without having drives, or in some instances whole quarters. Rowley's going to have to bring his A-game into Deaf Valley on Saturday night. Spokane's defense has struggled to get consistent pressure on the quarterback, and if Rowley can take advantage and not turn the ball over, he gives the Thunder their best chance to win and remain in the playoff hunt.
SHOCK
After blowing an opportunity to solidify a playoff berth, Spokane stunned the AFL world by upsetting the Rattlers in its most complete game performance of the year. The Shock were able to capitalize in the red zone, force turnovers, and get pressure in on the quarterback, which was has been lacking all season. The switch to quarterback Arvell Nelson seems like it worked, but it remains to be seen whether or not he's the answer for the rest of the season, as there were times he misfired the speed on his throws or made poor passing decisions. Spokane has the edge by playing at home, but they cannot afford to make mistakes that have doomed them to 10 regular season losses, the worst in franchise history. Although Spokane has beaten Portland four weeks ago, the Thunder are playing much more competitively, and can't afford to underestimate the competition like they did in their loss to the LA KISS two weeks ago.
Player to Watch:
Bryson Kelly (NG/RB)
Kelly's primary position is the nose guard position on defense, but he played running back during his college days at Central Washington University. Because of this, Kelly has seen time in goal line situations early on in the season, but Rory Nixon was used as the primary fullback due to his blocking skills. However, Nixon lacked the punch to break through the offensive line, especially in the red zone. During the Arizona game, head coach Andy Olson apparently had enough and put Kelly in at fullback to try and get something going. It worked; Kelly was able to rush for 27 yards against the Rattlers, finding holes and move the ball forward more than a yard. This proved especially valuable in the red zone as Kelly was able to rush for a touchdown with his quickness. Kelly has played considerably less games on offense than Nixon, but has more rush attempts, yardage, and rushing touchdowns. It'll be interesting to see how much Olson will use Kelly against the Thunder, but he's the better option over Nixon. Since Kelly is a natural running back, something that is rare in the AFL, he adds another dimension to the Shock offense that historically hasn't been able to effectively run the football from the fullback position since 2006. If he's able to rip some yardage against the Thunder, it'll help open up the passing game for Arvell Nelson.
ANGI'S TAKESTHUNDER
: Portland faces an uphill battle for a playoff spot, but it is not an unrealistic proposition. In order for the Thunder to earn a second straight playoff berth, winning this game is an absolute. A win would put the Thunder in a tie with the Shock with the edge of the tiebreaker given that it would hold the tiebreaker. There is more at stake, however. A monkey wrench has been thrown into the mix, as one of the other teams in this race, the expansion Las Vegas Outlaws have been granted a tie (already in the standings) with the New Orleans VooDoo for their week 18 game which was supposed to take place in Las Vegas. The game was canceled by the AFL and each team awarded a tie. The
league has taken over both teams
due to low revenue performance and the return for both teams next year seems bleak. The Thunder hold the tiebreaker over the Los Angeles KISS, and should they defeat the Outlaws by three or more points on August 1, would hold that tiebreaker as well, though that would only come into play if they tied against the Rattlers in week 20.
SHOCK
: The playoff picture is very simple for the Spokane. If the Shock win this game, they will have a two-game lead and tiebreaker over the Thunder due to their 2-1 season series win. That would all but guarantee the Shock a playoff berth. They already hold the tiebreaker over the Outlaws and KISS. In the event of a Shock win in this game, they would have to lose both their remaining games (at the Cleveland Gladiators and at the Outlaws), while the KISS would have to lose one their remaining two games. The Outlaws' situation mentioned in the Thunder notes above could throw a monkey wrench into things as well. Being awarded a tie, the Outlaws' fate will be straight up. If they should win next week against the Thunder, and/or in week 20 against the Shock, they could secure a playoff berth. The bottom line with the Shock is that they have two winnable games; perhaps three given their performance against the Arizona Rattlers last week. It the Shock win this game and in week 20 against the Outlaws, they clinch a playoff spot.
MONKEY WRENCH
: The Outlaws. With their game against the VooDoo being canceled (the VooDoo have already been eliminated from playoff contention in the American Conference) and the tie rewarded to them for not playing the game, this gives them an advantage. The Outlaws could have won that game. Or, the VooDoo could have prevailed. With ties being passed around on this canceled game like ketcup on french fries, it muddies the situation. There is no word from the league office regarding the Outlaws' playoff eligibility, but there are several who believe they should not be eligible for the playoffs because of the cancellation and tie. Most certainly, the Outlaws franchise will not live to see a 2016 season. However, if they are deemed to continue to be eligible for the playoffs, then they are in the driver's seat and a single win over either the Thunder (week 19) or the Shock (week 20) would secure them a playoff shot in what most would project to be their only AFL season.
MY THOUGHT
: With the cancellation of the Outlaws-VooDoo game, there should be no question that the Outlaws should be deemed ineligible for the playoffs. The thought behind the cancellation is that since the AFL now holds ownership over both teams, that saving money by having the VooDoo not have to travel to the game is the frugal thing to so. It is widely considered that neither team is pulling its attendance and advertising revenue weight in the league. While that is unfortunate, the league should not reward one of them with a tie when it actually would help that team gain a playoff berth. Make no mistake, the tie would improve the Outlaws' chances. The only fair and equitable way to settle this is to deem the Outlaws franchise ineligible for a playoff spot. This situation is a black mark on the AFL and a stain on commissioner Scott C. Butera's first year at the helm of the league. Butera was a Las Vegas casino savior before being hired by the AFL last summer. I fear he will favor the doomed team from his former home. He should do not. He should, rather, do right by the other teams which remain in the league. Both the Outlaws and the VooDoo should be officially be ruled ineligible for the playoffs.
QUOTABLEThunder head coach Mike Hohensee prior to the loss to the Sabercats
"I'm trying to get the three spot, not necessarily the four spot. If we play well, we have a chance to do that. We've been in this position for a month or longer. We're just trying to win every game that we play."
Hohensee on the Thunder's overtime loss to the Sabercats
"We did give a little away in this game.But the good thing for us is that we know. Now we know what we can do. If we get into these playoffs, we'll probably end up back here (San Jose), and I know we'll come back with the same energy."
Shock head coach Andy Olson on the New Orleans-Las Vegas game declared a tie
"I think it's a little weird. It's above my pay grade, nothing I'm part of as far as decision-making. I would rather them play the game out because if (the Outlaws) take on a loss that's good for us."
Shock DL James Ruffin on beating the Rattlers
"It builds confidence. Some of the guys who haven't been around and played arena football that long don't really know the feeling to win against good teams. Now they have experience and know what it takes, and that's (forcing) turnovers and scoring fast."
FEATURED SOCIAL MEDIATHIS WEEK'S AFL GAMES
July 25 - Tampa Bay Storm at Jacksonville Sharks, 4 p.m. (
ESPN2
)
July 25 - Portland Thunder at Spokane Shock, 7 p.m. (
CSNNW
)
July 26 - Los Angeles KISS at Arizona Rattlers, 3 p.m. (
ESPN2
)
Byes - Cleveland Gladiators, Orlando Predators, Philadelphia Soul, San Jose Sabercats
Canceled Game - New Orleans VooDoo at Las Vegas Outlaws.
EXTRA
As mentioned above in
Angi's Takes
above, we are in the thick of the playoff race. The graphic below illustrates the current standings from a conference standpoint. Note that the canceled game between the Las Vegas Outlaws and the New Orleans VooDoo was originally scheduled to take place this week. Click for the entire
game-by-game results
from this AFL season.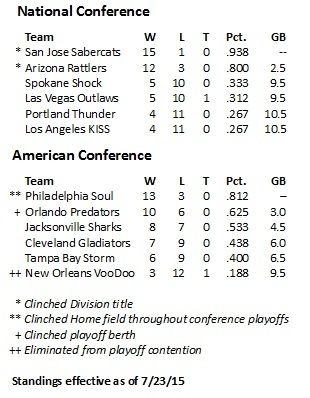 To comment on this thread and others on this forum, please
login
or
register
.