Post by DiamondThief on Jul 31, 2015 22:57:57 GMT -8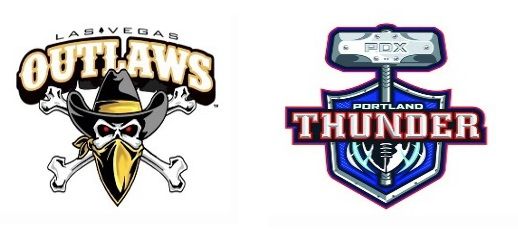 Las Vegas Outlaws at Portland Thunder
What
: The doomed Outlaws visit Portland to face the Thunder.
When
: Saturday, August 1, 7 p.m. (PT).
Where
: Moda Center at the Rose Quarter; Portland, Oregon.
Regional Media
: TV - CSNNW. Radio - Freedom 970.
National Media
: Stream - ESPN3.
This season
: June 28 -
Outlaws 48
,
Thunder 46
.
Series History
: Outlaws lead 1-0 (series tied at Portland 0-0).
Note
: This is the home regular season finale for the Thunder.
Forum
: To comment, please
login
or
register
.
HELPFUL LINKS
Arena Football League Schedule and Results 2015
Portland Thunder Schedule 2015

Portland Thunder Season Preview
The
Outlaws
are 5-10-1 overall, 2-6 on the road and at home and 5-7 in conference games. They are coming off a 37-27 road loss to the Los Angeles KISS on July 11 (they were awarded a third bye week and a tie as their game last week against the New Orleans VooDoo was canceled). They are averaging 42.1 points per game and are allowing 49.7 points per game. The Outlaws are second in the West Division and fourth in the National Conference.
The
Thunder
are 4-12 overall, 4-4 at home and 3-9 in conference games. They are coming off a 42-40 road loss to the Spokane Shock on July 25. They are averaging 47.2 points per game and are allowing 54.7 points per game. The Thunder are third in the Pacific Division and fifth in the National Conference.
BREAKDOWNYards per Game
- Outlaws 231.4; Thunder 252.7
3rd Down Conversion
- Outlaws 37.1%; Thunder 43.9%
4th Down Conversion
- Outlaws 28.8%; Thunder 32.5%
Total Tackles
- Outlaws 527; Thunder 535
Tackles for Loss
- Outlaws 48; Thunder 41
Total Sacks
- Outlaws 26; Thunder 24
Fumbles
- Outlaws 11; Thunder 11
Interceptions
- Outlaws 8; Thunder 11
LAS VEGAS OUTLAWS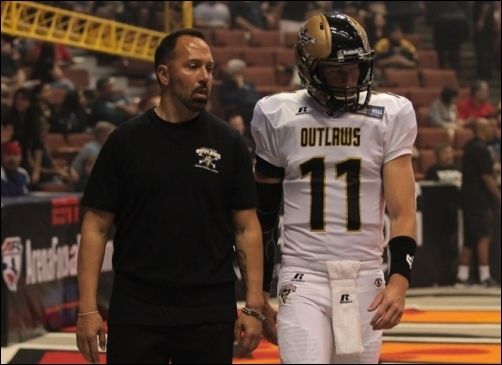 Outlaws' coach Aaron Garcia and QB J.J. Raterink
(
photo courtesy fi360news.com
)
ROSTER# - name (pos)
1 - Clinton Solomon (WR)
2 - DeMarcus Robinson (WR/DB)
6 - Eddie Moten (DB)
7 - Ray Little (DB)
10 - Jason Willis (WR)
11 - J.J. Raterink (QB)
12 - Dennis Havrilla (QB)
14 - Ernesto Lacayo (K)
17 - Wesley Mauia (MLB)
18 - LaDon Hudson (WR)
21 - Doug Williams (WR)
23 - Terrance Carter (DE)
33 - Mark Weivoda (NG)
42 - Joe Mortensen (FB)
53 - Mike Lewis (DE)
54 - Zack Williams (C)
54 - Jabari Fletcher (DL)
55 - Nyere Aumaitre (OL)
60 - Terrence Campbell (OL)
71 - Kevin Myers (C)
72 - Will Wright (C)
74 - Justin Wells (OL)
95 - Matt Hardison (DE)
Matt Vinal (DB)
Aaron Garcia - Head Coach
STATISTICAL LEADERS
Passing Yards - J.J. Raterink 1,829
Passing TDs - J.J. Raterink 32
Rushing Yards - *Sean Brackett 111
Rushing TDs - J.J. Raterink 6
Receptions - *Jomo Wilson 80
Receiving Yards - *Jomo Wilson 1,007
Receiving TDs - *Jomo Wilson 21
Tackles - Tanner Varner 80
Sacks - Mike Lewis 8
Interceptions - Eddie Moten 4
Kick Return Ave - Gerald Young 23.9
Kick Return TD - Gerald Young 5
* not on active roster
REMAINING SCHEDULE
Aug. 1 - at Portland Thunder, 7 p.m.
Aug. 8 - vs. Spokane Shock, 7:30 p.m.
PORTLAND THUNDER
Thunder QB Kyle Rowley
(
photo courtesy oursportscentral.com
)
ROSTER# - name (pos)
2 - Duane Brooks (WR/KR)
3 - Kyle Rowley (QB)
4 - Osagie Odiase (DB)
5 - V'Keon Lacey (WR)
6 - Jared Perry (WR)
7 - Marquis Jackson (DL)
8 - KC Obi (DL)
9 - Jake McDonough (OL/DL)
10 - Varmah Sonie (DB)
11 - Dexter Davis (JLB)
13 - Matt Pierce (DB)
14 - Maurice Williams (WR)
15 - Perez Ashford (WR)
16 - De'Mon Glanton (DB)
18 - Alex Carder (QB)
20 - Bryce Peila (JLB)
21 - Dwight McLean (DB)
23 - Zach Ramirez (K)
42 - Adrian Hamilton (DE)
52 - Frank Trotter (DL)
70 - John Martinez (OL)
73 - Sam Longo (OL)
79 - John Collins (OL)
99 - Robert Hayes (MLB)
Mike Hohensee - Head Coach
Ernesto Purnsley - Assistant Head Coach/Defensive Coordinator
Lee Johnson - Special Teams Coordinator/Assistant Defensive Coordinator
Will Harrell - Offensive/Defensive Line Coach
STATISTICAL LEADERS
Passing Yards - Kyle Rowley 3,203
Passing TDs - Kyle Rowley 60
Rushing Yards - John Martinez 61
Rushing TDs - John Martinez 14
Receptions - V'Keon Lacey 98
Receiving Yards - Jared Perry 1,169
Receiving TDs - Jared Perry 26
Tackles - Osagie Odiase 63.5
Sacks - Marquis Jackson 7.5
Interceptions - De'Mon Glanton 3
KO Return Ave - Duane Brooks 22.1
KO Return TDs - Duane Brooks 7
*
not on active roster
REMAINING SCHEDULE
Aug. 1 - vs Las Vegas Outlaws, 7 p.m.
Aug. 8 - at Arizona Rattlers, 6 p.m.
ANGI'S TAKESTHE DOOMED TEAM

Las Vegas is on its last legs. The Arena Football League has taken over ownership of the franchise as well of that of the New Orleans VooDoo. The Outlaws are at the bottom of the league in attendance and it turns out that Sin City's third go-around at the AFL has failed. While no official word has been released by the league, when a team has been taken over mid-season, it is a near certainty that the team will not return. To save money, the league canceled the game between the Outlaws and the VooDoo. They originally awarded each team a tie, but now the standings indicate their record as 10.5 wins and 5.5 losses for the Outlaws. It is uncertain which team may have prevailed in that game, but they were fairly evenly matched. One byproduct of the cancellation which could aid the Outlaws is that it created a third bye week for them. It also gave them an advantage in the playoff race. See below for more information on that.
THE PLAYOFF RACE
Three teams are vying for the remaining playoff spot on the National Conference. The San Jose Sabercats and Arizona Rattlers clinched their spots a few weeks ago and the Spokane Shock clinched last week with their win over the Thunder, combined with the Los Angeles KISS' loss to the Rattlers. Spokane enters the week in the third spot (Las Vegas in fourth). The Shock are in, but they need a win or an Outlaws' loss to clinch third, which would put them against the Rattlers (which they defeated two weeks ago) in the first round of the playoffs. Beyond that, the scenarios are pretty simple for each team:
Portland Thunder
- Must win their final two games (over the Outlaws and Rattlers) and need the Outlaws to lose their last two (to the Thunder and the Shock).
Las Vegas Outlaws
- One win puts them into the playoffs. Two wins and a Shock loss or one win and two Shock losses give them the third seed.
Los Angeles KISS
- Must win their final two games, need the Thunder to lose at least once and need the Outlaws to lose their last two.
OUTLAWS
Las Vegas opened the season with a promising 3-2 mark, but has lost eight of its last 10 games, not counting their "tie." Two of their wins came against the Thunder and playoff-bound Shock. Like many teams, injuries have depleted the Outlaws. J.J. Raterink started the season under center, then the Outlaws turned to Dennis Havrilla when he became injured. Raterink leads the team in all statistical categories, but Havrilla led Las Vegas to the two-point win over the Thunder in the first game. He threw for 214 yards and 4 touchdowns while running for a pair of touchdowns. He also threw two picks. They are missing their top two receivers in Jomo Wilson and Tysson Poots. Which ever quarterback is under center will attempt to rely on DeMarcus Robinson or Doug Williams among the receiving corps. Robinson had 9 tackles in the first game between the teams. Terrance Carter and Jabari Fletcher recorded sacks in that game.
THUNDER

Portland lost out on a golden opportunity to put itself in the driver's seat for a playoff spot; possibly even the third seed, but fell to the Shock in Spokane. Down 42-34, Kyle Rowley led them to a score, but a two-point pass was called back due to a procedure penalty. On the retry, his pass flew over his receiver and that was the game. Penalties and missed extra point attempts have plagued the Thunder all season. Rowley threw for 220 yards and 3 scores against the Outlaws in the first match up, while John Martinez ran for 4 touchdowns, but had a late fumble which Las Vegas turned into a score to win the game. Jared Perry caught 6 passes for 109 yards and a score, while fellow receiver V'Keon Lacey had 6 catches for 77 yards and two touchdowns. De'Mon Glanton and Dwight McLean each had interceptions in that game; Dexter Davis had two sacks, while Marquis Jackson and K.C. Obi recorded a sack each.
QUOTABLEThunder head coach Mike Hohensee
"We're playing every game as if we're going to win it. That (the situation with Las Vegas) is not our problem. That's not our decision, and there's nothing we can do to help that along except win this football game. We're not going to sit here and talk about that when we have other things we need to worry about. Our playoffs have already started. All of the past few games have had some kind of pressure on them, and we've responded well. When and if we do get into these playoffs, we have as good a chance as anybody."
FEATURED SOCIAL MEDIATHIS WEEK'S AFL GAMES
July 31 - Arizona Rattlers at San Jose Sabercats, 7:30 p.m. (
CBS Sports Network
)
Aug. 1 - Jacksonville Sharks at Orlando Predators, 4 p.m. (
ESPN3 stream
)
Aug. 1 - Spokane Shock at Cleveland Gladiators, 4 p.m. (
ESPN3 stream
)
Aug. 1 - Los Angeles KISS at Tampa Bay Storm, 4:30 p.m. (
ESPN3 stream
)
Aug. 2 - New Orleans VooDoo at Philadelphia Soul, 1 p.m. (
ESPN3 stream
)
EXTRA
In the fourth quarter of last week's loss to the Shock, Thunder kick returner Duane Brooks tied the all-time mark of 7 kickoff returns for a touchdown with his 57-yard scamper into the end zone. With one more, he would hold the AFL record out right.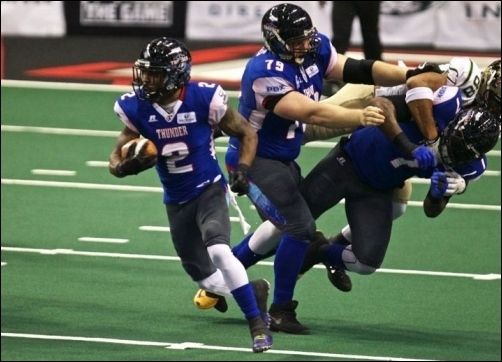 (
photo courtesy
The Portland Tribune)
To comment on this thread and others on this forum, please
login
or
register
.