Post by DiamondThief on Aug 5, 2015 20:39:34 GMT -8
Portland Thunder at Arizona Rattlers
What
: With a playoff berth potentially on the line, the Thunder look to strike down the Rattlers in Phoenix.
When
: Saturday, August 8 at 6:30 p.m. (PT).
Where
: U.S. Airways Center; Phoenix, Arizona.
Regional Media
: Radio - Freedom 970.
National Media
: TV - CBS Sports Network.
This season
: April 18 -
Rattlers 65, Thunder 47
. June 12 -
Rattlers 69, Thunder 42
.
Series History
: Rattlers lead 5-0 (2-0 at home). Playoffs - Rattlers lead 1-0 (1-0 at home)..
Note
: The naming rights to U.S. Airways Center have been sold to Talking Stick Resort of Scottdale, Arizona, and beginning in September is expected to be referred to as Talking Stick Resort Arena.
Forum
: To comment, please
login
or
register
.
HELPFUL LINKS
Arena Football League Schedule and Results 2015
Portland Thunder Schedule 2015

Portland Thunder Season Preview
The
Thunder
are 5-12 overall, 0-8 at home and 4-9 in conference games. They are coming off a 64-33 home win over the Las Vegas Outlaws on Aug. 1. They are averaging 48.2 points per game and are allowing 53.4 points per game. The Thunder are third in the Pacific Division and fifth in the National Conference. The Thunder have outscored their opponents 271-226 over their past five games.
The
Rattlers
are 13-4 overall, 7-1 at home and 9-4 in conference games. They are coming off a 56-29 road loss to the San Jose Sabercats on July 31. They are averaging 55.1 points per game and are allowing 46.3 points per game. The Rattlers are first in the West Division and second in the National Conference. In their two wins over the Thunder this season, The Rattlers have outscored the Thunder 134-99.
BREAKDOWNYards per Game
- Thunder 250.5; Rattlers 277.2
3rd Down Conversion
- Thunder 44.7%; Rattlers 45.5%
4th Down Conversion
- Thunder 32.5%; Rattlers 31.7%
Total Tackles
- Thunder 566; Rattlers; 545
Tackles for Loss
- Thunder 41; Rattlers 31
Total Sacks
- Thunder 26; Rattlers 31
Fumbles
- Thunder 11; Rattlers 17
Interceptions
- Thunder 15; Rattlers 24
PORTLAND THUNDER
Thunder DB Varmah Sonie
(
photo courtesy
The Portland Tribune)
ROSTER# - name (pos)
2 - Duane Brooks (WR/KR)
3 - Kyle Rowley (QB)
5 - V'Keon Lacey (WR)
6 - Jared Perry (WR)
7 - Marquis Jackson (DL)
8 - KC Obi (DL)
9 - Jake McDonough (OL/DL)
10 - Varmah Sonie (DB)
11 - Dexter Davis (JLB)
12 - Jamar Howard (WR)
13 - Matt Pierce (DB)
14 - Maurice Williams (WR)
15 - Perez Ashford (WR)
16 - De'Mon Glanton (DB)
18 - Alex Carder (QB)
20 - Bryce Peila (JLB)
21 - Dwight McLean (DB)
23 - Zach Ramirez (K)
42 - Adrian Hamilton (DE)
52 - Frank Trotter (DL)
70 - John Martinez (OL)
73 - Sam Longo (OL)
79 - John Collins (OL)
99 - Robert Hayes (MLB)
Mike Hohensee - Head Coach
Ernesto Purnsley - Assistant Head Coach/Defensive Coordinator
Lee Johnson - Special Teams Coordinator/Assistant Defensive Coordinator
Will Harrell - Offensive/Defensive Line Coach
STATISTICAL LEADERS
Passing Yards - Kyle Rowley 3,409
Passing TDs - Kyle Rowley 67
Rushing Yards - John Martinez 66
Rushing TDs - John Martinez 14
Receptions - V'Keon Lacey 105
Receiving Yards - Jared Perry 1,218
Receiving TDs - Jared Perry/V'Keon Lacey 28
Tackles - *Osagie Odiase 63.5
Sacks - Marquis Jackson 7.5
Interceptions - De'Mon Glanton 4
KO Return Ave - Duane Brooks 22.7
KO Return TDs - Duane Brooks 8
*
not on active roster
ARIZONA RATTLERS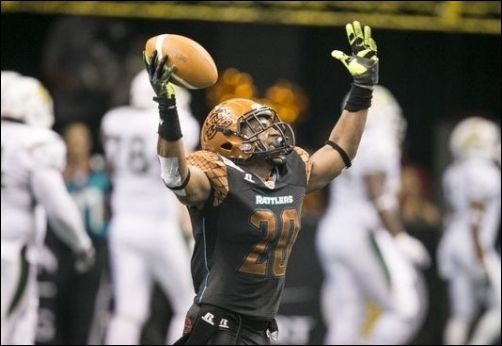 Rattlers JLB Jeremy Kellem (
photo courtesy azcentral.com
)ROSTER# - name (pos)
1 - Rod Windsor (WR)
2 - Shane Boyd (QB)
5 - Quentin Sims (WR)
6 - Cliff Dukes (DE)
9 - Mykel Benson (FB)
10 - Nick Davila (QB)
11 - Arkeith Brown (DB)
12 - Dan Buckner (WR)
15 - Kerry Reed (WR)
17 - Fabrizio Scaccia (K)
19 - Marquis Floyd (DB)
20 - Jeremy Kellem (JLB)
21 - Markus Smith (DB)
25 - Ben Wells (DB)
55 - Brennen Carvalho (C)
60 - Sherman Carter (C)
63 - Derek Dennis (OL)
70 - Marcus Pittman (DE)
71 - Darius Morris (OL)
77 - Anttaj Hawthorne (NG)
90 - Mike McAdoo (DE)
92 - Anthony McCloud (NG)
94 - Tyre Glasper (MLB)
Kevin Guy - Head Coach
Kani Kauahi - Assistant Head Coach
Dave Ewart - Defensive Coordinator
STATISTICAL LEADERS
Passing Yards - Nick Davila 3,354
Passing TDs - Nick Davila 82
Rushing Yards - Mykel Benson 240
Rushing TD's - Mykel Benson 16
Receptions - Rod Windsor 131
Receiving Yards - Rod Windsor 131
Receiving TDs - Rod Windsor 36
Tackles - Jeremy Kellem 93
Sacks - Tyre Gasper 10.5
Interceptions - Jeremy Kellem 13
KO Return Ave - *A.J. Cruz 23.9
KO Return TDs - *A.J. Cruz 6
* not on active roster
ANGI'S TAKESTHE PLAYOFF SITCH

The Thunder made progress last week in their search for the second playoff berth in their two-year history. They routed the Outlaws forcing this into what I like to call a "Do-Or-Die-Plus" scenario. As much as last week's contest was a "must win" for the Thunder, this week is an absolute. If the Thunder win and the Spokane Shock defeat the Outlaws, the Thunder are in the playoffs as the fourth seed. If any other combination of results occurs, then the Thunder are out and the Outlaws earn a playoff berth. It should be noted that with their loss to the Tampa Bay Storm last week, the Los Angeles KISS have been eliminated from playoff contention. Here are the National Conference playoff scenarios based on what could happen this weekend:
-- If the Shock beat the Outlaws and the Thunder beat the Rattlers, the Shock are number three and the Thunder number four.
-- If the Shock beat the Outlaws and the Thunder lose to the Rattlers, the Shock are number three and the Outlaws number four.
-- If the Outlaws beat the Shock, the Outlaws are number three, the Shock are number four, and the Thunder are eliminated.
The San Jose Sabercats have clinched the first seed in the National Conference and the Arizona Rattlers are the solidified as the second seed. The aforementioned scenarios will determine which teams will play each in the first round of the playoffs. The Sabercats will play the fourth seed and the Rattlers will play the third seed.
WHAT DOES THIS MEAN GIVEN THE MATCHUPS?
I will front this by stating that it is a whole lot of speculation, but founded in reason. That said, here we go. The Shock still have something to play for. Namely, a first-round match up with the Rattlers rather than the Sabercats, whose only loss was a fluke overtime decision (48-42) to the KISS on June 13. Essentially, no one wants to play the Sabercats. The Outlaws, of course, are playing for their playoff lives. It will be an interesting game as the Shock-outlaws winner will face the Rattlers and the loser could face the Sabercats (or in the Outlaws' case, could be eliminated from playoff contention). This brings us to the Thunder-Rattlers game. In five regular season meetings and one playoff meeting, the Thunder have yet to beat the Rattlers. They have come pretty close a couple of times. In fact if not for an under-thrown pass in their playoff game last year, the Thunder might have advanced to the conference finals. The Thunder are playing perhaps the best football of their young existence, while the Rattlers do mot really have much for which to play. Couple that with the fact that one of the AFL's best passers, Arizona's nick Davila went down last week in the Rattlers' loss to the Sabercats and the Thunder could have hope for some optimism. The big question could be whether Davila plays at all. With the second seed secured, perhaps the Rattlers will rest the "Latin Laser" and go with Shane Boyd (not a slouch, but no Davila). Again, speculation, but with the way the Thunder are playing and how the Rattlers might address their quarterback situation, anything is possible.
WHAT ABOUT THE OTHER CONFERENCE?
The American Conference match ups are set. The top-seeded Philadelphia Soul (14-3) will host the fourth seed Cleveland Gladiators, while the number two seed Orlando Predators (11-6) will host the third-seeded Jacksonville Sharks. The Sharks are 9-8 and the Gladiators are 8-9. The seedings would not be affected should they each become 9-9 after week 20. The Sharks would win the tiebreaker for having beaten the Gladiators. The New Orleans VooDoo (3-13-1) and Tampa Bay Storm (7-10) have been eliminated from playoff contention.
THUNDER
Portland kept its playoff hopes alive last week with the win over the Outlaws where it dominated all phases of the game. The 31-point differential was the largest in Thunder history. The big story was Duane Brooks setting the AFL's all-time record for kickoff returns for TD in a season (8) when he returned the opening kick of the second half 56 yards all the way back. The other highlight for the Thunder was its defense which pressured the Outlaws' quarterbacks, intercepted 4 passes and even returned a botched Las Vegas extra point attempt for two points of their own. The Thunder face a daunting test in this one, however, facing a team they have never beaten. This week the Thunder will
welcome back Jamar Howard
, who was among the league leaders in all receiving categories when he fell to injury in week 5. Kyle Rowley had a solid outing last week, throwing for 206 yards and 7 touchdowns. V'Keon Lacey had a spectacular game against the Outlaws with 7 receptions for 125 yards and 4 scores. Bryce Peila returned an interception for a touchdown, Varmah Sonie had a pair of interceptions and De'Mon Glanton had one of his own. Glanton also added a team-high 8 tackles to his performance. Frank Trotter and Dexter Davis each recorded a sack against the Outlaws.
Player to Watch
: KR/WR Duane Brooks.
RATTLERS
Despite its 13-4 record, the Rattlers have had an up-and-down season. The Rattlers won eight straight over the middle of the season, but have lost two of their last three. In fact, those losses have come to the Spokane Shock and San Jose Sabercats who, along with the Thunder, comprise the Pacific Division. The Rattlers are likely to be without Nick Davila, considered one of the better quarterbacks in the AFL. Down to the Sabercats last week by multiple scores late in the game, the Latin Laser was still in the game. Even if Davila could give it a go this week, the Rattlers might be inclined to let him sit. They are securely in the second seed in the National Conference playoffs. Dan Buckner was a solid target for Rattlers quarterbacks against the Sabercats, hauling in 9 receptions for 93 yards. Kerry Reed added 71 yards and a score, while the Rattlers' leading receiver on the season, Rod Windsor, caught 5 balls for 53 yards and a touchdown. Marquis Floyd led the Arizona defense with 8 tackles and Ben Wells contributed 7 of his own. The Rattlers will be without WR Chase Deadder, who has always been solid against the Thunder. He was put on inactive reserve this week. Jeremy Kellem's 13 interceptions lead the league in that category.
Player to Watch
: WR Rod Windsor.
QUOTABLEThunder KR/WR Duane Brooks
"There is a touchdown on my mind every time I touch the ball. I'd like to see (the AFL kick return record broken) too."


Brooks on breaking the single season record for kickoff return TDs
"I can't even remember No. 8 right now. No. 8 was just a surreal feeling, knowing that you set yourself apart from some pretty outstanding football players."
Thunder HC Mike Hohensee
"It was a great game. We expect to play like this now, though. The last month, we've been playing like this. We've gotten some tough breaks late in the games, and we've lost a couple. But our guys are playing inspired football. They're executing extremely well and at a high level."
Hohensee on Brooks
"I don't remember (the first time). It's been so long ago. But I gave Brooks the game ball tonight. You don't break all-time records very often. He's a kid who has had a long road in his career. It was special for him to be out there in the spotlight in the middle of the field, holding the ball and everybody in the crowd chanting his name, his team flooding the field afterward, almost getting a penalty because they love him and know how much this means to him."
FEATURED SOCIAL MEDIAOTHER AFL GAMES THIS WEEK
Aug. 8 - New Orleans VooDoo at Jacksonville Sharks, 4 p.m.
Aug. 8 - Philadelphia Soul at Cleveland Gladiators, 4 p.m.
Aug. 8 - Tampa Bay Storm at Orlando Predators, 4 p.m.
Aug. 8 - San Jose Sabercats at Los Angeles KISS, 7 p.m.
Aug. 8 - Spokane Shock at Las Vegas Outlaws, 7:30 p.m.
* All games available for streaming on ESPN3/WatchESPN
THUNDER NOTE
Over the past four games, the Thunder have registered two of their top three scoring outputs in franchise history.. Here are the top scoring performances in the Thunder's nearly two-year existence:
72 (W) - vs Jacksonville Sharks; July 11, 2015
69 (W) - at Jacksonville Sharks; April 26, 2014
64 (W) - vs Las Vegas Outlaws; Aug. 1, 2015
63 (W) - vs Los Angeles KISS; May 16, 2015
62 (W) - vs New Orleans VooDoo; June 26, 2014
61 (W) - at Tampa Bay Storm; May 3, 2014
61 (L) - at Los Angeles KISS; June 14, 2014
EXTRA
An all-time Arena Football League record fell last week. It was built up over the past several weeks. On July 25 against the Spokane Shock, Thunder kick returner/wide receiver Duane Brooks (#2) tied the league record of seven kickoff returns for a touchdown. On Aug. 1, Brooks became the all-time leader as he returned the opening kickoff of the second half to the house for number eight. He now stands alone atop the AFL historical statistical books in that category. Only this question remains: With this game against the Rattlers, is he done?
(
photo courtesy
The Portland Tribune)
To comment on this thread and others on this forum, please
login
or
register
.