Post by DiamondThief on Aug 25, 2015 18:13:37 GMT -8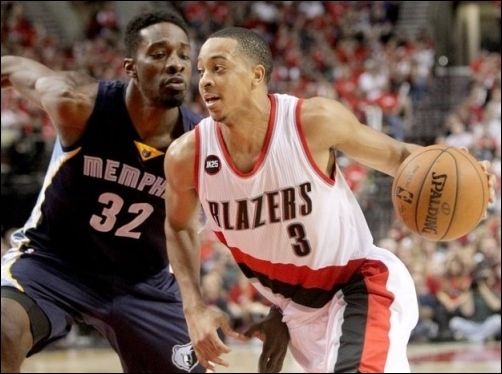 Aug. 25
-- Blazers guard CJ McCollum has been tabbed as one of eight NBA players to have a breakout season in 2015-16 by the
Sporting News
.
McCollum averaged 6.8 points and 1.5 rebounds per game in what was technically his second NBA season (he sat out nearly two-thirds of 2013-14 with a broken foot). Though he struggles at times. He began to emerge about half way through the season, registering double figures in scoring in seven out of the Blazers final eight games of the season, including a career-high of 27 points against the Los Angeles Lakers on April 3. Against the Utah Jazz on April 11, McCollum scored 26 points, collected 8 rebounds, dished out 3 assists and had 3 steals.
However, it was games 3-5 in the Blazers playoff series against the Memphis Grizzlies where McCollum played the best basketball of his career. He averaged 25.7 points, 3.7 rebounds and 1.3 steals over that span, shooting .609 from the field and .647 from three-point land. He set a professional career high in points in game 5 while making a Blazers playoff record 7 three-pointers.
On the list of potential breakout players, McCollum joins Jazz center Rudy Gobert, Orlando Magic guard Victor Oladipo, Milwaukee Bucks forward Giannis Antetolounmpo, Houston Rockets center Clint Capela, Detroit Pistons guard Reggie Jackson, Charlotte Hornets forward Michael Kidd-Gilchrist, and Boston Celtics forward Jared Sullinger. McCollum is listed as number seven on the list, compiled by Scott Rafferty.
Raffety had the following to say about McCollum:
"If McCollum's performance in the playoffs, where he aferaged 25.7 points over the Blazers' final three games, is any indication of what's to come, fans in Portland may have something to cheer for in 2015-16.

"The departures of Wesley Matthews, Nicolas Batum and LaMarcus Aldridge marks the beginning of a rebuild in Portland, where they've undergone a youth movement with tantalizing talents to fill their voids. The acquisition of Gerald Henderson eats into some of McCollum's minutes, but the Blazers are desperately lacking scoring. There's no reason he shouldn't see a huge bump in minutes and opportunities next season.

"After a broken foot robbed him of much of his rookie campaign, this is, in essence, McCollum's second season in the pros. The platform to prove why he was a lottery pick in 2013 is his for the taking, and he looks ready for the challenge."
McCollum will battle with Henderson (with rookie Pat Connaughton nipping at their heels) for playing time and, perhaps, the starting spot in the Blazers rotation.
(The playoffs were) big for me but more big for our coaching staff so they could see the development and they could see that the work I'm putting in translates to the big stage," McCollum said in his exit interview in April. "And it was big for my teammates to gain trust in me and realize I can play in big games and be a consistent performer."
SCtoC owner
Kasey
had this to say about McCollum in her
State of the Blazers Roster
article this off-season:
"McCollum emerged as a threat for the Blazers toward the end of the season and the playoffs. He had his finest performance in game 5 of the playoff series against the Grizzlies. The Blazers lost, but McCollum scored a professional career high of 33 points. His battle with Henderson for the starting shooting guard spot could be the most interesting aspect of training camp. The Blazers are high on him and will likely bring him back for a fourth season."
McCollum was drafted with the 10th pick in the NBA draft in 2013.
Click to read the
Sporting News
article,
Eight players ready to take over NBA with 2015-16 breakout seasons
.
-
ANM
To comment on this thread and others on this forum, please
login
or
register
.