Post by SurferGirl on Aug 25, 2015 20:19:10 GMT -8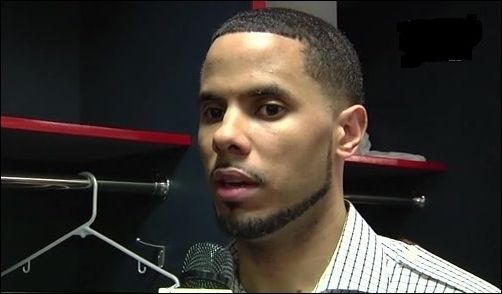 Aug. 25
-- New Orleans native and current Oklahoma City Thunder guard D.J. Augustin posted this informative and moving essay on the 10th anniversary of Hurricane Katrina, which ravaged his hometown in the summer of 2005.
The essay appeared on
The Players Tribune
today. Augustin reflected on his life growing up in the Crescent City, where hurricanes are a constant threat during hurricane season. He was heading into his senior year of high school during the summer when Hurricane Katrina hit New Orleans.
The following are a few entries from Augustin's essay:
If you're from New Orleans, you're used to evacuating. It's normal. Hurricane season really is an entire season. During hurricane season, you're watching the weather reports and if it's a mandatory evacuation, you go. When they hit, they hit non-stop. Every week there's another one coming, with another name. There's crazy rain and wind for a couple days and then it passes. As a kid, I remember hearing stories about Hurricane Betsy, a devastating storm that hit New Orleans when my parents were young – in the 1960s. There were high flood waters. People were stranded on their rooftops. Being from New Orleans, hurricanes were part of your childhood like ghost stories. But to me and my siblings, we had never really been through a bad one.

Before Katrina was Katrina, it was just another hurricane that hadn't arrived yet. The week before Katrina hit, everyone was worried about Hurricane Ivan. Ivan was supposed to be really big. There was mandatory evacuation a few days before it got there. So we actually evacuated the week before Katrina — and then again one week later. We put the evacuation plan into effect: My mom, dad, two sisters and myself piled our luggage into our Chevy Trailblazer. We left New Orleans headed for Houston, with a car pool of relatives — my aunts, cousins, and two sets of grandparents all in different cars ahead of us and behind us. It was like a parade. Everyone had the same plan. It usually takes five hours to get to Houston, but it took us 24 hours that time. Everyone was trying to get out of New Orleans at the same time.

I didn't go back to New Orleans for months. No one was allowed back. I keep thinking about an elderly lady who lived around the corner from me. She died in the hurricane. Growing up, I would see her all the time because she would drive by every day when the whole neighborhood was playing ball in the street. We had one of those basketball hoops that you could just roll out. We would just roll it out and play five on five every day after school. Every time a car would pass, we'd have to stop the game and let the car go by. And this lady would always pass by really slow. She was the sweetest woman, but man, she drove slowly. We always messed with her in a playful way, dancing around the car, waving, making noise — just being kids. She would smile. By the time I returned to my neighborhood, she wasn't there. The houses weren't there. The trees were uprooted. I didn't even recognize my own neighborhood.
This is a powerful and moving piece, which I encourage be read. You can catch it here by clicking
Katrina: 10 Years Later
.
Augustin is about to enter his eighth NBA season. He played the first four with the Charlotte Bobcats. He has also played for the Indiana Pacers, Toronto Raptors, Chicago Bulls and Detroit Pistons before being traded to Oklahoma City during last season. He attended college at the University of Texas.
In a bit of irony, Augustin's current team was formerly the Seattle SuperSonics. Following Hurricane Katrina, the then New Orleans Hornets were forced to play in Oklahoma City for several games during the 2005-06 season (they were nicknamed the "New Orleans/Oklahoma City Hornets" at the time). Following the success of the Hornets (not the new Charlotte Hornets), Oklahoma City businessman Clay Bennett bought the Sonics and moved them to his hometown, renaming them the Oklahoma City Thunder.
Augustin, a point guard, owns averages of 10.0 points, 4.1 assists over his NBA career as both a starter and a backup.
-
JBH
To comment on this thread and others on this forum, please
login
or
register
.