Post by DiamondThief on Oct 3, 2015 10:55:24 GMT -8
Welcome to your one-stop resource for all things relating to the Portland Trail Blazers 2015-16 pre-season. Here you will find the Blazers' schedule, roster, pertinent links, links to pre-season opponents' rosters, as well as some other interesting items.
Schedule
The Blazers' seven game schedule features three home games which all will be broadcast on Comcast SportsNet Northwest. The four road games will not be televised. All games will be available on the radio or through streaming on 620 AM. Home games are noted in
bold red
. All times are pacific.
Oct. 5 - vs.
Sacramento Kings
, 7 p.m. (
CSNNW
)
Oct. 8 - vs.
Golden St. Warriors
, 7 p.m. at (
CSNNW
)
Oct. 10 - at Sacremento Kings, 7 p.m.
Oct. 12 - at Utah Jazz, 6 p.m.
Oct. 18 - vs.
Utah Jazz
, 6 p.m. (
CSNNW
)
Oct. 19 - at Los Angeles Lakers, 7:30 p.m.
Oct. 22 - at Los Angeles Clippers, 7:30 p.m.
Roster
Seventeen players comprise the Blazers' pre-season roster. Coaches will use training camp and pre-season to whittle that down to the NBA league maximum of 15 prior to the start of the regular season. The Blazers roster features an average age of 24, with 33-year-old Chris Kaman being the oldest and 20-year-old forward Noah Vonleh the youngest.
Pre-Season Opponent Rosters

Sacramento Kings
Golden St. Warriors
Utah Jazz
Los Angeles Lakers
Los Angeles Clippers
Blazers Links
Full 2015-16 season schedule
State of the Blazers Roster
Sporting News tabs McCollum as a 2015-16 potential breakout player
Blazers sign Pressey, Alexander

Blazers send Batum to Hornets for Henderson, Vonleh
Blazers Summer League 2015
CJ interviews the commissioner
NBA Draft 2015
Kasey's Top Blazers Moments 2014-15
SCtoC Blog: Blazers off-season analysis, player by player
Team Bonding Photos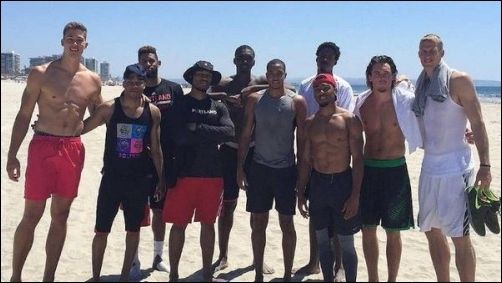 Photo courtesy Portland Trail Blazers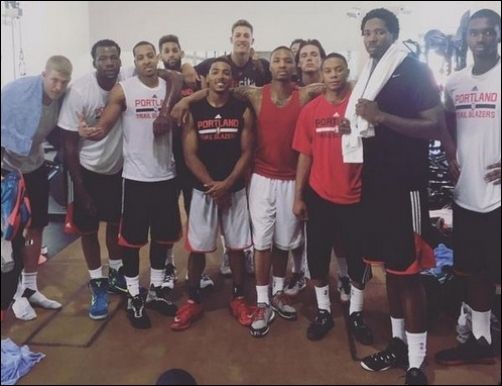 Photo courtesy Noah Vonleh via Instagram
Blazers Players Game Birthdays
The following is a list of the Blazers players' birthdays which fall on a game day.
Cliff Alexander (Nov. 16) -- Blazers at Thunder, 5 p.m.
Pat Connaughton (Jan. 6) -- Clippers at Blazers, 7 p.m.
Meyers Leonard/Phil Pressey (Feb. 27) -- Blazers at Bulls, 5 p.m.
Luis Montero (April 6) -- Thunder at Blazers, 7 p.m.
In-season, no game --
Allen Crabbe (March 9), Tim Frazier (Nov. 1), Gerald Henderson (Dec. 9), Omari Johnson (Nov. 26), Mason Plumlee (March 5).
Off-season
-- A;-Farouq Aminu (Sept. 21), Ed Davis (June 5), Maurice Harkless (May 11), Chris Kaman (April 28), Damian Lillard (July 15), CJ McCollum (Sept. 19), Noah Vonleh (Aug. 24).
Blazers on Twitter
Not following the Blazer players on Twitter? Only following a few of them? Click the links below to give them a follow.
Cliff Alexander
Al-Farouq Aminu
(unverified)
Pat Connaughton
Allen Crabbe
Ed Davis
Tim Frazier
Maurice Harkless
Gerald Henderson
Omari Johnson
(unverified)
Chris Kaman
Meyers Leonard
Damian Lillard
CJ McCollum
Luis Montero
(unverified)
Mason Plumlee
Phil Pressey
Noah Vonleh
Not Quite Leap Day
Two Blazers, as well as SCtoC founder/owner
Kasey
call February 27 their birthday. Phil Pressey was born on that day in 1991. Meyers Leonard and Kasey were actually born on the same day, Februay 27, 1992. The question is, if they both were born just two days later, would they be turning just 6 years old on that date in 2016?
Team Collage
Click on the attachment below for the full-size version of the photo at the top of this page.
To comment on this thread and others on this forum, please
login
or
register
.