Post by DiamondThief on Oct 23, 2015 18:18:07 GMT -8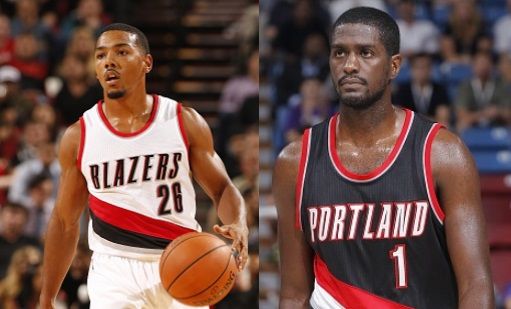 Oct. 23, 2015
-- Phil Pressey and Omari Johnson will not be joining the Trail Blazers for the 2015-16 season.
The organization today waived the two players to reach the NBA limit of 15 players to head into the beginning of the season, Pressey, a point guard, was signed by the team in August and Johnson, a power forward was signed prior to training camp in earlier this month.
Johnson's status with the team was never in doubt. He attended Oregon State and saw limited action with the team, averaging 2.3 points and 1.0 rebounds in four pre-season games. Though a talented player, it was widely considered he was invited to camp largely because of his collegiate ties to the area.
It was the second straight year that Pressey battled point guard Tim Frazier for a roster spot. During last season's training camp, the pair battled it out as potential members of the Boston Celtics' roster. Pressey won that battle and played for the Celtics last season. Frazier found his way to the Maine Red Claws of the NBA Developmental League. He would go on to win Most Valuable Player and Rookie of the Year in the NBADL. He was signed by the Blazers in late March.
The Blazers roster stands at 15 heading into the season, which starts with a home game against the New Orleans Pelicans on Oct. 28.
Frazier, power forward Cliff Alexander and shooting guard Luis Montero, who were considered by many to be on the bubble when it came to the cuts, made the roster and will be on the bench opening night.
They join guards Damian Lillard, CJ McCollum, Gerald Henderson and Pat Connaughton; forwards Meyers Leonard, Allen Crabbe, Noah Vonleh, Ed Davis, Al-Farouq Aminu and Maurice Harkless; and centers Mason Plumlee and Chris Kaman. The full roster appears below.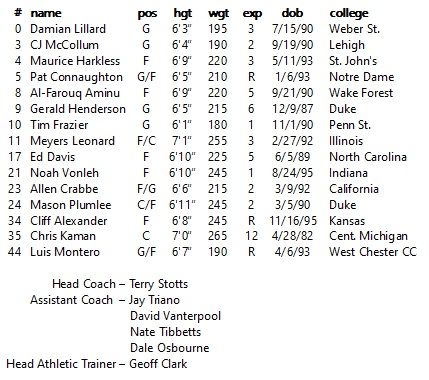 With the departures of nine free agents from last year's team, the group of players from the list is designed to play a faster, more athletic style than fans have seen from the team in recent seasons.
-
ANM
Photo Credits: Phil Pressey (left) and Omari Johnson courtesy Getty Images. Roster by SCtoC.
To comment on this thread and others on this forum, please
login
or
register
.