Post by SurferGirl on Oct 31, 2015 16:56:25 GMT -8

Phoenix Suns at Portland Trail Blazers
What
: The host the Suns in the second of three season match ups between the teams.
When
: Saturday, Oct. 31 at 7 p.m. (PT).
Where
: Moda Center at the Rose Quarter; Portland, Oregon.
Suns Media
: TV - FSAZ. Radio - AZ Sports 98.7 FM.
Blazers Media
: TV - KGW. Radio - Rip City Radio 620 AM.
Fact
: This is the second game of a back-to-back in two nights for the teams.
Forum
: To comment, please
login
or
register
.
The Suns finished last season with a 45-37 record and six games out of the playoff race. They were in the playoff hunt through March. Phoenix is led by the guard play of Eric Bledsoe and Brandon Knight, and they added center Tyson Chandler through free agency over the summer.
The Blazers ended last season with a mark of 51-31, which was good enough to win the Northwest Division. They were beaten in the first round of the playoffs by the Memphis Grizzlies, 4-1. Their roster features just six returning players, as well as an athletic group of young players with great potential.
PHOENIX SUNS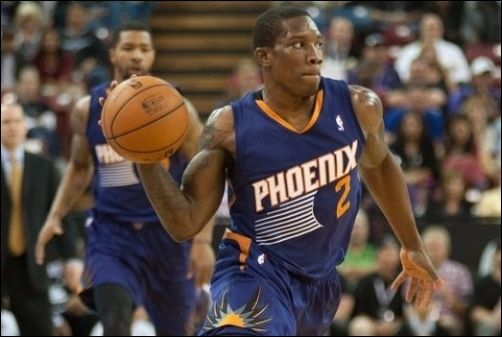 Eric Bledsoe
(photo courtesy
USA Today
)
ROSTER
G -
2 Eric Bledsoe (6'1")
; 20 Archie Goodwin (6'5"); 1 Devin Booker (6'6");
3 Brandon Knight (6'3")
; 14 Ronnie Price (6'2"); 10 Sonny Weems (6'6")
F -
11 Markieff Morris (6'10")
;
17 P.J. Tucker (6'6")
; 30 Jon Leuer (6'10"; 12 T.J. Warren (6'8"); Cory Jefferson (6'9"); 35 Mirza Teletovic (6'9")
C - 21 Alex Len (7'1");
4 Tyson Chandler (7'0")
INJURY REPORT

no injuries reported
HEAD COACH
Jeff Hornacek
Italics denote probable starters
PORTLAND TRAIL BLAZERS
CJ McCollum
(photo courtesy of hoopshabit.com)
ROSTER

G - 5 Pat Connaughton (6'5"); 10 Tim Frazier (6'1"); 9 Gerald Henderson (6'5");
0 Damian Lillard
(6'3")
;
3 CJ McCollum
(6'4)
; 44 Luis Montero (6'7")
F - 34 Cliff Alexander (6'8");
8 Al-Farouq Aminu (6'9")
; 23 Allen Crabbe (6'6"); 17 Ed Davis (6'10); 4 Maurice Harkless (6'9"); 21 Noah Vonleh (6'10")
C - 35 Chris Kaman (7'0");
11 Meyers Leonard (7'1")
;
24 Mason Plumlee (6'11")
INJURY REPORT
Cliff Alexander (knee) - questionable
Gerald Henderson (hip) - out
HEAD COACH
Terry Stotts
italics denote probable starters.
JULIANNE'S TAKES
SUNS
Phoenix is looking for its identity. They added big man Tyson Chandler in an effort to draw LaMarcus Aldridge and they emerged as a decent possibiliy as Aldridge was finalizing his decision, which ended up being to sign with the San Antonio Spurs. This is a guard-oriented team. Eric Bledsoe and Brandon Knight are an underrated backcourt duo who combined to put up 40 points in the Suns' 110-92 win on Oct. 30. Chandler was solid in the middle, scoring 15 points and collecting 13 rebounds against the Blazers last night. Six Suns players scored in double figures for the Suns in their win over the Blazers, including two bench players; T.J. Warren and Alex Len with 17 and 10 points, respectively.
Key to a Phoenix win
: Bench players must step up and better their Suns counterparts.
BLAZERS

There is not much of a secret that the Blazers were the big losers when it comes to of-season departures. As much as the Pelicans' conversations begin with Davis, the Blazers' conversations begin with Damian Lillard. This season opener marks the true beginning of the Lillard Era in Portland. The Blazers scoring strength will be their backcourt, as CJ McCollum will get the start. He and Lillard play off each other well, so there should be some excitement there. Plumlee Steps into the role of the departed Lopez. Meyers Leonard will be depended upon the stretch the floor. Expect Ed Davis and Noah Vonleh to see some substantial time off the bench for the Blazers.
Key to a Portland win
: Use their athleticism to exhaust the Pelicans and put it away in the fourth quarter.
MATCHUP TO WATCH
Eric Bledsoe vs. Damian Lillard.
FREATURED TWEETSSOMETHING ELSE
As this is Halloween - and the
DiamondThief
's birthday - I want to wish her a happy birthday and wish everyone a Happy Halloween. Here's a little
Monster Mash
for you!
To comment on this thread and others on this forum, please
login
or
register
.