Post by DiamondThief on Nov 1, 2015 16:42:22 GMT -8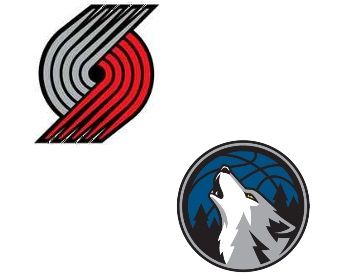 Portland Trail Blazers at Minnesota Timberwolves
What
: The Blazers visit Minnesota in a battle of Northwest Division rivals.
When
: Monday, Nov. 2 at 5 p.m. (PT).
Where
: Target Center; Minneapolis, Minnesota.
Blazers Media
: TV - KGW. Radio - Rip City Radio 620 AM.
Timberwolves Media
: TV - FS North. Radio - 930 WCCO.
Fact
: The Timberwolves will honor their former coach, Flip Saunders, who passed away last week from cancer at age 60.
Forum
: To comment, please
login
or
register
.
The Blazers enter the week beginning Nov. 1 at 1-2 on the season. Their roster features just six returning players, as well as an athletic group of young players with great potential. The Timberwolves enter the week at a perfect 2-0. Generally speaking, they also have a young roster, including last year's NBA Rookie of the Year Andrew Wiggins and this year's number one pick Karl-Anthony Towns.
PORTLAND TRAIL BLAZERS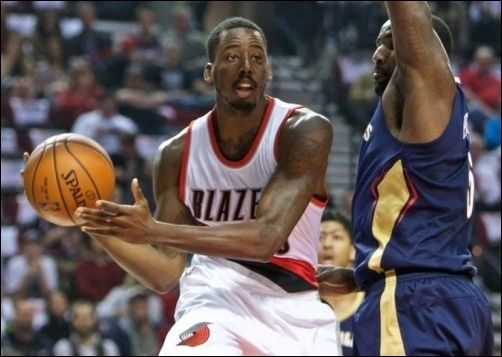 Al-Farouq Aminu
(photo courtesy of RipCityProject)
ROSTER

G - 5 Pat Connaughton (6'5"); 10 Tim Frazier (6'1"); 9 Gerald Henderson (6'5");
0 Damian Lillard
(6'3")
;
3 CJ McCollum
(6'4)
; 44 Luis Montero (6'7")
F - 34 Cliff Alexander (6'8");
8 Al-Farouq Aminu (6'9")
; 23 Allen Crabbe (6'6"); 17 Ed Davis (6'10); 4 Maurice Harkless (6'9"); 21 Noah Vonleh (6'10")
C - 35 Chris Kaman (7'0");
11 Meyers Leonard (7'1")
;
24 Mason Plumlee (6'11")
INJURY REPORT
Cliff Alexander (knee) - questionable
Gerald Henderson (hip) - out
HEAD COACH
Terry Stotts
italics denote probable starters.
MINNESOTA TIMBERWOLVES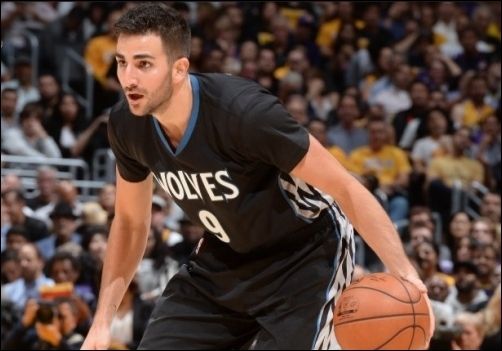 Ricky Rubio
(photo courtesy nba.com)
ROSTER
G - 1 Tyus Jones (6'2"); 8 Zach Lavine (6'5"); 23 Kevin Martin (6'7"); 24 Andre Miller (6'3");
9 Ricky Rubio (6'4")
F - 88 Nemanga Bjelica (6'10");
21 Kevin Garnett (6'11")
; 15 Shabazz Muhammad (6'6"); 33 Adreian Payne (6'10");
12 Tayshaun Prince (6'9")
; Damjan Rudez (6'10");
22 Andrew Wiggins (6'8")
C - 5 Gorgui Dieng (6'11"); 14 Nikola Pekovic (6'11)
32 Karl-Anthony Towns (7'0")
INJURY REPORT

Nikola Pekovic (Achilles) - out
HEAD COACH
Sam Mitchell
Italics denote probable starters
ANGI'S TAKESBLAZERS

Portland is a bit of a Jekyll and Hyde team, who looked outstanding in their opening game of the season, but seemed to get away from its game plan in a pair of losses to the Suns. CJ McCollum proved he can go off and seems to flourish when he gets off to a strong start. Damian Lillard will pace the Blazers. He and McCollum come into the week each averaging 22.7 points per game. Al-Farouq Aminu looks like the steal of free agency with his defense and opportunistic offense. Ed Davis is averaging 8.0 rebounds per game off the bench. Mason Plumlee is an energy guy who can guard multiple positions.
Key to a Portland win
: Tenacious defense to go along with consistent offense..
TIMBERWOLVES
Minnesota is loaded with talent, including a nice balance of rookies to veterans. Karl-Anthony Towns is as good as advertised, and leads the Timberwolves in scoring through their first two games at 21.0 per game while grabbing 13.0 rebounds per game. Ricky Rubio has started the season strong. He comes in averaging 20.0 points and 11.0 assists per contest. Andrew Wiggins is a threat an given night, and Kevin Martin and Zach Lavine are a solid duo out of the backcourt. Kevin Garnett is proving that he has some game left in his tank, mostly being relegated to a defensive role in his second stint with the Timberwolves.
Key to a Minnesota win
: Get out to an early lead with a heavy dose of Towns and Rubio.
MATCHUP TO WATCH
Mason Plumlee vs. Karl-Anthony Towns.
FEATURED TWEETS
To comment on this thread and others on this forum, please
login
or
register
.