Post by DiamondThief on Nov 2, 2015 20:37:54 GMT -8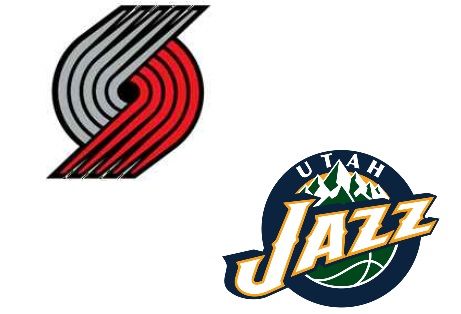 Portland Trail Blazers at Utah Jazz
What
: The Blazers are in Utah to face the resurgent Jazz.
When
: Wednesday, Nov. 4 at 6 p.m. (PT).
Where
: EnergySolutions Arena; Salt Lake City, Utah.
Blazers Media
: TV - KGW. Radio - Rip City Radio 620 AM.
Jazz Media
: TV - ROOT. Radio - KZNS.
Fact
: This is the second straight game the Blazers will play a team named after its home state rather than its home city.
Forum
: To comment, please
login
or
register
.
The Blazers enter the game at 2-2 on the season. Their roster features just six returning players, as well as an athletic group of young players with great potential. The Jazz are 2-1 have not played since Halloween. They were one of the best teams in the league over the second half of last season, featuring a stingy defense protected in the middle by the seven footer, Rudy Gobert.
PORTLAND TRAIL BLAZERS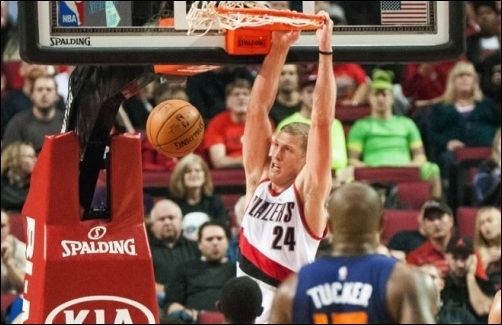 Mason Plumlee
(photo courtesy of
The Portland Tribune
)
ROSTER

G - 5 Pat Connaughton (6'5"); 10 Tim Frazier (6'1"); 9 Gerald Henderson (6'5");
0 Damian Lillard
(6'3")
;
3 CJ McCollum
(6'4)
; 44 Luis Montero (6'7")
F - 34 Cliff Alexander (6'8");
8 Al-Farouq Aminu (6'9")
; 23 Allen Crabbe (6'6"); 17 Ed Davis (6'10); 4 Maurice Harkless (6'9"); 21 Noah Vonleh (6'10")
C - 35 Chris Kaman (7'0");
11 Meyers Leonard (7'1")
;
24 Mason Plumlee (6'11")
INJURY REPORT
Cliff Alexander (knee) - questionable
Gerald Henderson (hip) - out
HEAD COACH
Terry Stotts
italics denote probable starters.
UTAH JAZZ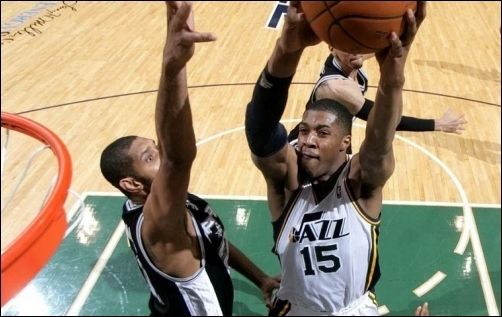 Derrick Favors
(photo courtesy
ROSTER
G - 3 Trey Burke (6'1"); 10 Alec Burks (6'6"); 11 Dante Exum (6'6");
5 Rodney Hood (6'8")
; 12 Elijah Millsap (6'6");
25 Raul Neto (6'1")
F - 33 Trevor Booker (6'8");
15 Derrick Favors (6'10")
;
20 Gordon Hayward (6'8")
; 2 Joe Ingles (6'8"); 23 Chris Johnson (6'6"); 41 Trey Lyles (5'10")
C -
27 Rudy Gobert
(7'1"); 21 Tibor Pliess (7'3"); 24 Jeff Withey (7'0")
INJURY REPORT

Dante Exum (knee) - out
Derrick Favors (illness) - questionable
HEAD COACH
Quin Snyder
Italics denote probable starters
ANGI'S TAKESBLAZERS

Portland is a bit of a Jekyll and Hyde team, who looked outstanding in their opening game of the season, but seemed to get away from its game plan in a pair of losses to the Suns. CJ McCollum proved he can go off and seems to flourish when he gets off to a strong start. Damian Lillard will pace the Blazers. He and McCollum come into the week each averaging 22.7 points per game. Al-Farouq Aminu looks like the steal of free agency with his defense and opportunistic offense. Ed Davis is averaging 8.0 rebounds per game off the bench. Mason Plumlee is an energy guy who can guard multiple positions.
Key to a Portland win
: Tenacious defense to go along with consistent offense..
JAZZ
Utah is looking to replicate it's late season success from last season. Derrick Favors and Gordon Hayward are a talented forward duo. Favors, who may not play due to illness, is the inside threat on offense who will post up and battle inside, while Hayward can do damage from several areas across the court. Rudy Gobert is a shot blocking specialist who will protect the rim. Rodney Hood does a fine job on offense on occasion. Trey Burke and Alec Burks comprised the starting backcourt a couple of seasons ago, and each provides a punch off the bench. Joe Ingles is a solid backup who can contribute any given night.
Key to a Utah win
: Prevent the Blazers guards from penetrating inside.
MATCHUP TO WATCH
Al-Farouq Aminu vs. Gordon Hayward..
FEATURED TWEETS

To comment on this thread and others on this forum, please
login
or
register
.