Post by DiamondThief on Nov 5, 2015 17:30:47 GMT -8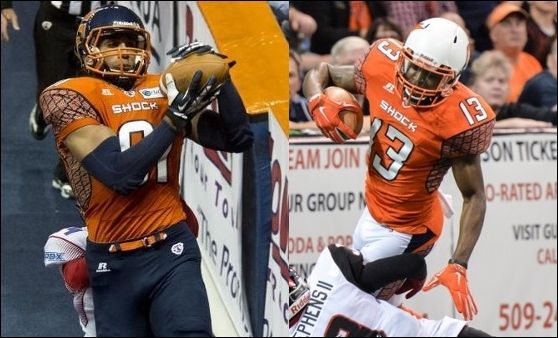 BREAKING: Nov. 5, 2015
-- The Thunder have bolstered their receiving corps on the first day of Arena football League free agency.
Wide receivers Nick Truesdell and Rashaad Carter, both of whom played last season for the Spokane Shock under new Thunder head coach Andy Olson, are the first players to be assigned to the Thunder in this season's free agency, which began Nov. 4 at 9 p.m. (PT) time.
Under the AFL's single-entity business model, players agree to terms with a team, sign with the league, then are "assigned" to that team.
Truesdell is a 6'7" red zone threat who is entering his third year in the league. He caught 88 passes for 977 yards and 23 touchdowns in 16 games last season. For his AFL career, he has 112 grabs for 1,327 yards and 30 scores. He also has registered 21 tackles.
He attended the University of Cincinnati before transferring to Grand Rapids Community College. He then moved on to the Colorado Ice and the Bemidji Axemen of the Indoor Football league in 2014. With Bemidji, he caught 28 balls for 402 yards and 9 touchdowns before joining the Shock. He was invited to the Green Bay Packers' training camp that spring.
"We are extremely excited about adding Nick to our roster," Olson said in a Thunder press release. "He is one of the most physically gifted players in the AFL. Having worked with him over the past two years, we will be able to hit the ground running, with him as a leader in the receiving corps."
Carter, 6'2" and 210, is a multi-talented receiver who caught 67 pases for 837 yards and 12 touchdowns last season for the Shock. He added to his resume with 11.5 tackles and a fumble recovery. Entering his third AFL season, Carter has 141 catches for 1,617 yards and 29 touchdowns.
During the 2014 season, due to an injury to then-Shock quarterback Erik Meyer, Carter saw action as an emergency quarterback in a Shock win over the Los Angeles KISS. He completed 6 of 12 passes for 114 yards, 2 touchdowns and an interception in the game.
Carter signed with the Baltimore Ravens of the NFL on May 13, 2013 as an undrafted free agent, but was waved exactly four months later. He holds the Tusculum College (Tennessee) record for career receiving yards with 2,928.
"Rashaad is a very hard working, positive player that will bring consistency to our offense," Olson said in the press release. "He is capable of breaking tackles and making big time plays for us in the clutch. He will play a large role in achieving our goals in 2016."
The Thunder will be entering their third season in spring of 2016. Training camp will likely begin in either February or March, depending on when the AFL schedules opening week. The league is expected to release its schedule in December or January.
- ANMPhoto Credits
:
Nick Truesdell (left) - kmgsports.com; Rashaad Carter - oursportscentral.com
To comment on this thread and others on this forum, please
login
or
register
.