Post by DiamondThief on Jul 1, 2014 21:41:38 GMT -8
It would be hard to imagine that no one knows this, but the USA has been eliminated from the World Cup. Belgium dominated the offense, but USA's Tim Howard nearly singlehandedly sent the red, white and blue into the semifinals. Howard recorded a World Cup single-game record 16 saves in the match on Tuesday. Here are some stories, notes and highlights.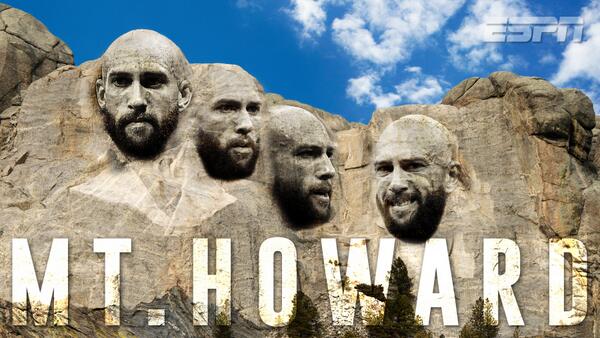 ESPN
"Belgium's unyielding attacks for 90 minutes on Tuesday only highlighted the great performance of the 35-year-old Howard, but the goalkeeper's teammates finally wilted in the evening heat once extra time came."
Belgium hang on to defeat U.S.
New York Times
"It felt as if Tim Howard would never go down. As if the United States would never go down, standing there, taking shots like an undersize fighter clinging desperately to a puncher's chance. Howard saved with his hands. His feet. His legs. His knees. At one point, Howard even had a shot bounce off the crest over his heart."
Wild Ride by U.S. Comes to End, but Soccer Is the Winner
CBS Sports
"The US battled valiantly -- namely Tim Howard, who played out of his mind in goal -- but they couldn't overcome two goals by Belgium in the first period of extra time."
Belgium holds off the United States in extra time, 2-1
Los Angeles Times
"Tim Howard makes another great save -- it seems like a broken record, but a sweet-sounding one for the U.S. Belgium's Divock Origi feeds Kevin Mirallas, a recent substitute, and the keeper charges forward for the kick-save to the left."
World Cup 2014 live: Belgium defeats U.S., 2-1
The Independent - UK
"The teams could not be separated in normal time, and nor could they score most thanks to an inspired performance from Tim Howard, but in the extra 30 minutes the game exploded."
Belgium vs United States player ratings World Cup 2014: Did Kevin De Bruyne outscore Tim Howard?
USA Today Sports
"The U.S. team, anchored by goalkeeper and North Brunswick native Tim Howard, stayed close in the match against a powerful Belgium team. Howard had a lot to do with that, with more than a dozen saves in the net. But it was not enough.

'Tim Howard played the game of his life,' said Mike Bobadilla, who graduated North Brunswick high school in 1989."

Final: Belgium eliminates U.S. in extra time
The Oregonian (via AP)
"'It's heartbreaking,' Howard said. 'I don't think we could have given it more.'"
World Cup 2014: U.S. knocked out by Belgium, 2-1, despite Tim Howard's heroics
CNN
"The American goalkeeper had saves of every kind. He flashed a leg out several times to knock shots away. He dived to his right or his left to snare hard-hit balls. He reflexively punched close-in shots away. He tipped the ball over the crossbar on a couple of occasions."
Tim Howard's special night ends in disappointment
FIFA
"The hands, legs and even ankle of Tim Howard, coupled with some supreme defending from Matt Besler, had kept Jurgen Klinsmann's side, who always looked a threat on the break, in it beforehand, before Marc Wilmots' men scored twice before the 105-minute mark. A Julian Green volley nevertheless gave the Americans hope, but despite their admirable efforts, the Belgians held on to book a Brasilia date with Argentina."
Belgium edge USA in thriller