Post by Kasey on Oct 25, 2014 18:36:16 GMT -8
Blazers 2014-15 Player Capsules
And just like that a new NBA season is upon us and the Portland Trail Blazers are just days away from the opening tip. For the first time in several years there have been no major roster overhauls.
In fact, the only departures are point guards Mo Williams, now with the Timberwolves, and Earl Watson, who has retired to take an assistant coaching job with the Spurs. Filling their places are familiar face Steve Blake and veteran center Chris Kaman. the Blazers had great chemistry last season, and that shouldn't change.
So let's take a look at the roster and examine the players and how they may fit together to try and push the Blazers past the second round of the playoffs.
STARTERS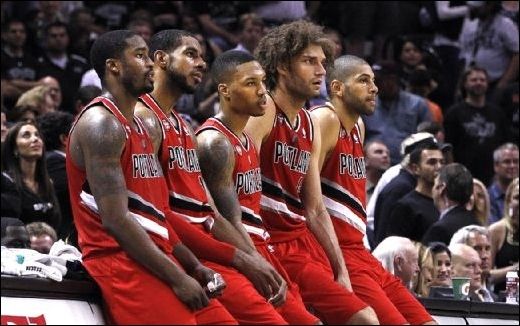 LaMarcus Aldridge, PF
2013-14 -- Pts: 23.2; Reb: 11.1; Ast: 2.6
The L-Train is the elder statesman and leader of the Trail Blazers is going into the final year of his contract, but that's not really the story here. The real story is the bump he took last year in scoring, rebounding and blocks per game -- something he largely credits due to the arrival of Robin Lopez. Aldridge was able to tend to his power forward position thanks to Lopez handing the inside duties as a pure center. Aldridge has the ability to hit his shot from anywhere on the court, crash the boards and pass out of double teams he consistently draws. His contemporaries at his position may garner more media, but unlike them, Aldridge not only has the ability to play defense; he actually plays it. This fact clearly makes him truly the best power forward in the NBA.
Nicolas Batum, SF
2013-14 -- Pts: 13.0; Reb: 7.1; Ast: 5.1
The story about Batum's development as an NBA player can currently be summed up by the word versatile. Not only did the 6-8 frenchman set career highs in rebounds and assists, he also averaged 0.9 steals and 0.7 blocks per game. He also plays some of the best lock down defense, very often on the largest opposing guard or small forward threat. It would be nice to see his scoring average rise to 15 or 16 a game. On the other hand, every team can use a good utility man such as the Blazers have in Batum. At 36 minutes per game, he averaged the second-most minutes, and actually played the most of anyone on the team. He can surely handle the load, and in order for the team to take the next step, the team will need him to.
Robin Lopez, C
2013-14 -- Pts: 11.1; Reb: 8.5; Blk: 1.7
It's hard to believe that there may have been skeptics last summer when General Manager Neil Olshey announced that the Blazers had acquired Lopez. Both on and off the court, "Fropez" has become a huge fan favorite. On the court, you see a fierce competitor who set career highs in rebounds, blocks and minutes played. He started all 82 games in each of the past two seasons (last season with the Blazers and the previous with New Orleans). He is an above-average defender and further improvement in that area could help propel the team into past the conference semifinals. Off the court, fans see a terrific ambassador for Rip City with a great sense of humor (no surprise there, given his birthday is April 1).
Wesley Matthews, SG
2013-14 -- Pts: 16.4; Reb: 3.5; Ast: 2.4
Matthews increased his scoring average by more than a point and a half last season, while also setting records for three-point makes and attempts. He shot 39.3 percent from behind the arc. Like Batum, he often is called upon to defend one of the opponent's key guards or wings. He did a nice job on James Harden in the first-round playoff series against the Rockets. Harden had an off series and Matthews' defense was a key to that. "Wes-Mat" improved his consistency and, if that continues, he could make a strong case as the team's third option. Matthews also is entering a contract year, but any action on a new deal won't come until after the team has fully addressed Aldridge's contract negotiations.
Damian Lillard, PG
2013-14 -- Pts: 20.7; Reb: 3.5; Ast; 5.6
While he may be forever known for the shot which downed the Rockets, Lillard made some marked progress from his first to his second season. Only Aldridge and Batum averaged more minutes for the Blazers and no one made and attempted more threes (218-554). He's turned into one of the biggest clutch shooters in the league; that's likely to continue. Lillard felt snubbed when he was cut from the United States FIBA team and promises that will be more "fuel on the fire" as he moves forward this season. Lillard averaged nearly an assist less than he had in his rookie season. Increasing his assists to around 7.0 per game and improving his defense will not only make him a more complete player, but will lift him past some of the other point guards who often are ranked higher in the national media.
RESERVESWill Barton, G/F
2013-14 -- Pts: 4.0; Reb: 1.8; Ast: 0.8
The Thrill saw action in half the team's games after having played in 73 during his rookie season. He is capable of providing instant offense and plenty of highlight reel content. However, he is still raw and learning to play under control. He has lacked defensive prowess, but said in last season's exit interviews that over the summer he wanted to work on becoming a lockdown defender. He runs the wing well and provides a different pace for the team when he's on the court. He likely will compete with CJ McCollum for minutes behind Matthews and his minutes may be affected if and when Stotts goes to a three-guard rotation with Lillard, Matthews and Steve Blake.
Steve Blake, PG
2013-14 -- Pts: 6.9; Reb: 3.8; Ast: 7.6
The 12th-year guard out of Maryland will make his third stint in Portland and it could turn out to be his most meaningful. For the first time in Rip City, he will know his role -- as backup to Lillard. No more will he be battling the likes of Jarrett Jack or Andre Miller for starters minutes. That, and his experience and locker room presence alone should help the team. He started last season with the Lakers before being traded to the Warriors. Blake averaged a career high 11.0 points in his last full season as a Blazer, in 2008-09. He has averaged 8.9 points and 4.7 assists in 269 games (232 starts) in a Blazer uniform.
Victor Claver, SF/PF
2013-14 -- Pts: 2.2; Reb: 1.9; Ast: 0.6
Claver spent most of last season on the inactive list, primarily due to the addition of the more experienced Dorell Wright last summer and the rest of the team's good health over the course of the season. It was a role he was not happy with and during the exit interviews expressed his desire for more playing time either in Portland or elsewhere. Claver is an intelligent player who possesses a very nice overall game. The problem is that he is still considered the 14th or 15th guy on the roster and is unlikely to break through for any quality minutes. Quick fact: During last season's home game against the Nets when Lopez was the only big available due to injury, Claver backed him up, scoring 13 points and grabbing 5 rebounds in the Blazers' 124-80 win over the Nets.
Allen Crabbe, SG
2013-14 -- Pts: 2.2; Reb: 0.6; Ast: 0.4
Crabbe saw action in just 15 games for a total of just over 100 minutes last season. His main problem is that there are as many as three or four players ahead of him at the shooting guard spot, depending on how one works the depth chart. There is a lot of bright side with Crabbe, who was the Pac-12 player of the year for the 2012-13 season while at Cal. Known as a shooter, he made 42.9 percent of his three-point attempts last season. He's also an adequate defender and could see some spot duty should Stotts rotate the schedule from night to night. Crabbe has a lot of talent which will likely go unnoticed unless he is able to find his way into real game action.
Joel Freeland, C/PF
2013-14 -- Pts: 3.3; Reb: 4.0; Ast: 0.7
The third-year Englishman made a marked improvement from his rookie campaign to last season and could have had even more of an impact as the team's backup center had he not gone down to injury after 52 games. His average of 4.0 rebounds puts him at one board per three-and-a-half minutes -- right in the area in which coaches and general managers look. He was named the team's backup center following training camp, but he'll likely see a reduction in minutes with the addition of Chris Kaman. Freeland can be valuable to the Blazers and could see minutes as the third big off the bench in the event of injury, foul trouble or even on either end of a back-to-back. He has a future in the NBA; the only question is whether that future will be with the Blazers in the long term.
Chris Kaman, C
2013-14 -- Pts: 10.4; Reb: 5.9; Blk: 1.0
Kaman was in the conversation last summer in many discussions of which center the Blazers could bring to Rip City. A summer later the Blazers have a solid and experienced backup for Lopez. An all-star in 2010-11 while with the Clippers, Kaman has averaged in double figures in points the last nine seasons. Like Blake, he knows what his role will be and is embracing it. That role probably will see him on the court 18-22 minutes per night, and he has indicated that would be fine with him. This will be Kaman's 12th NBA season, but he's still got quite a bit left in the tank; especially if he's playing about 20 minutes per game. In addition to backup up Lopez, he will serve as a mentor to younger bigs, and can be paired on the court with Lopez and Aldridge.
Meyers Leonard, C
2013-14 -- Pts: 2.5; Reb: 2.8; Ast: 0.5
Saw his numbers drop as he appeared in just 40 games after seeing action in 69 games (nine starts) as a rookie. He was surpassed by Freeland on the depth chart. Leonard's window of opportunity with the Blazers seems to be nearly closed. The team's good health prevented him from seeing significant time. He has had stretches where he has shown he can be an intelligent shooter and diligent rebounder. However, he has lapses where he can seem lost, especially on defense. Despite being 7-1, he plays much more like a power forward than a center. The team will likely use Leonard as an insurance policy in the event of injury to one or more of the other bigs.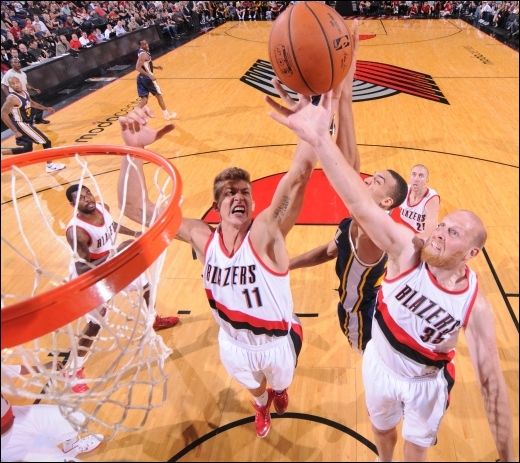 CJ McCollum, SG/PG
2013-14 -- Pts: 5.3; Reb: 1.3; Ast: 0.7
Judging McCollum's rookie season is tricky since he missed the first half of the campaign with a foot injury. He did a decent job of creating his own shot and running the floor. He will probably see more of his minutes at shooting guard rather than at the point, but should be listed third on the PG depth chart behind Lillard and Blake. It's a bit of a balance, but McCollum will need to do a better job of finding open teammates when his shot is not available. As a combo guard, he can find more minutes if he increases his assists. A full training camp could be invaluable there. He will battle with Barton for minutes, but could win battle given his ability to play both guard positions. McCollum should be listed as a player to watch among fans.
Thomas Robinson, PF
2013-14 -- Pts: 4.8; Reb: 4.4; Ast: 0.5
T-Rob is arguably the most high-energy player on the roster, a fact which serves him well as long as he is playing under control. What he needs to do is harness his passion and channel it and he can go far. He is the primary backup for Aldridge at the four and his minutes should be a direct result of what he earns. Robinson is a solid shooter at 48.1 percent last season and averages a rebound every three-and-a-half minutes (similar to Freeland). He'll need to improve his free throw shooting, as he shot just 56.4 percent from the charity stripe last season. The Blazers will look to Robinson to take a significant step forward if their bench is to show meaningful improvement into and through the playoffs.
Dorell Wright, SF2013-14 -- Pts: 5.0; Reb: 2.8; Ast: 0.9
Wright's numbers went down last year (his first with the Blazers), but that appears to be more a result of his playing time dropping eight minutes per game to 14.5. He shot just 34.2 percent from behind the arc which is down a little from his previews four seasons. He is one of just six Blazers to start last season, stepping in for Aldridge for 13 games. During those starts, he turned in solid performances at power forward. The team went 8-5 with Wright in the starting lineup. He will be looked upon to hit some threes, occassionally crash the boards and play some defense. He's proven he is capable of all three. Could see a decrease in minutes if Stotts uses a three-guard lineup or if Claver is submitted into the rotation.
To comment on this and other threads on this forum, please log in or click to
register
.
~ MKMIn Kassandra's Words
began on the Blazers Blogger Network and continues here on this site. Relocating this blog will allow me to include Blazers blogs, but to also expand it to other sports and teams as well. Click here for access to the more than 100 entries on the Blazers Blogger Network (note that the link will take you to the most recent of the entries, prior to when this blog was moved to this site).