Post by DiamondThief on Sept 12, 2015 0:35:28 GMT -8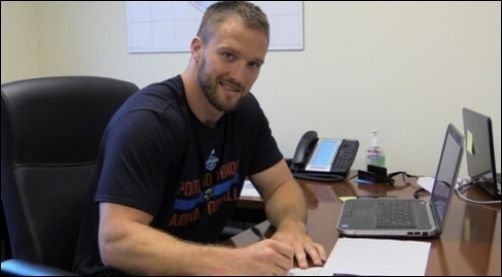 Third coach in three years? Why did they fire the last coach? Why did they not keep the first coach?
As we talk about the new hiring of Andy Olson as head coach of the Portland Thunder, we can talk about those questions. But we can also talk about some facts.
Andy Olson is a native of Chehalis, Washington. He played arena football in Spokane, then became their head coach in 2012. He holds a 42-30 regular season record with the Shock, and 1-3 in the playoffs. That last record is not so bad once you realize they have been up against a couple teams in both rounds which are reportedly violating team rules for paying players under the table. Like the Thunder, The Shock did not participate in this activity.
Olson is familiar with this scenario. He has been around enough.
After the Shock moved to the Indoor Football League, Olson became expendable. Why pay an AFL coach an AFL wage while You're not playing in the AFL?
This hiring is a contradiction in a way. As much as Mike Hohensee was the Wicked Coach of the East, Olson is the Good Coach of the West.
Olson had great respect for his players and his players respected him. There are some guys who just may follow him to Portland. Speculation is always abundant, but there are already names which make sense for the Thunder. I will talk about that later.
Thunder owner Terry Emmert scored a coup in October of 2013 when he hired Matthew Sauk as the first head coach of the Thunder. Then, when the Iowa Barnstormers demoted themselves to the IFL, Emmert fired Sauk and scooped up Hohensee. By the way, the team calls it "parting ways," but in real life it is called being fired.
Sauk had a successful first season at the helm of the Thunder, finishing 5-13 in the regular season. Hohensee, who was supposed to be an upgrade, evened Sauk's record at the helm of the Thunder. Both coaches fell to the respective eventual champions in the first round of the playoffs.
Sauk was an emotional coach who was tasked with making an arena star of former Oregon quarterback Darron Thomas. Though two games, with Thomas sharing time with former Idaho standout Nathan Enderle, the team was not where it need to be. they released Enderle and brought in Danny Southwick. He was not bad for the Thunder, but they lost their first five games. Even fellow expansion franchise L.A. KISS had won two games by then, including one over the Thunder in Anaheim.
Sauk obtained, via trade, Kyle Rowley as they headed into two-week Florida swing. Rowley, the AnrenaBowl XXIII MVP, orchestrated the Thunder to their first franchise win, over the Jacksonville Sharks. However, he was injured in the fourth quarter. The following week, Southwick came on and led the team to the second franchise win, over the Tampa Bay Storm.
As I wrote about a year ago, the firing of Sauk and hiring of Hohensee was a huge mistake. Sauk was developing players and bring some local guys to the forefront of the Thunder's roster. Thomas was one. Linebacker Bryce Peila, who attended Western Oregon, was so productive as a rookie that he was named to the first team All AFL Defense in 2014. Other local college standouts were lineman Brandon Lockheart and linebacker Brandon Tett.
There was much excitement about Sauk's hiring. He had a pedigree as a player and assistant coach in arena football. He had, in fact, won assistant coach of the year honors twice and helped lead the Shock to the ArenaBowlXXIII title. Sauk could have built the Thunder into a winner over time. Many were sad to see him go. In fact, I wrote that his departure from the team was premature. I still think it was. Of course, when you essentially hiring Hohensee before firing your coach sends a wrong message to the team and to fans.
Enter Olson, who is a respected AFL coach and former player. There could be other names thrown around, but Olson is a great choice. He grew up just 90 miles north of Portland and is a Northwest guy. If Emmert wants to localize this team, there is no better choice than Olson. He is intelligent and he quickly earns his players' respect. I am not sure the same would be said of Hohensee, who seemed to never truly have a grasp of his team.
I like this move. In fact, I love this move. Olson will get the best out of his players, similarly to how Sauk did, but probably even more. He will put together a roster of talented guys who know the game.
Coaches who move from one team to another tend to add a couple players from their previous team. Given that the Shock are building a new team in the Indoor Football League, Olson could have his pick of any of the guys from last season's Shock team. All-AFL defensive lineman James Ruffin, quarterback Carson Coffman and 6'7" red-zone threat receiver Nick Truesdell could be among those which Olson brings to the Rose City. Free agency begins soon so it will not take long to see which upgrades the new coach makes.
My inclination is that Olson will makes his major personnel moves sooner rather than later. Hohensee waited and lost out on some big names in free agency during the last off-season and put the Thunder behind the proverbial eight ball entering training camp.
On facebook, more fans than not are questioning Hohensee's firing -- still. It is clear most know very little about Olson. That will change as he puts his stamp on the Thunder.
With Hohensee, the Thunder hired a guy for his experience. With Olson, the Thunder have hired a guy who can make them a contender.
Fans may not know Olson yet, but they soon will and that is a good thing.
This was a great hire.
-
Angi
______________________________________________________________
Angi Says
is a periodic blog written by the general manager of the Sports Coast to Coast forum. It generally features topics from the sports which are covered on the forum.
To comment on this thread and others on this forum, please
login
or
register
.