Post by DiamondThief on Jan 18, 2016 22:42:33 GMT -8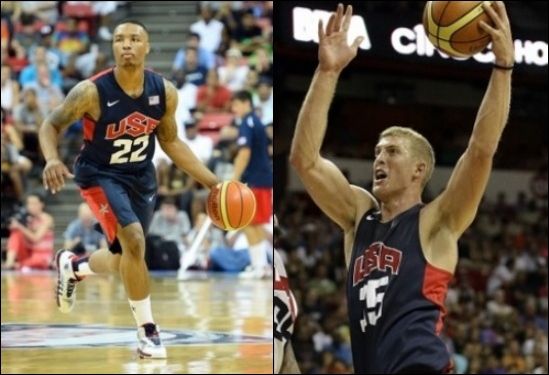 USA Basketball has selected their 30 finalists to comprise the 2016 Men's Olympic Basketball Team and there are a pair of notable exceptions.
It is no surprise that there are names such as Steph Curry, LeBron James and Kevin Durant on the list. That is to be expected. However, two former players who had competed to become a member of USA teams the past two years, were inexplicitly left off the list.
Damian Lillard and Mason Plumlee of the Blazers are not among the 30 finalists for the team, which will be coached by Plumlee's college coach, Duke's Mike Krzyzewski.
Plumlee was one of 34 NBA players chosen to try out for the national team in 2015. He did not make the team, but competed in several practices and scrimmages.
Lillard competed with the 2014 team as they prepared for the World Cup in that year. He was not selected as a member of the World Cup team. It was considered that he would be invited to compete for the 2015 team last summer, but he decided to concentrate on his commitment to the Blazers following the departure of LaMarcus Aldridge during free agency.
"I did it the last few summers and last summer I didn't make it," Lillard told CBS radion host Jody Mac. "I don't know why I would go. After I got cut last summer, I don't think I'm a part of it."
After LaMarcus Aldridge left Portland to sign with the San Antonio Spurs as a free agent last summer, Lillard was tasked to be the leader of a young and building Blazers team. He signed a five-year, $120 million contract extension which well keep him a Blazer through the 2020-21 season.
The roster is essentially a who's who, with a few exceptions, of the NBA. The Golden St. Warriors have five members, including one off their bench, who have been invited to the tryouts.
The following are the 30 invitees who will compete for the team which will represent the United States at the 2016 Olympics in Rio:
The Players
LaMarcus Aldridge (Spurs)
Carmelo Anthony (Knicks)
Harrison Barnes (Warriors)
Bradley Beal (Wizards)
Jimmy Butler (Bulls)
Mike Conley (Grizzlies)
DeMarcus Cousins (Kings)
Stephen Curry (Warriors)
Anthony Davis (Pelicans)
DeMar DeRozan (Raptors)
Andre Drummond (Pistons)
Kevin Durant (Thunder)
Kenneth Faried (Nuggets)
Rudy Gay (Kings)
Paul George (Pacers)
Draymond Green (Warriors)
Blake Griffin (Clippers)
James Harden (Rockets)
Gordon Hayward (Jazz)
Dwight Howard (Rockets)
Andre Iguodala (Warriors)
Kyrie Irving (Cavaliers)
LeBron James (Cavaliers)
DeAndre Jordan (Clippers)
Kawhi Leonard (Spurs)
Chris Paul (Clippers)
Klay Thompson (Warriors)
John Wall (Wizards)
Russell Westbrook (Thunder)
The coaches
Head Coach - Mike Krzyzewski
Assistant Coaches - Jim Boeheim, Tom Thibodeau, Monty Williams
Several foreign NBA players are expected to compete for their respective countries, including former Blazer Nicolas Batum, who is a staple on the French National Team.
Also notable is Blazers assistant coach Jay Triano, who is the head coach of the Canadian National Team. Monty Williams is a former Blazers assistant coach and former head coach of the New Orleans Pelicans, is an assistant coach for the USA Team.
-
ANM
To comment on this thread and others on this forum, please
login
or
register
.