Post by DiamondThief on May 26, 2016 19:47:37 GMT -8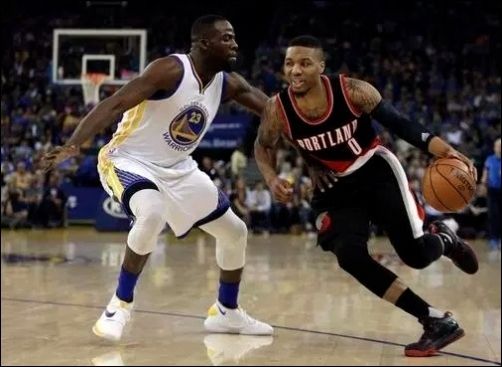 May 26, 2016
- He may not have been selected to participate in the All-Star game, but Blazers guard Damian Lillard has been named one of the four best guards in the NBA.
The fourth-year guard from Weber St. was voted to the All-NBA Second team, as released by the league today.
Lillard received 48 second-team votes and 73 third-team votes for a total of 217 votes to earn the spot on the second team. Stephen Curry (Golden St. Warriors) received a unanimous 129 first-team votes and Russell Westbrook (Oklahoma City Thunder) received 120 first-team votes and 9 second-team votes to earn spots on the first team. Chris Paul of the Los Angeles Clippers was also voted to the second team with Lillard.
Former Blazer LaMarcus Aldridge, in his first season with the San Antonio Spurs, was voted to the third team.
Lillard averaged 25.1 points, 4.0 rebounds and 6.8 assists for the Blazers this season. He led a young team filled with 10 new teammates to the Western Conference Semifinals. The Blazers beat the Clippers in the first round, 4-2, before falling to the defensing champion Warriors, 4-1 in the Conference Semifinal series.
Below are the All-NBA First, Second and Third teams, with the total number of vote points they received.
First Team
F - LeBron James (Cleveland Cavaliers), 637
F - Kawhi Leonard (San Antonio Spurs), 575
C - DeAndre Jordan (Los Angeles Clippers), 317
G - Stephen Curry (Golden St. Warriors), 645
G - Russell Westbrook (Oklahoma City Thunder), 627
Second Team
F - Kevin Durant (Oklahoma City Thunder), 452
F - Draymond Green (Golden St. Warriors), 431
C - DeMarcus Cousins (Sacramento Kings), 277
G - Chris Paul (Los Angeles Clippers), 353
G -
Damian Lillard (Portland Trail Blazers)
, 217
Third Team
F - Paul George (Indiana Pacers), 157
F - LaMarcus Aldridge (San Antonio Spurs), 103
C - Andre Drummond (Detroit Pistons), 173
G - Klay Thompson (Golden St. Warriors), 164
G - Kyle Lowry (Toronto Raptors), 155
Others Receiving Votes
James Harden (Houston Rockets) 106, Paul Millsap (Atlanta Hawks) 84, Anthony Davis (New Orleans Pelicans) 76, Al Horford (Atlanta Hawks) 76, Karl-Anthony Towns (Minnesota Timberwolves) 44, DeMar DeRozen (Toronto Raptors) 26, Hassan Whiteside (Miami Heat) 24, Isaiah Thomas (Boston Celtics) 20, Pau Gasol (Chicago Bulls) 16, Jimmy Butler (Chicago Bulls) 12, Dirk Nowitzki (Dallas Mavericks) 8, John Wall (Washington Wizards) 7, Kemba Walker (Charlotte Hornets) 6, Tim Duncan (San Antonio Spurs) 3, Gordon Wayward (Utah Jazz) 3, Dwight Howard (Houston Rockets) 3, Carmelo Anthony (New York Knicks) 2, Marc Gasol (Memphis Grizzlies) 2, Andrew Bogut (Golden St. Warriors) 1, Blake Griffin (Los Angeles Clippers) 1, Brook Lopez (Brooklyn Nets) 1, Tony Parker (San Antonio Spurs) 1.
All-NBA Teams were chosen by broadcasters and sportswriters in the United States and Canada. First-place votes were with five points, second-place votes were worth three points and third-place votes were worth one point. Players who received votes at multiple positions were awarded spots in the positions where they received the most votes.
-
ANM
To comment on this thread and others on this forum, please
login
or
register
.