Post by Kasey on Jun 15, 2016 13:41:52 GMT -8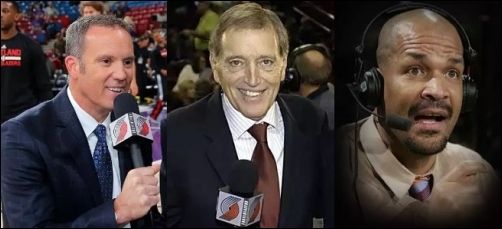 UPDATED:
6/17/16; 11:25 a.m.
June 17, 2016
-- The Portland Trail Blazers have announced that veteran NBA broadcaster Kevin Calabro has been hired to replace Mike Barrett as the team's television broadcast announcer.
The Blazers fired Barrett and analyst Mike Rice, as well as radio commentator Antonio Harvey on June 15. Brian Wheeler will continue to call play-by-play for Blazers radio broadcasts, though he will now do so without a commentating partner.
No announcement has been made on a replacement for Rice.
Calabro worked in the same capacity for the Seattle Supersonics from 1987 to 2008, when the team was purchased and moved to Oklahoma City to become the Thunder. Calabro, who had children in school in the Seattle area, opted not to move with the team.
He currently is doing play by play on the NBA Finals for ESPN radio, alongside analyst and former NBA coach Hubie Brown.
"After reviewing our entire broadcast operation over the past couple of seasons, I felt it was a good time for us to transition into a new direction," Blazers president and CEO Chris McGowan said in a statement on blazers.com.
When the announcement of the Barrett, Rice and Harvey firings was made, McGowan said that the search was already underway, but that no one had been hired. He acknowledged today that discussions had been started during the Blazers' second round playoff series against the Golden St. Warriors.
The team's broadcast contract with Comcast SportNet Northwest ends at the end of this month. The team is expected to announce a new deal, possibly with a new partner. It has been reported that McGowan has recently had meetings with ROOT Sports and Fox.
Barrett had been the television voice of the Blazers since 2003. He also has announced Portland Thunder/Steel games on CSNNW during their first two seasons. Prior to calling Blazers games, he spent 1999 to 2003 working as the team's radio studio host and was editor of the Blazers official magazine, Rip City Magazine. He also served as the radio play-by-play host for the Portland Fire of the Women's Professional Basketball Association from 2000-2003. Barrett graduated from Oregon St. in 1991 with a degree in journalism. He attended West Albany High school.
Rice had been with the Blazers since 1991 when he was selected as the radio commentator (alongside broadcasting legend Bill Schonley). He became the television analyst alongside Barrett beginning the 2006-07 season. Prior to working with the Blazers, Rice broadcast college basketball games for ESPN and World Basketball League games for SportsChannel America. Prior to broadcasting, Rice coached basketball for his alma mater, Duquesne University and Youngstown St.University. Rice played for the Duquesne Dukes, where he led them to the National Invitational Tournament in 1962. He was selected by the Detroit Pistons with the 64th overall pick in the 1962 NBA Draft, but decided to pursue a career in coaching. Rice is the only broadcaster in NBA history to be ejected in an NBA game.
Harvey played for eight years in the NBA, including two seasons with the Blazers, before returning to Portland as the general manager and head coach of the Portland Reign of the American Basketball Association. He was hired by the Blazers in 2005 and has spent the past 11 seasons as the radio analyst. Harvey played for six different teams in his NBA career, as well as a half dozen professional teams across overseas during an 11-year professional career. He attended Southern Illinois University, Connors State College, the University of Georgia and Pfeiffer University. He went undrafted in 1993, but signed as a free agent with the Los Angeles Lakers. He competed in the NBA Slam Dunk Contest in 1995.
The three, along with Wheeler, also rotated as hosts of
Trail Blazers Courtside
on CSNNW. The next episode is scheduled to be the show's Draft Special. While it is anticipated that Wheeler will be a part of the broadcast, no announcement has been made as to who will join him.
-
MKM
To comment on this thread and others on this forum, please
login
or
register
.