Post by DiamondThief on Jun 29, 2016 10:18:44 GMT -8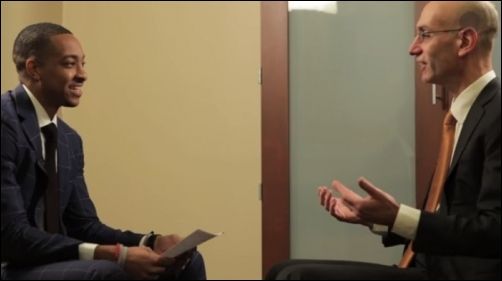 For the third summer, Portland Trail Blazers guard CJ McCollum had an opportunity to sit down and interview NBA commissioner Adam Silver for
The Players' Tribune
.
McCollum, who earned his journalism degree at Lehigh University, talked to the commissioner about jersey advertising, the upcoming All-Star game scheduled to be in Charlotte, player celebrations and McCollum's former baby fat. The interview took place on June 23, prior to the NBA Draft.
The following are some excerpts of Silver's answers.
Handshakes
"Really, I respond to people shaking my hands and it's really more a question of their style. And sometimes, I think the same for you that some people kind of reach out and go like this, some people are sort of like this, some people are huggers. And I follow their lead. I will say, I tend to be a fairly physical person, so if somebody wants to hug I'm happy to hug back."
Advertising on jerseys
"Well, you gotta talk to your team. So what we have in place now is a program that's gonna begin — not this coming season, but the following season — where it's a team's right to sell a logo on the, in essence, the breast portion of the jersey. We're moving to Nikes, I think you know, too. And so there'll be a swoosh, and right now there is no branding whatsoever other than the NBA logo on our jerseys. So there's gonna be a swoosh, and on the other side of the jersey, it's a team's right to sell that sponsor."
Social media
"So my idea with the Instagram account, and same with Facebook, was: I have all this incredible behind-the-scenes access. It's the ultimate, you know, backstage pass. And I've been at the league for over 20 years and I've seen all kinds of great things. And when social media began developing, I thought, "What a great opportunity to share with other people what it's like behind the scenes." Because everybody wants that backstage pass. So if you notice, I'm not in any of the pictures. Or hardly any of them. It's always from my perspective. Some of them, I shoot myself with my smart phone. Often, as you see, there's so many camera folks around the NBA that I can get them to send me the pictures and then I post them. But it's just a fun way of allowing people to experience the stuff that you and I get to see every day, really, behind the scenes at the league."
Diversity in team front offices
"Yeah, I think it's something we all have to focus on. It's not any one person's job. There's things that we can do institutionally. For example, the NBA added a Chief Diversity and Inclusion Officer, someone who talks to the league, talks to all our teams, keeps the data. Because one of the things is, it has to be top of mind. You need to be thinking of that matter all the time. And you also need to be talking about the business benefits of being a diverse and inclusive organization."
This is the first year that the video was taped. The following video is an abridged version.
(
Video courtesy
The Players' Tribune
on youtube
)
Click on
The Players' Tribune
for the entire transcript of the interview.
-
ANM
To comment on this thread and others on this forum, please
login
or
register
.