Post by DiamondThief on Aug 31, 2016 17:19:26 GMT -8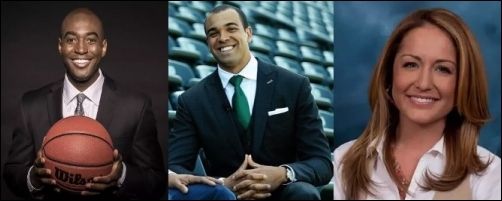 August 31, 2016
-- Former Pac-12 Network basketball analyst Lamar Hurd has been hired as the new television analyst, alongside new play-by-play announcer Kevin Calabro.
Calabrao was hired by the team on June 25, two days after the team had
fired the duo of Mike Barrett and Mike Rice, as well as radio analyst Antonio Harvey
. Brian Wheeler is the only surviving member of the broadcast team from last season and will call games without an analyst for at least the upcoming 2016-17 season, according to Blazers CEO and president Chris McGowan.
In addition to his work for the Pac-12 Networks, Hurd has worked Oregon St. basketball games for Root Sports. He has also worked stints for ESPN and Fox Sports Northwest. During a four-year career playing guard for the Beavers. finished eighth on the school's all-time career assists list. He also received All Pac-10 honors.
Hurd was among several considered to be cast as
The Bachelor
for the 17th season of the show in 2013.
Comcast SportsNet Northwest host Jordan Kent has been tabbed as the team's new studio host for the pre-game, halftime, and post-game shows. He also will be the permanent host of Trail Blazers Courtside, which typically airs on CSNNW on Monday nights, though should a game be scheduled for a Monday, the show is moved to Tuesday or Wednesday (depending on the game schedule). Kent has been a host of several shows on CSNNW, including
Talkin' Ball, Talkin' Ducks
and pre-game and post-game shows involving Oregon basketball games. Kent played for the Seattle Seahawks and St. Louis Rams in the NFL. He competed in basketball, football, and track and field for the Ducks.
Brooke Olzendam will round out the Blazers television broadcast group as the courtside reporter for all Blazers broadcasts to be telecast on CSNNW or KGW. She also will host digital, web and social content for the team. Additionally she will present player and feature stories for the team. Olzendam, who worked as a reporter and television host for the Indiana Pacers prior to coming to Portland in 2014, has been a host for CSNNW shows such as
Trail Blazers Pulse
and
CSN Sports Talk
, as well as several other stints as guest hosting spots on several other shows on the network.
The Blazers Broadcasting Network will air 75 games over the course of the season, with TNT broadcasting six and ESPN having exclusive rights to one game. Click for the full
Blazers 2016-17 schedule
.
To follow the trio on twitter, click the respective links:
Lamar Hurd
Jordan Kent
Brooke Olzendam
-
ANM
To comment on this thread and others on this forum, please
login
or
register
.