Post by Kasey on Oct 1, 2013 21:27:49 GMT -8
on monday, september, 30, the Blazers hosted their annual media day, answering questions from the sports media, as well as some one-on-one interviews with Blazers staff. this is part two of a three-part series.
here's just some of the things the players had to say:
Allen Crabbe
"(I've been) really putting in a lot of work in the gym, realizing this is my job now. I wake up and sleep basketball. It's like 24/7 and I feel like this is an opportunity for me to continue to grow as a player. Working on things I'm not good at so I can become a complete player one day."
specific areas on which he worked:
"Being more comfortable with the ball in my hands, and some footwork stuff. When you get to the NBA, you really start to realize there's a lot of little things that you need to pick up on in your skill set and some of these things like footwork is a big thing. It's been a great off season and now it's time for training camp, then the season is here."
on voluntary workouts:
"I was playing with the veteran guys; you know, guys who've been in the league already. You know, it's just good to be around guys like that. Everybody seems like good guys; guys who are gonna help each out. So, I'm excited for that."
Meyers Leonard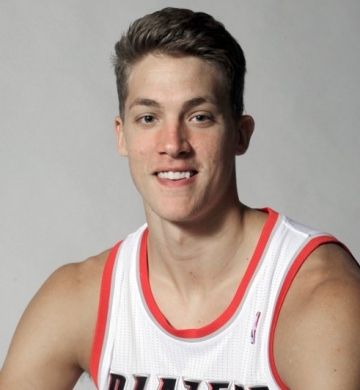 "Summer was great; I definitely improved. I was in Portland all of June working out and with some of the other players. I went to summer league with the team, obviously, but then I went back to Vegas again for a camp. I went to L.A. for a week and worked out with some other NBA guys. So, I've been all over the map, but I've been working on my game."

"This summer, after talking with the coaches after the season, they really wanted me to work on my defense and rebounding because for the future, being an anchor in the paint and things like that. Not only that, I continue to work on my offense came, which is continuing to come along."

"We definitely have some fire power on the bench now; to come off to be able to relieve our starters. Not only that, but working with Robin is good. He's a good guy. Very strong. Relentless when it comes to being on the court and always goes after the offensive rebound. He really anchors the paint ... on the defensive end. I really hope to be able to learn from him. He has a legit NBA center body, so that's going to help."
Robin Lopez
"I've been playing with these guys for the past few weeks and I think that's the one word I've been throwing around; that a lot of teammates have been throwing around is 'excited.'"

"The past couple of weeks, I've seen tons of hard work, tons of grittiness. I don't see a reason we can't put ourselves in a position to be a playoff team."
on team defense:
"I think with defense, what it boils down to is a team concept. It's something where everyone needs to be on the same page. I think that needs to be our first goal."
on comparisons to his brother, Brooke, who plays for the Nets:
"He's compensating for a lot of stuff. I'm obviously a lot more handsome, I'm wittier. It's really unfair I got both the good looks and the gift of gab. So there's a reason, you know -- there's a reason he's going out there scoring however many a night. But, I mean, obviously ... if you've made it this far, you're a competitor, so there's definitely a competitive factor. I'm definitely blessed to be able to play against him. I'm blessed to have my mom, my family watch our games."
CJ McCollum
"I spent a lot of time here; the last month or so, basically at a little mini camp with a lot of the younger guys. Some of the veterans are in there now. Just working on full body strength, a lot of core stuff, tighten up my core and back, tighten up pick-and-roll reads, a lot of conditioning and shooting. just trying to become a better overall player and learning the system, and just trying to become the best Portland Trail Blazer I can be."

"(I'm) focusing on my overall game. The biggest thing I've been working on is strength and conditioning with our staff; just the core that helps you because your movements are faster and tighter, and yo're definitely able to move laterally on defense."
on hazing from the veterans:
"It's going all right. It's not too bad ... no backpacks right now. The season hasn't officially gotten underway yet, so no backpacks. (Maybe) They're going to get me a nice Gucci to carry around ... Dora the Explorer, Spongebob or something."
Thomas Robinson
"I'm getting to where I'm settled in, comfortable with the team, with the organization and, you know, calling Portland home."

"From an organization standpoint ... They made me feel welcome and wanted here, so that's a great sign."

"As far as the young players are concerned, we have, not a gap, but have a majority of guys who are younger than we have ever had."

"LaMarcus is LaMarcus ... and Robin; I have a lot of respect for him from watching him."
Earl Watson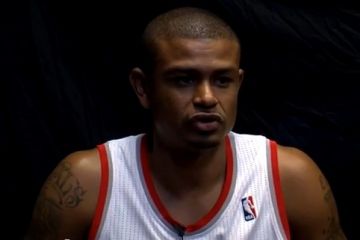 "Summer has been great ... I've been doing a lot of palates, a lot of yoga, training smarter, eating smarter. At the same time, building for longevity for the long year."

"I'm a big believer in everyone making a blank canvas and I think for this team we now have a blank canvas going into the season. It's up to us to create it or paint it whatever we want to. All positive attitudes. Create our own masterpiece, and by the end of the all-star break we should be one of the best teams in the NBA as far as a winning record."

"I don't think we have a choice. I think we're a young team. That's how we have to progress. We can't expect it to happen overnight, but it can happen through longevity and consistency."
Mo Willliams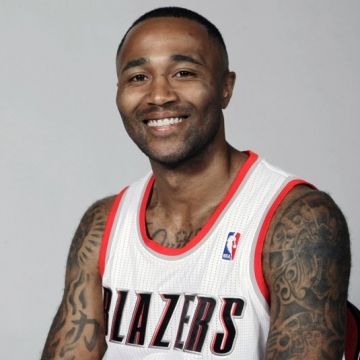 adjusting to Portland:
"I was here when my kids had to go to school, so I've been here over a month. I've been back and forth ... I've got a gym in Dallas and fortunately for myself I was able to find a house in Portland with a gym in it also."

"You just come together and personalities, and i think with this team the personalities, will mesh really well. . I played with Earl on past teams and know his personality. He's a great guy. He's a great leader. With me and him I've got one person I know who is here for the right reason and gonna help everybody he can."
on why he chose to come to Portland:
"The fans. First and foremost. I just remember coming to the Moda Center as an opponent and how loud the fans were; even if it was a playoff team or not, it was just packed."