Post by DiamondThief on Mar 23, 2015 20:45:18 GMT -8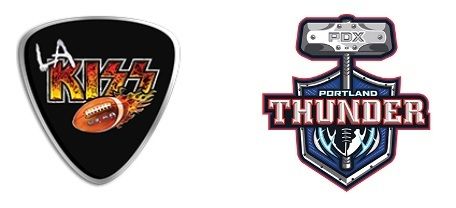 Los Angeles KISS at Portland Thunder
What
: Last year's expansion teams meet in the Rose City to kick off the 2015 season.
When
: Friday, March 27 at 7 p.m. (PT)
Where
: Moda Center at the Rose Quarter; Portland, OR
Thunder Media
: Radio - 750/102.9 The Game.
Schedule
: April 9 -
KISS at Thunder.
June 7 -
Thunder at KISS
.
Note
: The KISS won last year's season series, 2-1.
Forum
: To comment, please
login
or
register
.
The KISS finished last season 3-15 and 1-8 on the road. They averaged 38.8 points per game (14th in the AFL) and 257.8 yards of total offense (11th). The KISS, who lost their last six games, finished in second place in the West Division and fifth in the National Conference.
The Thunder finished last season 5-13 and 3-6 at home. They averaged 45.3 points per game (10th in the AFL) and 295.9 yards of total offense (5th). The Thunder, who won 5 of their last 13 games, finished third in the Pacific Division and fourth in the National Conference.
LOS ANGELES KISS
KISS WR Donovan MorganROSTER# - name (pos)
1 - Donovan Morgan (WR)
2 - Darryl Cato-Biship (DL)
3 - Antron Dillon (DL)
4 - DeMarco Sampson (WR)
5 - Adrian McPherson (QB)
6 - Thyron Lewis (WR)
7 - Jabin Sambrano (WR)
11 - Tom Gilson (WR)
13 - Marcus Trice (DB)
14 - Brian Zbydniewski (QB)
16 - Michale Spicer (DL)
18 - Shannon Tevaga (OL)
19 - Kenny Spencer (K)
21 - De'Audra Dix (DB)
22 - Ter'Ran Benton (DB)
26 - Winston Wright (DB)
34 - LaRon Scott (DB)
44 - Sam Campbell (FB)
52 - Dominic Pittman (DL)
56 - Ronnell Lewis (DL)
64 - Chad Anderson (OL)
70 - Mike Diaz (OL)
77 - Isaiah Tuiasosopo (OL)
91 - Iosua Siliva (DE)
Bob McMillen - Head Coach
Walt Housman - Assistant Head Coach/Defensive Coordinator
Matthew Sauk - Offensive Coordinator
Grady Tucker Jr. - Defensive Line Coach/Director of Scouting
Russell Shaw - Wide Receivers Coach
PORTLAND THUNDER
Thunder MLB Brandon TettROSTER# - name (pos)
1 - Darron Thomas (QB)
2 - Duane Brooks (WR)
3 - Kyle Rowley (QB)
5 - V'Keon Lacey (WR)
6 - Okechukwu Okoroha (DB)
7 - Marquis Jackson (DL)
8 - KC Obi (DL)
9 - Robert Hayes (OL)
11 - Brady Beeson (K)
12 - Jamar Howard (WR)
14 - Perez Ashford (WR)
16 - Martel Moore (WR)
17 - Matt Pierce (DB)
20 - Bryce Peila (DB)
21 - Osagie Odiase (DB)
24 - Andre' Martin (DB)
28 - Remond Willis (LB)
32 - Brandon Tett (LB)
50 - Jeraill McCuller (OL)
52 - Frank Trotter (DL)
66 - Jake McDonough (OL/DL)
70 - John Martinez (OL)
75 - Jordan Mudge (OL)
79 - John Collins (OL)
Mike Hohensee - Head Coach
Ernesto Purnsley - Assistant Head Coach/Defensive Coordinator
Lee Johnson - Special Teams Coordinator/Assistant Defensive Coordinator
Will Harrell - Offensive/Defensive Line Coach
ANGI'S TAKESKISS
: Like the Thunder, the Kiss this year have retooled their roster with perhaps the most notable addition of fifth-year AFL quarterback Adrian McPherson, who returns to the league after a one-year hiatus. He completed 61.8 percent of his passes for 3,156 yards, 59 touchdowns and 5 interceptions in 2013 with the Tampa Bay Storm. He also set an AFL record for rushing touchdowns by a QB with 31 that season. He spent five seasons (2008-12) with the Montreal Alouettes of the Canadian Football League. Wide Receiver Donovan Morgan led the KISS last season with 141 receptions for 1,878 yards and 37 touchdowns. On the defensive side of the ball, the KISS feature former Thunder defensive lineman Antron Dillon, who was signed by the team in February.
Thunder
: New head coach Mike Hohensee addressed the offensive and defensive lines while keeping the quarterback spot in tact. QB Kyle Rowley will be under center for his first full season with the Thunder. In just eight games with the team in 2014, he completed 58.9 percent of his passes for 2,060 yards, 39 touchdowns and 9 interceptions. He was named MVP of ArenaBowl XXIII while at the helm of the Spokane Shock. Wide receiver Duane Brooks amassed 660 yards and 8 touchdowns and averaged 18.8 yards on his kickoff returns last season. Peila, who made the All-Arena second team and was voted the 37th best player in the league last year by AFL players, moves to defensive back. He registered 64.5 tackles and 8 interceptions for Portland in 2014.
QUOTABLE
Thunder OL/DL Jake McDonough on finalizing the roster (on the team's website):
"We've grown closer as a unit, and I didn't think that was possible. We're all sad to see some guys go, but the team is excited for what is to come."
FEATURED TWEETSEXTRA
A look at the new helmets for the Thunder this season.


GAME MEME
To comment on this thread and others on this forum, please
login
or
register
.