Post by Kasey on Oct 2, 2013 20:36:18 GMT -8
on monday, september, 30, the Blazers hosted their annual media day, answering questions from the sports media, as well as some one-on-one interviews with Blazers staff. this is part three of a three-part series.
in this final part, we take a look at just some of the things coach Terry Stotts, general manager Neil Olshey and president Chris McGowan had to say:
Terry Stotts
"Expectations are the playoffs and beyond. That's the .. we've made ... we've made roster moves, and we're deeper than we were last year. Obviously, our goal was to make the playoffs last year. Certainly our goal is to make the playoffs this year, but not necessarily be satisfied with just making the playoffs."

"Defensive improvement is going to be the number one priority. For us to do what we want to do, we have to improve defensively. We're going to change some of our schemes. We're going to change our emphasis. We're gonna change our mentality about it. Our offense is going to get better, but for us to do what we want to do this year, there's no question we're gonna have to make long and large strides with our defense."

"The Western Conference is very competitive and there's probably at least 12 teams out there who think they're playoff teams, and there's only eight of them, so that's why you play the season. That being said, I'm not backing away from the challenge and competition of making the playoffs. We've improved our roster. The players coming back from last year have a year of experience, so we're going to be a better team. There's no question about that. What that translates as far as playoff seeds and number of wins, that's why you play the season."

"Obviously the change in the bench is there will be more scoring. Last year they took a lot of criticism over the summer. I like how hard those guys played and competed. We had good leadership off the bench and so it's unfortunate they were kind of viewed the way they were. That being said, I think the bench will have more scoring; The addition of Mo, who's proven he's a scorer in this league. Dorell Wright can make threes. CJ McCollum is a scorer. Thomas Robinson offers a unique skill set that's not easy to duplicate. So I think we're going to have a lot of versatility off the bench and we are going to score. Everyone kind of gravitates to the offense. We're going to be fine offensively. We were fine last year despite not getting a lot of scoring off our bench. We have to make strides defensively."

"Our core players aren't going to change. Dame, Nic, Wes, LaMarcus and Robin. Those guys are going to be our core and Mo Williams, obviously, who's been a very proficient guard in our league. Competition will be there for a certain amount of minutes and one of the challenges this year is to be more productive and more efficient with the minutes that you have. I would anticipate that our core guys will play less than last year. That means they have to be more efficient and more productive in the minutes that they have."

"As a coach, you like having options and you like having choices, and when I make a bad choice fans like it because they can say I shouldn't have done something. I think having versatility is very important. I like to change lineups. I like to change matchups. Whether it's a shooting lineup, power lineup, we have a lot of different ways we can go this year. That being said, I think it's important we establish our style of play and what we want to go. There are going to be times we can put four three-point shooters on the floor and there are times we're going to have to just play power basketball. I think we have the ability to do both."
Neil Olshey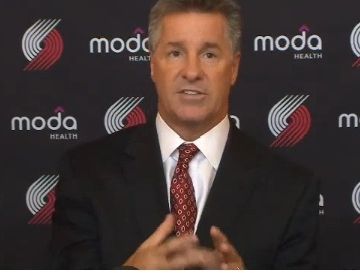 "(Our goal is) o improve upon last year. Look, this is still a process, but everything we did this offseason was with one goal in mind. We're going to continue to develop our young guys, it's just not going to come at the expense of winning games. I think as you see the roster we put together, the more comfortable you guys get with it, you're going to realize that we maximized our cap room, maximized our assets, we're still rebuilding our talent base. We've improved. We're not really where we need to be but we're closer than we were. But all of it is is with winning in mind."

"Paul's (Allen) goal, my goals, Chris McGowan's goals, Terry [Stotts'] goals, everyone's goal goal] is to continue on this upward trend. I think we've played better basketball than we did the year before. I think it was a more enjoyable product to watch. I think we're rebuilding the talent base which I think was a little bit sub-par and we're going to take a step forward. Hopefully that step is big enough to get us back into the playoffs. But ... the West is no joke. I think the West goes 11 or 12 deep and everybody is competing for the same thing we are. Whether they're young or they're older, everybody is anticipating today that they're a playoff team."

"I'm excited (about the bench). I think a lot of the guys that you might not have seen as much as we have because they've been in through September; guys who might have played minor roles for their teams last year, guys like Meyers Leonard and Thomas Robinson, CJ McCollum, a draft pick you've only seen in Summer League and at Lehigh. They're going to make bigger impacts than you guys think at this point. And being supported by guys like Earl, Mo and Dorell, that's as good as any bench in the league."
n extending third year options to Lillard, Leonard and Robinson:
"They're really good. [Thomas Robinson] was the fifth pick in the draft and he's a monster and he's going to have a chance to be a big-time player in our league. There really wasn't a lot of thought put into it. These are three lottery level players. I think Dame speaks for himself. Meyers' growth; he just keeps improving every single day, I think you guys will be pleased with that. You guys have seen a limited sample of Thomas Robinson and you guys are going to be incredibly surprised just how gifted this kid is, now that he's got renewed energy; he's engaged. He knows we're embracing him. He knows we're invested in him. And and he's responded."
on LaMarcus' trade rumors from the summer:
"Oh dear God, would you guys get over it? How many -- asked and answered. Thank you [to Chris Haynes], by the way. What else, guys? Show me a media report where LaMarcus Aldridge has said anything other than, 'I hope the team improves, I'm excited about what we did, I want to get better and I want to win.' Then we can have a conversation. Until then, let's move on. OK? Is that possible. It's not breaking news, dude. We covered it in July. Guys, let's talk about something, someone has got to have a better question than that."
Chris McGowan
"Team success drives a lot of different things that you do. We're fortunate here because we have such great fan support that it matters. But, but it doesn't matter as much as it matters in some other cities out there. If your team doesn't make the playoffs, your building is going to be empty, sponsors aren't going to talk to you. Here, as long as you're playing the right way, your fans generally are going to support you. Clearly, when you're more successful on the floor it's going to be a platform for improving all areas of your business."

"(Season ticket) renewal was good. We're right at the 90 percent mark which is always the barometer in professional sports. New sales are doing really well. We had our best September in franchise history which is good. I'm all about selling as much as you can early and accelerating the sales cycle. We've done a good job of that. We're going to hit our full season ticket equivalent goal, I don't think there's going to be any issues there. We expect the arena is going to be very full every night. "We probably won't sell out every game but I'm OK with that if we're selling things the right way which is what I talked to you guys about. Making sure we're preserving our season ticket holder value, not doing anything that provides options that are better than the people who are supporting us on a nightly basis. So when you do that, there are chances you'll sell a little fewer tickets, but I'm okay with that because I know the arena is going to be full every night."

"I hope (I've been accepted by the fans). I feel like I am. Fans have been great. I had a good opportunity to meet a lot of sponsors. My family is important, making sure they transfer here smoothly -- they love it here, my wife, my kids like it here. I feel like even though it's only been 11 months I feel great here."

"We have (a replacement for the chalupa promotion) and we'll announce it this week. I'll take guesses, but we'll announce it this week. But I think it's something our fans will obviously appreciate. It's going to be along the same lines of the previous promotion [100 points]."