Post by DiamondThief on Apr 4, 2015 12:18:59 GMT -8
New Orleans Pelicans at Portland Trail Blazers
What
: The Pelicans visit Rip City to face the Blazers.
When
: Saturday, April 4 at 7 p.m. (PT).
Pelicans Media
: TV - Fox Sports New Orleans. Radio - WWL 105.3.
Blazers Media
: TV - CSNNW. Radio - Rip City Radio 620 AM.
Previous
: Nov. 17 -
Blazers 102, Pelicans 93
. Dec. 20 -
Blazers 114, Pelicans 86
.
Note
: The Blazers have clinched the Northwest Division title.
Forum
: To comment, please
login
or
register
.
The Pelicans are 41-34, 16-21 on the road and 25-20 in conference games. They are coming off a 101-95 road win over the Kings on April 3. They are averaging 99.6 points (12th in the NBA) and allowing 98.5 (11th). The Pelicans, who have won four straight, are fifth in the Southwest Division and ninth in the Western Conference.
The Blazers are 49-26, 30-8 at home and 29-17 in conference games. They are coming off a 107-77 road win over the Lakers on April 3. They are averaging 102.9 points (7th in the NBA) and allowing 98.0 (8th). The Blazers, who have won five of their last six, are first in the Northwest Division and fourth in the Western Conference.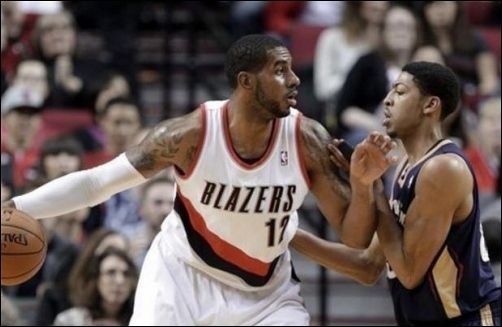 Blazers' LaMarcus Aldridge; Pelicans' Anthony Davis
NEW ORLEANS PELICANSPROJECTED STARTERS
SF - 20 Quincy Pondexter (
7.1 pts, 2.8 reb, 1.2 ast
)
PF - 23 Anthony Davis (
24.5 pts, 10.4 reb, 2.1 ast
)
C - 3 Omer Asik (
7.4 pts, 10.0 reb, 0.9 ast
)
SG - 10 Eric Gordon (
13.2 pts, 2.7 reb, 3.9 ast
)
PG - 1 Tyreke Evans (
16.7 pts, 5.3 reb, 6.5 ast
)
RESERVES
G - 30 Norris Cole; 16 Toney Douglas; 32 Jimmer Fredette; 2 Elliot Williams
F - 33 Ryan Anderson; 8 Luke Babbitt; 44 Dante Cunningham
C - 42 Alexis Ajinca; 5 Jeff Withey
INJURIES

G - 11 Jrue Holiday (leg) - out
HEAD COACH
Monty Williams
STATISTICAL LEADERS
Points - Anthony Davis 24.5
Rebounds - Anthony Davis 10.4
Assists - 1 Tyreke Evans
Blocks - Anthony Davis 2.9
Steals - Anthony Davis 1.4
FG - Alexis Ajinca 55.4%
FT - Alexis Ajinca 83.0%
3pt - Luke Babbitt 51.3%
PORTLAND TRAIL BLAZERSPROJECTED STARTERS
SF - 88 Nicolas Batum (
9.7 pts, 5.9 reb, 4.8 ast
)
PF - 12 LaMarcus Aldridge (
23.4 pts, 10.4 reb, 1.8 ast
)
C - 42 Robin Lopez (
9.5 pts, 6.8 reb, 0.9 ast
)
SG - 4 Arron Afflalo (
13.6 pts, 3.2 reb, 1.7 ast
)
PG - 0 Damian Lillard (
21.0 pts, 4.7 reb, 6.3 ast
)
RESERVES
G - 5 Steve Blake; 10 Tim Frazier; 3 CJ McCollum
F - 23 Allen Crabbe; 33 Alonzo Gee
C - 19 Joel Freeland; 35 Chris Kaman; 11 Meyers Leonard
INJURY REPORT
G - 2 Wesley Matthews (achilles) - out
F - 1 Dorell Wright (hand) - out
HEAD COACH
Terry Stotts
STATISTICAL LEADERS
Points - LaMarcus Aldridge 23.4
Rebounds - LaMarcus Aldridge 10.4
Assists - Damian Lillard 6.3
Blocks - Robin Lopez 1.5
Steals - Damian Lillard 1.3
FG - Robin Lopez 53.1%
FT - Damian Lillard 86.3%
3pt - Meyers Leonard 43.3%
NOTE
:
We use a different standard than the NBA for the individual statistical leaders. Our leaders apply to players who have played at least half their teams' games this season; in this case, roughly 37-38 games, as well as other basic statistical minimums. Leaders who are listed as "out" due to injury are not included.
ANGI'S TAKESPELICANS
: New Orleans is just a half game behind the Thunder in their chase for the eighth and final Western Conference playoff spot. They own the tiebreaker over the Thunder due to winning the season series, 3-1. The Pelicans are built around third-year power forward Anthony Davis, who is a force at both ends of the court. What they seem to lack is a clear second option, as the Blazers have in Lillard. Asik is a defensive-minded center who is a strong rebounder. Gordon, who scored 21 against the Kings, is a pure shooter, while Evans came just one assist away from a triple-double against the Kings (19 points, 12 rebounds and 9 assists). The combination can be potent. Pondexter is a journeyman forward who played with the Blazers' Lopez in high school. Anderson and Ajinca, along with former Blazers Cunningham and Babbitt, pace the second unit.
BLAZERS
: The Blazers clinched the Northwest Division on April 3 by virtue of the Thunder's loss to the Grizzlies, then responded by going out and smattering the Lakers later that night. They are now seeking homecourt advantage in the first round. There was a lot to like about the Blazers 30-point win over the Lakers, not the least of which was McCollum's play off the bench. The second-year guard set a new career high with 27 points on 10-16 shooting. Lillard led the starters with 20 points. The Aldridge-Davis match up should be a battle, as should Lopez versus Asik. Batum is showing the versatility to which fans have become accustomed. Afflalo has turned in solid numbers over the past week. Kaman could be a key off the bench, as could Leonard, who grabbed a team-high 11 rebounds against the Lakers. Blake and Freeland are solid in their reserve roles.
THE PELICANS WIN IF
: Davis goes off, Evans and Gordon combine for at least 42 points and they limit turnovers.
THE BLAZERS WIN IF
: They keep Davis and Asik off the boards, make at least 12 threes and play a full 48 minutes.
MATCH UP TO WATCH
: Anthony Davis vs. LaMarcus Aldridge.
OFFICIALS

Marc Davis, Kevin Cutler, Leon Wood.
QUOTEABLE
Pelicans' coach Williams on their playoff push:
"We know where we are. We know what we want. We're playing for something bigger than all of us. And that's a cool thing and that should be fun."
Blazers' coach Stotts on winning the Northwest Division:
"It's something that we'll always be a part of, and we need to relish this and enjoy it, because it doesn't happen all the time. It's good to be a part of history, winning the title outright. Like I told the team, the banner is going to go up, and we'll always be a part of it."
FEATURED TWEETSEXTRA
After setting a new career high with 23 points against the Warriors on March 24, CJ McCollum topped that with 27 points versus the Lakers on April 3, and seems to be feeling more comfortable as a scorer off the bench. He is averaging 13.0 points in his last nine games.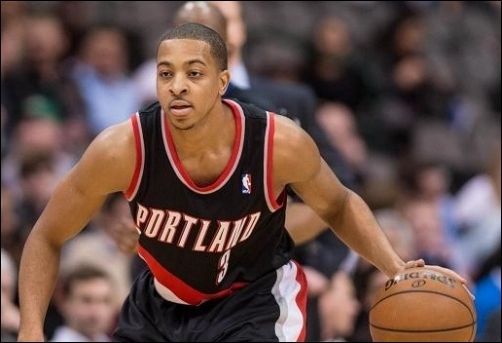 MATCH UP MEME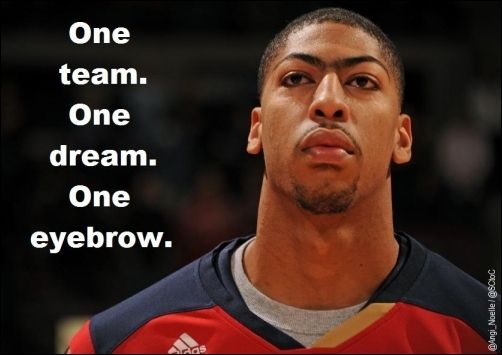 To comment on this thread and others on this forum, please
login
or
register
.