Post by DiamondThief on Apr 5, 2015 0:17:11 GMT -8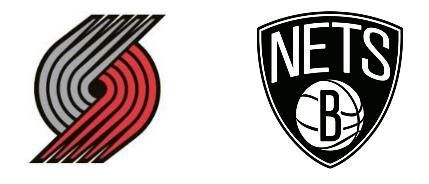 Portland Trail Blazers at Brooklyn Nets
What
: The Blazers make the cross-country journey to face the Nets.
When
: Monday, April 6 at 4 p.m. (PT).
Blazers Media
: TV - CSNNW. Radio - Rip City Radio 620 AM.
Nets Media
: TV - Yes. Radio - WCBS 880 AM.
Previous
: Nov. 15 -
Blazers 97, Nets 87
.
Note
: This is a make-up game which was originally scheduled for January 26. That game was postponed due to the forecast of a blizzard in the New York area.
Forum
: To comment, please
login
or
register
.
The Blazers are 50-26, 19-18 on the road and 20-9 in inter-conference games. They are coming off a 99-90 home win over the Pelicans on April 4. They are averaging 102.9 points (7th in the NBA) and allowing 98.0 (8th). The Blazers, who have won six of their last seven, are first in the Northwest Division and fourth in the Western Conference. They have clinched the Northwest Division title.
The Nets are 35-41, 16-20 and 13-16 in inter-conference games. They are coming off a 131-99 road loss to the Hawks on April 4. They are averaging 97.9 points (17th in the NBA) and allowing 100.7 (16th). The Nets, who have won six of their last seven. are second in the Atlantic Division and seventh in the Eastern Conference.
Nets' Joe Johnson; Blazers' Damian Lillard
PORTLAND TRAIL BLAZERSPROJECTED STARTERS
SF - 4 Arron Afflalo (
13.6 pts, 3.2 reb, 1.7 ast
)
PF - 11 Meyers Leonard (
5.2 pts, 4.1 reb, 0.5 ast
)
C - 42 Robin Lopez (
9.5 pts, 6.8 reb, 0.9 ast
)
SG - 3 CJ McCollum (
5,1 pts, 1.2 reb, 0.9 ast
)
PG - 0 Damian Lillard (
21.0 pts, 4.7 reb, 6.3 ast
)
RESERVES
G - 5 Steve Blake; 10 Tim Frazier
F - 23 Allen Crabbe; 33 Alonzo Gee
C - 19 Joel Freeland
INJURY REPORT
G - 2 Wesley Matthews (achilles) - out
F - 12 LaMarcus Aldridge (thumb) - out
F - 88 Nicolas Batum (back) - out
F - 1 Dorell Wright (hand) - out
C - 35 Chris Kaman (thumb) - out
HEAD COACH
Terry Stotts
STATISTICAL LEADERS
Points - LaMarcus Aldridge 23.4
Rebounds - LaMarcus Aldridge 10.4
Assists - Damian Lillard 6.3
Blocks - Robin Lopez 1.5
Steals - Damian Lillard 1.3
FG - Robin Lopez 53.1%
FT - Damian Lillard 86.3%
3pt - Meyers Leonard 43.3%
BROOKLYN NETSPROJECTED STARTERS
SF - 7 Joe Johnson (
14.6 pts, 4.8 reb, 3.6 ast
)
PF - 30 Thaddeus Young (
14.2 pts, 5.2 reb, 2.3 ast
)
C - 11 Brook Lopez (
16.9 pts, 7.3 reb, 0.7 ast
)
SG - 22 Markel Brown (
4.6 pts, 2.3 reb, 0.9 ast
)
PG - 8 Deron Williams (
13.2 pts, 3.2 reb, 6.4 ast
)
RESERVES
G - 6 Alan Anderson; 44 Bojan Bogdanovic; 0 Jarrett Jack; 14 Darius Morris
F - 55 Earl Clark; 21 Cory Jefferson
C - 9 Jerome Jordan; 1 Mason Plumlee
INJURIES

G - 6 Alan Anderson (ankle) - out
G - 10 Sergey Karasev (knee) - out
F - 33 Merza Teletovic (chest) - out
HEAD COACH
Lionel Hollins
STATISTICAL LEADERS
Points - Brook Lopez 16.9
Rebounds - Brook Lopez 7.3
Assists - Deron Williams 6.4
Blocks - Brook Lopez 1.8
Steals - Thaddeus Young 1.7
FG - Mason Plumlee 58.0%
FT - Jarrett Jack 87.4%
3pt - Deron Williams 37.6%
NOTE
:
We use a different standard than the NBA for the individual statistical leaders. Our leaders apply to players who have played at least half their teams' games this season; in this case, roughly 38 games, as well as other basic statistical minimums. Leaders who are listed as "out" due to injury are not listed
.
ANGI'S TAKESBLAZERS
: Portland is looking to gain home court advantage in the playoffs after having won the Northwest Division. They can finish no lower than the fourth seed, but have the possibility of moving up. Lillard led the way against the Nets in the first match up with 28 points and 10 assists. Lopez had 10 points and 7 rebounds. He lost the battle against his brother, Brook, but his team won the war as they picked up the win. Leonard, who started against the Nets, grabbed 12 rebounds. Kaman had 12 points in that game. McCollum has emerged as a strong scorer off the bench, who is averaging 12.7 points in his last 10 games. Aldridge and Batum, who missed the first game due to injury, will not make the trip with team, along with Kaman, in order to rest them for the playoffs. Missing four of their five bigs last season (Lopez was the only one to play), the Blazers torched the Nets in a 124-80 win in Portland.
NETS
: Brooklyn is fighting to keep its playoff position. The Nets are in seventh place right now, but are just a half game ahead of the Celtics. If the playoffs started today, they would play the Cavaliers in the first round. Lopez has enjoyed a relatively healthy season. He scored a team-high 21 points for the Nets in the first match up between the teams back in November. Johnson added 20 points. Young, who came over in a mid-season trade for Kevin Garnett, gets the start at the power forward spot. Williams is average at the point, but did score 19 points to go along with 6 assists against the Blazers. Bogdanovic has come off the bench for the Nets, scoring 19 points in the loss to the Hawks. He, Plumlee, Clark and former Blazer Jack provide the punch off the bench. The Nets shot just 1-19 from behind the arc in the first match up.
THE BLAZERS WIN IF
: Win the rebounding battle, limit their turnovers and their bench outscores their Nets counterparts.
THE NETS WIN IF
: Lopez and Johnson combine for 44 or more points, they shoot over 48 percent and score in transition.
MATCH UP TO WATCH
: Robin Lopez vs. Brook Lopez.
OFFICIALS

Ron Garretson, Bennie Adams, Curtis Blair.
QUOTEABLE
Blazers' coach Stotts following the Nov. 15 win over the Nets:
The contributions of everybody off the bench - it was definitely a team win. It just shows the young guys are getting better."
Nets' guard Williams on the April 4 loss to the Hawks:
"We haven't beaten them this season yet so right now we don't match up well against them. We've got to figure some things out."
FEATURED TWEETSEXTRA
Despite having to fly to Brooklyn on April 5, Damian Lillard sported an Easter themed version of his signature shoe against the Pelicans. He obtained permission from the NBA to wear them and will also don them against the Nets.

MATCH UP MEME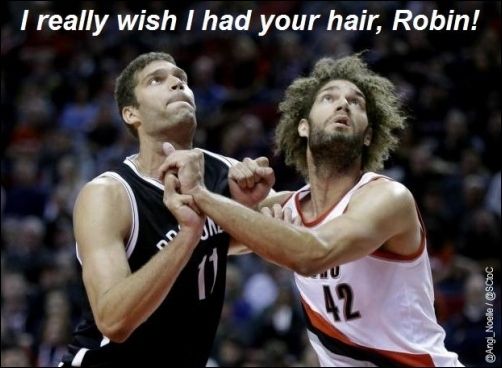 To comment on this thread and others on this forum, please
login
or
register
.