Post by DiamondThief on Apr 7, 2015 20:03:15 GMT -8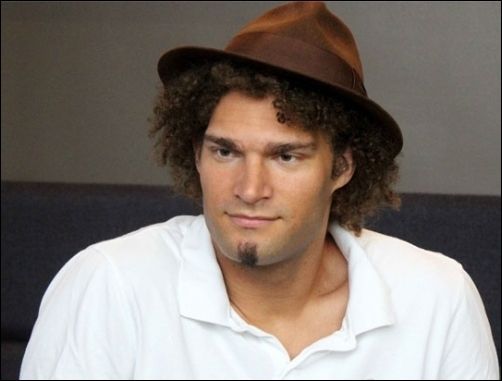 April 7
- Robin Lopez's wish to be a bobblehead has been granted.
The Blazers center, who grew up in the Central California city of Fresno, has navigated through the field of 64 and has emerged as the winner of the
Fresno Famous
contest. The tournament, similar to NCAA's March Madness, featured six rounds to weed it down to a champion. Lopez gathered enough fan votes to beat former NFL running back and Geico pitch man Icky Woods ("
Gonna get some cold cuts today!
") in the final.
The seven footer asked for a push in the final hours of the final.
The tournament was sponsored by the Fresno Grizzlies, a tripe-A minor league baseball team. It pitted various personalities with Fresno connections against each other. The Grizzlies, who play in the Pacific Coast League, are a minor-league affiliate of the Houston Astros.
For winning the tournament, Lopez's likeness will be made into a bobblehead, which will be given to the first 1,5000 fans at the Grizzlies' game against the Round Rock Express on August 22. The game will be held at Chukchansi Park in Fresno.
Here is the map of Lopez's road to the championship:
Round of 64
- beat Fresno Grizzlies mascot, "Parker"
Round of 32
- beat local sportscaster Andrew Marden
Round of 16
- beat MLB Network host Heidi Watney
Round of 8
- beat former Olympic boxer Jenifer Alcorn
Round of 4
- beat local TV host Kopi Sotiropulos
Championship
- beat former NFL running back Ickey Woods
Of over 430,000 votes cast in the tournament from 19 countries during the duration of the tournament, Lopez received 26,545 of them.
Lopez (a.k.a
RoLo, Fropez, Sideshow Rob
) attended San Joakin Memorial High School in Fresno, where he was named MVP of the Adidas Superstar Camp Underclass All-Star game in his junior year, and to both the 2006 McDonald's All American team and the Parade All-American team his full senior year. He went on to play for Stanford before entering the NBA.
Other personalities in the Sweet Sweet Sixteen included late actor Richard Kiel, the late former NCAA basketball coach Jerry Tarkanian, actor Alan Autrey, former NFL fullback Lorenzo Neal and current Oakland Raiders quarterback Derek Carr.
Brook Lopez, Robin's brother who plays for the Brooklyn Nets, did not appear in the tournament. Quincy Pondexter, Robin's high school and AAU teammate who plays for the New Orleans Pelicans, was eliminated in the second round by Tarkanian.
Click for the
Fresno Famous bracket
.
-
ANM
To comment on this thread and others on this forum, please
login
or
register
.