Post by DiamondThief on Apr 10, 2015 21:57:36 GMT -8

Utah Jazz at Portland Trail Blazers
What
: The Blazers host the Jazz in their final regular season home game.
When
: Saturday, April 9 at 7 p.m. (PT).
Jazz Media
: TV - Root. Radio - KXNS.
Blazers Media
: TV - KGW. Radio - Rip City Radio 620 AM.
Previous
: Feb. 3 -
Blazers 103, Jazz 102
. Feb. 20 -
Jazz 92, Blazers 76
. March 25 -
Blazers 92, Jazz 89.
Note
: The Blazers have used 18 different starting lineups this season, and may use their 19th in this game.
Forum
: To comment, please
login
or
register
.
The Jazz are 36-43, 16-23 on the road and 8-7 in division games. They are coming off a 89-88 home loss to the Grizzlies on April 10. They are averaging 94.9 points (25th in the NBA) and allowing 94.6 (1st). The Jazz, who have won five of their last six, are third in the Northwest Division and 11th in the Western Conference. They have been eliminated from the playoffs.
The Blazers are 51-28, 32-8 at home and 11-3 in division games. They are coming off a 116-105 road loss to the Warriors on April 9. They are averaging 103.0 points (8th in the NBA) and allowing 98.2 (11th). The Blazers, who have won six of their last nine, are first in the Northwest Division and fourth in the Western Conference. They have clinched the Northwest Division title.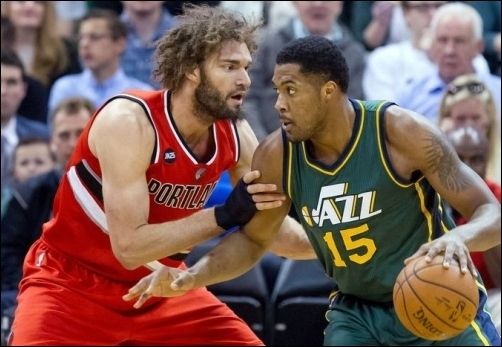 Blazers' Robin Lopez; Jazz's Derrick Favors
UTAH JAZZSTARTERS
SF - 2 Joe Ingles (
5.0 pts, 2.3 reb, 2.3 ast
)
PF - 33 Trevor Booker (
6.7 pts, 4.9 reb, 1.0 ast
)
C - 27 Rudy Gobert (8.2
pts, 9.3 reb, 1.3 ast
)
SG - 5 Rodney Hood (8.2
pts, 2.4 reb, 1.5 ast
)
PG - 11 Dante Exum (
4.8 pts, 1.6 reb, 2.4 ast
)
RESERVES
G - 8 Bryce Cotton; 13 Elijah Millsap
F - 45 Jack Cooley; 40 Jeremy Evans; 17 Grant Jerrett; 23 Chris Johnson
INJURIES
G - 3 Trey Burke (back) - out
G - 10 Alec Burks (shoulder) - out
F - 15 Derrick Favors (rest) - out
F - 20 Gordon Hayward (rest) - out
HEAD COACH
Quin Snyder
STATISTICAL LEADERS
Points - Gordon Hayward 19.1
Rebounds - Rudy Gobert 9.3
Assists - Gordon Hayward 4.1
Blocks - Rudy Gobert 2.3
Steals - Gordon Hayward 1.4
FG - Rudy Gobert 61.2%
FT - Gordon Hayward 81.3%
3pt - Gordon Hayward 36.2%
PORTLAND TRAIL BLAZERSSTARTERS
SF - 88 Nicolas Batum (
9.6 pts, 5.9 reb, 4.8 ast
)
PF - 11 Meyers Leonard (
5.5 pts, 4.5 reb, 0.6 ast
)
C - 42 Robin Lopez (
9.6 pts, 6.9 reb, 0.9 ast
)
SG - 3 CJ McCollum (
6.6 pts, 1.4 reb, 1.0 ast
)
PG - 0 Damian Lillard (
21.1 pts, 4.6 reb, 6.3 ast
)
RESERVES
G - 5 Steve Blake; 23 Allen Crabbe; 10 Tim Frazier
F - 33 Alonzo Gee
C - 19 Joel Freeland; 35 Chris Kaman
INJURY REPORT
G - 4 Arron Afflalo (shoulder) - out
G - 2 Wesley Matthews (achilles) - out
F - 12 LaMarcus Aldridge (foot) - out
F - 1 Dorell Wright (hand) - out
HEAD COACH
Terry Stotts
STATISTICAL LEADERS
Points - Damian Lillard 21.1
Rebounds - Robin Lopez 6.9
Assists - Damian Lillard 6.3
Blocks - Robin Lopez 1.4
Steals - Damian Lillard 1.2
FG - Robin Lopez 53.2%
FT - Damian Lillard 86.5%
3pt - Meyers Leonard 43.8%
NOTE
:
We use a different standard than the NBA for the individual statistical leaders. Our leaders apply to players who have played a minimum of 35 games, as well as other basic statistical minimums. Leaders who are listed as "out" due to injury are not listed
.
ANGI'S TAKESJAZZ
: Utah has been one of the best teams in the NBA since the all-star break. If they had played the as well in the first half of the season, the Jazz might just find themselves in the playoffs. A trade-deadline deal sent away Enes Kanter and turned Gobert into a full-time starter. What they have in him is a rim protector, shot blocker and a lengthy guy who is effective following shots on the offensive end. Hayward leads the team in scoring and tallied 27 points in the loss to the Grizzlies. Favors is one of the better power forwards in the conference and seems to always have a strong game against the Blazers. Gobert and Favors each posted in double figures in rebounding against the Grizzlies with 14 and 10, respectively. Exum is turning into an effective point guard and is getting better and better at stretching the floor. Hood and Ingles have had their moments, but the Jazz will be missing Burke and Burks. Millsap started some games this season, and Booker will be called upon to provide beef off the bench.
BLAZERS
: The Blazers suffered a blow to their playoff run when Arron Afflalo strained his right shoulder in the April 9 loss to the Warriors. Fortunately, he will only miss one to two weeks; that includes the remainder of the regular season and possibly a couple playoff games. The injury could have been much worse. Aldridge is out with a foot sprain, so it will be up to Lillard to lead the way. He seems to score in spurts, but is getting better at getting his teammates involved; he had 12 assists in the March 25 game against the Jazz. Lopez is proving how valuable he can be down low on offense. Batum filled the stat sheet against the Warriors. I am projecting Stotts to start Allen Crabbe, who is a solid defender and started against the Jazz on March 25. McCollum has scored in double figures in six straight games. Leonard will likely get the start in Aldridge's place. He has been a beast on the boards as of late. Kaman could have a big night against the Jazz's second unit bigs. I also expect to see Gee get some run in this one.
THE JAZZ WIN IF THEY
: Slow down the pace, defend the three and outrebound the Blazers.
THE BLAZERS WIN IF THEY
: Make at least 10 threes, limit turnovers and shoot at least 47 percent.
MATCH UP TO WATCH
: Rudy Gobert vs Robin Lopez.
OFFICIALS

43 Danny Crawford
21 Dedric Taylor
31 Scott Wall
QUOTEABLE
Jazz coach Quin Snyder following the March 25 loss to the Blazers:
"We need to be smarter. Thought we had some breakdowns, obviously, in the fourth quarter defensively. I felt like we really competed in a situation where it would have been easy not to. To feel sorry for ourselves or whatever."
Blazers' Damian Lillard on guarding Stephen Curry on April 9:
"We tried to mix up our coverages a little bit because he came out making shots from everywhere. It pretty much just didn't matter. He made shots with a hand in his face, off balance, deep, everything. He just had it going."
FEATURED TWEETSEXTRA
It was doppleganger night on
Trail Blazers Pulse
on April 9, following the Blazers-Warriors game, as Brooke Olzendam and Dusty Harrah discussed my tweet regarding the Warriors Shaun Livingston and former Blazer Andrew Miller.


MATCH UP MEME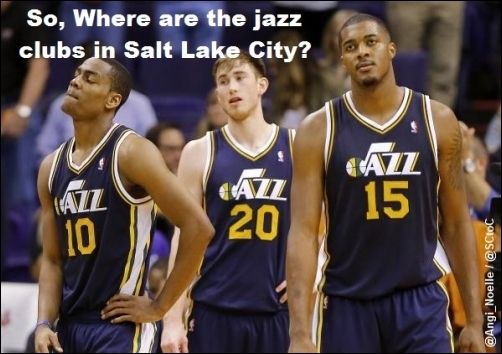 To comment on this thread and others on this forum, please
login
or
register
.