Post by DiamondThief on Apr 12, 2015 5:47:12 GMT -8

Portland Trail Blazers at Oklahoma City Thunder
What
: The Blazers visit the dust bowl to take on the NBA's Thunder.
When
: Monday, April 13 at 5 (PT).
Blazers Media
: TV - KGW. Radio - Rip City Radio 620 AM.
Thunder Media
: TV - FS Oklahoma. Radio - WWLS 98.1FM OKC.

National Media
: TV- NBATV.
Previous
: Oct. 29 -
Blazers 106, Thunder 89
. Dec 23 -
Blazers 115, Thunder 111 (OT)
. Feb. 27 -
Blazers 115, Thunder 112.
Note
: 1 to 81 The Blazers first game of the season and, save for their season finale at Dallas, this game come against the Thunder. The Blazers hold a 3-0 advantage over the .
Forum
: To comment, please
login
or
register
.
The Blazers are 51-29, 19-20 on the road and 11-4 in division games. They are coming off a 111-105 home loss to the Jazz on April 11. They are averaging 103.0 points (8th in the NBA) and allowing 98.2 (9th). The Blazers, who have lost three of their last four, are first in the Northwest Division and fourth in the Western Conference. They have clinched the Northwest Division title.
The Thunder are 43-37, 28-12 at home and 8-6 in division games. They are coming off a 116-104 road loss to the Pacers on April 12. They are averaging 103.6 points (5th in the NBA) and allowing 101.6 (20th). The Thunder, who have lost five of their last six, are second in the Northwest Division and ninth in the Western Conference. They are battling for the eighth and final spot in the playoffs.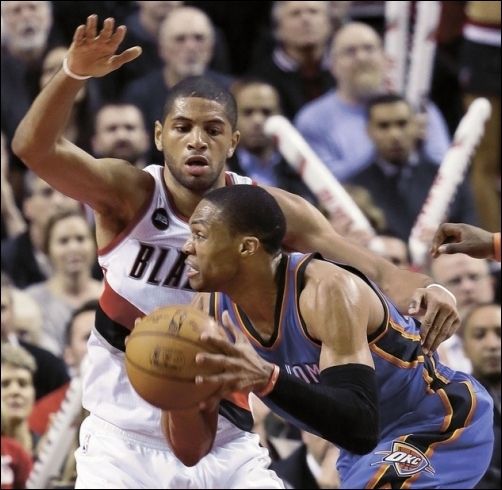 Blazers' Nicolas Batum; Thunder's Russell Westbrook
PORTLAND TRAIL BLAZERSPROJECTED STARTERS
SF - 88 Nicolas Batum (
9.5 pts, 5.9 reb, 4.9 ast
)
PF - 11 Meyers Leonard (
5.6 pts, 4.5 reb, 0.6 ast
)
C - 42 Robin Lopez (
9.8 pts, 6.9 reb, 0.9 ast
)
SG - 23 Allen Crabbe (
3.2 pts, 1.2 reb, 0.7 ast
)
PG - 0 Damian Lillard (
21.2 pts, 4.7 reb, 6.2 ast
)
RESERVES
G - 5 Steve Blake; 10 Tim Frazier; 3 CJ McCollum
F - 33 Alonzo Gee
C - 19 Joel Freeland; 35 Chris Kaman
INJURY REPORT
G - 4 Arron Afflalo (shoulder) - out
G - 2 Wesley Matthews (achilles) - out
F - 12 LaMarcus Aldridge (foot) - out
F - 1 Dorell Wright (hand) - out
HEAD COACH
Terry Stotts
STATISTICAL LEADERS
Points - LaMarcus Aldridge 23.5
Rebounds - LaMarcus Aldridge 10.3
Assists - Damian Lillard 6.2
Blocks - Robin Lopez 1.4
Steals - Damian Lillard 1.2
FG - Robin Lopez 53.3%
FT - Damian Lillard 86.6%
3pt - Meyers Leonard 42.0%
OKLAHOMA CITY THUNDERPROJECTED STARTERS
SF - 21 Andre Roberson (
3.5 pts, 3.9 reb, 1.0 ast
)
PF - 34 Enes Kanter (
15.3 pts, 8.9 pts, 0.7 ast
)
C - 12 Steven Adams (
7.7 pts, 7.4 reb, 1.0 ast
)
SG - 23 Dion Waiters (
11.4 pts, 2.3 reb, 2.0 ast
)
PG - 0 Russell Westbrook
(27.5 pts, 7.2 reb, 8.6 ast
)
RESERVES
G - 14 D.J Augustin; 11 Jeremy Lamb; 2 Anthony Morrow;
F - 4 Nick Collison; 3 Perry Jones; 33 Mitch McGary; 6 Steve Novak; 5 Kyle Singler
INJURY REPORT

F - 35 Kevin Durant (foot) - out
F - 9 Serge Ibaka (knee) - out
HEAD COACH
Scott Brooks
STATISTICAL LEADERS
Points - Russell Westbrook 27.5
Rebounds - Enes Kanter 8.9
Assists - Russell Westbrook 8.6
Blocks - Steven Adams 1.2
Steals - Russell Westbrook 2.1
FG - Steven Adams 54.5%
FT - Anthony Morrow 90.6%
3pt - Anthony Morrow 43.5%
NOTE: We use a different standard than the NBA for the individual statistical leaders. Our leaders apply to players who have played a minimum of 35 games, as well as other basic statistical minimums. Leaders who are listed as "out" due to injury are not listed.
ANGI'S TAKESBLAZERS

Portland is a little puzzling when it comes to these last games of the season. They have secured the Northwest Division and fourth seed in the playoffs. They are simply waiting for the rest of the Western Conference teams to figure out which teams will be seeded where. The Blazers will play the fifth seed, which could be of any one of four teams. Lillard and Westbrook offset each other in the Feb. 23 game with 40 points apiece, though the Blazers won in overtime. Aldridge didn't play against the Jazz, as he was out with a sprained foot. Likely that was an excuse to rest him. If he plays here, he could school Kanter, who has flourished with the Thunder since being traded to the team on Feb. 19. Aldridge tallied team highs of 29 points, 16 rebounds and 5 assists in the last meeting Feb. 27. The Blazers went inside often to Lopez against the Jazz and he scored 21 points -- his high as a Blazer. Batum will look to get on track after a miserable shooting performance against the jazz. McCollum has scored in double figures in the past seven games and has averaged 17.3 points in that span. Leonard is emerging as a potent scorer and rebounder. Crabbe scored 11 points off the bench against the Jazz and will continue to see action with the absences of Matthews and Afflalo. Freeland could also see some time to defend Kanter.
THUNDER
:
While the Blazers do not have anything to lose or to gain in the seedings with a win or a loss, this game is paramount for Oklahoma City's playoff hopes. They are battling with the Pelicans for the final playoff spot in the west and every game counts. Things are not made much easier for the Thunder since the Pelican's own the tiebreaker. A loss here or in their season finale could send them to an early vacation and appearance in the draft lottery. What the Thunder have is Westbrook, who is a viable MVP candidate and has tried to carry the team on his shoulders for most of the season in the absence of Durant. Westbrook has scored 40 or more points in nine games this season, though the Thunder are just 2-7 in those games. Westbrook received his 16th technical foul of the season, but it has been rescinded by the NBA. NBA rules dictate that a player who receives his 16th technical foul must sit out one game. He has had two technicals rescinded by the league in the past month. Kanter has been a strong offensive presence, but lacks defense and his no match for Aldridge. Waiters believes he should start and is a good shooter, though can be streaky. Adams is emerging as a rim protector, but he's no Lopez. Roberson is a defensive-minded wing. Morrow, who had 19 points on April 10 against the Kings, can be a sneaky scorer. Collison is the best big man off the bench for the Thunder. Augustin is a capable veteran who can back up and play along side Westbrook.
THE BLAZERS WIN IF THEY
:
Take the game seriously, defend the perimeter and play under control.
THE THUNDER WIN IF THEY
:
Speed up the tempo, Westbrook goes off and they score in the paint.
MATCH UP TO WATCH
:
Damian Lillard vs. Russell Westbrook.
OFFICIALS

24 Mike Callahan
56 Mark Ayotte
63 Derek Richardson
QUOTEABLE
Thunder head coach Brooks on Westbrook:
"The guy has the heart of a champion. He comes out every night. There are no excuses ever. He plays the game with everything he has."
Blazers' Batum on the loss to the Jazz in the home finale:
"It's tough for us to lose the last game of the regular season like that at home. It's really bad. The fans deserve more than that. We just got to go out on the road now and win games."
FEATURED TWEETSEXTRA
CJ McCollum is earning his consistency props. As mentioned above, he is averaging 17.3 points in his last seven games and scored in double figures in each of them. He also has registered the top three scoring performances of his career over the past three weeks. (27 on April 3 against the Lakers; 26 on April 11 against the Jazz; 23 on March 24 against the Warriors).


MATCH UP MEME
How long until Kanter becomes unhappy with his situation ... again?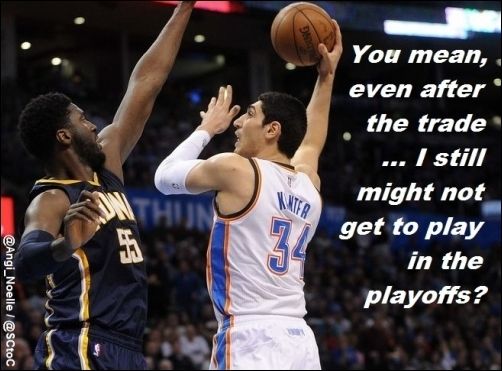 To comment on this thread and others on this forum, please
login
or
register
.