Post by DiamondThief on Apr 13, 2015 22:07:40 GMT -8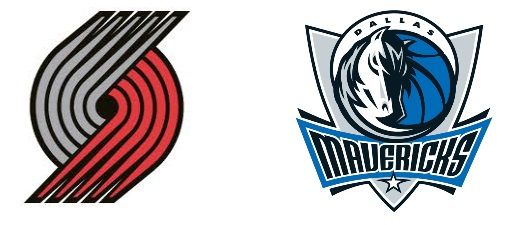 Portland Trail Blazers at Dallas Mavericks
What
: The Blazers visit Big D to face the Mavericks.
When
: Wednesday, April 15 at 5 (PT).
Blazers Media
: TV - KGW. Radio - Rip City Radio 620 AM.
Mavericks Media
: TV - FSSW. Radio - 103.3 ESPN.

Previous
: Nov 6 -
Blazers 108, Mavericks 87
. Feb. 7 -
Mavericks 111, Blazers 101
. March 12 -
Blazers 94, Mavericks 75.
Note
: This is the regular season finale for both teams.
Forum
: To comment, please
login
or
register
.
The Blazers are 51-30 overall, 19-21 on the road and in conference games. They are coming off a 101-90 road loss to the Thunder on April 13. They are averaging 102.9 points (9th in the NBA) and allowing 98.4 (10th). The Blazers, who have lost four of their last fifth, are first in the Northwest Division and fourth in the Western Conference. They have clinched the Northwest Division title.
The Mavericks are 49-32 overall, 26-14 at home and 28-23 in conference games. They are coming off a 109-92 road loss to the Jazz on April 13. They are averaging 105.1 points (3rd in the NBA) and allowing 102.3 (21st). The Mavericks, who have won three of their last four, are fourth in the Southwest Division and seventh in the Western Conference. They have clinched the seventh seed in the playoffs.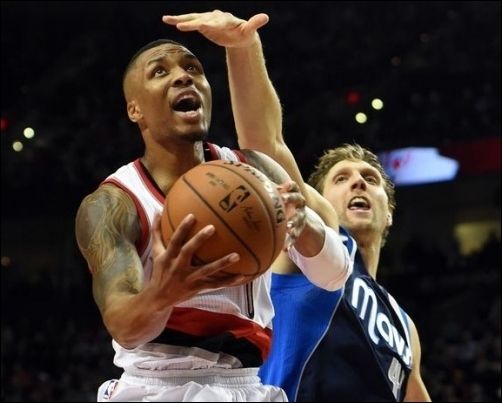 Blazers' Damian Lillard; Mavericks' Dirk Nowitzki
PORTLAND TRAIL BLAZERSPROJECTED STARTERS
SF - 33 Alonzo Gee (
4.4 pts, 1.6 reb, 0.5 ast
)
PF - 12 LaMarcus Aldridge (
23.5 pts, 10.3 reb, 1.8 ast
)
C - 42 Robin Lopez (
9.7 pts, 6.8 reb, 0.9 ast
)
SG - 23 Allen Crabbe (
3.2 pts, 1.4 reb, 0.7 ast
)
PG - 0 Damian Lillard (
21.0 pts, 4.6 reb, 6.2 ast
)
RESERVES
G - 5 Steve Blake; 10 Tim Frazier
F - 11 Meyers Leonard
C - 19 Joel Freeland; 35 Chris Kaman
INJURY REPORT
G - 4 Arron Afflalo (shoulder) - out
G - 3 CJ McCollum (ankle) - out
G - 2 Wesley Matthews (achilles) - out
F - 1 Dorell Wright (hand) - out
F - 12 LaMarcus Aldridge (foot) - probable
F - 88 Nicolas Batum (knee) - out
C - 35 Chris Kaman (back) questionable
HEAD COACH
Terry Stotts
STATISTICAL LEADERS
Points - LaMarcus Aldridge 23.5
Rebounds - LaMarcus Aldridge 10.3
Assists - Damian Lillard 6.2
Blocks - Robin Lopez 1.4
Steals - Damian Lillard 1.2
FG - Robin Lopez 53.6%
FT - Damian Lillard 86.4%
3pt - Meyers Leonard 43.1%
DALLAS MAVERICKSPROJECTED STARTERS
SF - 24 Richard Jefferson (
5.9 pts, 2.5 reb, 0.8 ast
)
PF - 41 Dirk Nowitzki (
17.3 pts, 5.9 reb, 1.9 ast
)
C - 6 Tyson Chandler (
10.1 pts, 11.5 reb, 1.1 ast
)
SG - 11 Monta Ellis (
19.0 pts, 2.4 reb, 4.1 ast
)
PG - 9 Rajon Rondo (
8.9 pts, 5.6 reb, 8.0 ast
)
RESERVES
G - 5 J.J. Barea; 2 Raymond Felton; 20 Devin Harris
F - 7 Al-Farouq Aminu; 8 Dwight Powell; 3 Charlie Villanueva
C - 4 Greg Smith; 1 Amar'e Stoudemire; 55 Bernard James
INJURY REPORT
G - 20 Devin Harris (toe) - out
F - 25 Chandler Parsons (knee) - out
HEAD COACH
Rick Carlisle
STATISTICAL LEADERS
Points - Monta Ellis 19.0
Rebounds - Tyson Chandler 11.5
Assists - Rajon Rondo 8.0
Blocks - Tyson Chandler 1.2
Steals - Monta Ellis 1.8
FG - Tyson Chandler 66.5%
FT - Dirk Nowitzki 88.6%
3pt - Dirk Nowitzki 38.1%
NOTE: We use a different standard than the NBA for the individual statistical leaders. Our leaders apply to players who have played a minimum of 35 games, as well as other basic statistical minimums. Leaders who are listed as "out" due to injury are not listed.
ANGI'S TAKESBLAZERS

Portland did not envision finishing its regular season as it has, losing three straight and four of its last five. More concerning is the injury report In essentially a throw away game against the Thunder, Batum, McCollum and Kaman all left the game with various injuries. The only one of the three I expect might play is McCollum, though a night's rest probably would not hurt him. The Blazers are quite literally hobbling into the playoffs. Leonard and Freeland combined for 40 of the team's 90 points against the Thunder (with a career highs of 24 and 16, respectively). Aldridge, who has sat out the past two games, could make an appearance in his home town. Lillard could use the rest, but will probably start and play through the first quarter. He has never missed a game in his three-year career. Lopez will start, but probably not see a whole lot of action unless Leonard or Freeland get into some foul trouble. Blake rested against the Thunder but will be available in this one. Crabbe and Gee will see heavy minutes, as could newest Blazer Frazier, who had a team-high 7 assists against the Thunder.
MAVERICKS
Dallas, like the Blazers, is already locked into their playoff position at number seven in the Western Conference. They cannot move up or down regardless of the outcome of this game. The Mavericks are waiting to see who will finish at number two and face them in the playoffs. Nowitzki, Chandler and Ellis rested April 13 against the Jazz. Any one of them could play but is unlikely to see heavy minutes. The same goes Rondo. Jefferson is a veteran who only played 17 minutes against the Jazz. Four bench players played 22 or more minutes against the Jazz. Aminu is a quality backup center who posted a double-double against the Jazz with 10 points and 10 rebounds. Former Blazer Felton could get the start, as he has started the past two games for Dallas. Stoudemire and Villanueva are likely to see quality minutes in this one. Barea has always given the Blazers problems, while Powell and James are likely to see some heavy minutes. Harris is a good point guard and Smith might see some time if the Mavericks decide to rest their regulars.
THE BLAZERS WIN IF THEY

Play under control, grab at least 44 rebounds and shoot at least 47.5 percent.
THE THUNDER WIN IF THEY

Control the tempo, get out to an early lead and defend the three.
MATCH UP TO WATCH
Alonzo Gee vs. Richard Jefferson.
OFFICIALS

41 Ken Mauer
16 David Guthrie
73 Tre Maddox
QUOTEABLE
Blazers coach Stotts on Aldridge playing against Dallas:
"I think it is important that if L.A. can play, that he can play, and he has been out for a little bit. I think that is important to kind of keep the edge, but how much? That is to be seen."
Mavericks coach Carlisle on Chandler Parsons' injury:
"Am I concerned? Yeah, I'm concerned. The next couple days we will get back home and he will continue to rehab ... We will see where we are. We are not going to take any risks with it."
FEATURED TWEETSEXTRA
The Blazers other twin towers, Meyers Leonard and Joel Freeland, each had career-high nights in scoring on April 13 against the Thunder. They combined for 40 points on 17-30 shooting.


MATCH UP MEME I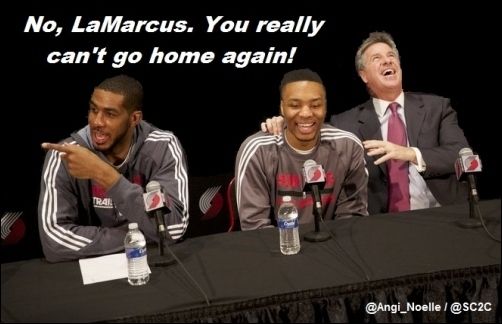 MATCH UP MEME II
To comment on this thread and others on this forum, please
login
or
register
.