Post by DiamondThief on May 3, 2015 17:30:26 GMT -8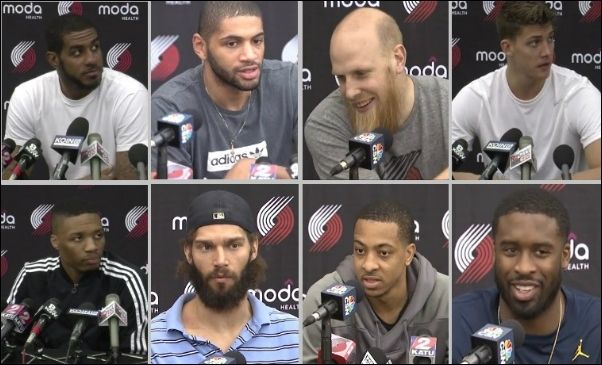 The Blazers held their exit interviews on April 30 after being eliminated the night before from the playoffs in the first round by the Memphis Grizzlies, 4-1. I thought I would pass on some snippets of the interviews. In some cases, we have added that player's interview under their quote(s). Click on a link to the podcasts of the interviews on the Blazers official site. Please note that not all of the players conducted interviews; just the main rotation guys.
LaMarcus Aldridge I
"I'm definitely not one to prolong things and drag it out," he said. "That's not really my personality. I think if me and my agents can figure it out fast, then of course we will."
LaMarcus Aldridge II
"It's been an amazing nine years, of course I'm not trying to have that end, so when the time comes we'll sit down with my agent, Neil and Paul (Allen) and we'll just figure it out."
LaMarcus Aldridge III
"I'm a private person; I'm pretty to myself. A select number of teammates know me next level. But I don't know if it's really about that. I think I've always competed when I was in uniform. I've always tried to bring wins to this city, tried to play through adversity or pain or injuries if I could. I think that's the more important thing rather than kind of knowing who I am on a deeper level. I think that just comes with time."
Video courtesy
The Oregonian
on Youtube
Nicolas Batum on keeping the team in tact
"I don't really see any difference compared to other year. Not really. We know this is the last day we'll see each other, like, this season. I don't know what is going to happen next. I hope we're going to have the same guys next year, of course, but I don't know what is going to happen."
Nicolas Batum on Aldridge returning
"I would love him to stay here."
Video courtesy
The Oregonian
on Youtube
Allen Crabbe on his development over the season
I think just being able to play, honestly. In the first year, not playing at all, being in a suit most of the year. So this year, from being inactive to being able to get the starting job right away. I just feel like the more and more I play, the more and more comfortable I got, just doing what the team asked of me. Just being on the floor got me some experience. "
Chris Kaman on ... you'll see
"I definitely want to play next season. I would love to play for the Blazers. It was a great season. I felt like I was able to just play and do my thing for the most part. I just told Terry (Stotts) he's the first coach I haven't hated when the season was over since Mike Dunleavy. It's been a while since I haven't hated somebody when the season was over, just so you know."
Damian Lillard on potential player movement
"I don't think it's really hit anybody yet that we could see a lot of changes. Some people might not be back and things like that, but I think we've got the type of group where everybody is cool, we all communicate with each other. Its kind of to the point where it's a business and we're all friends, so that won't change, but things could change on the roster. We just don't know yet."
Video courtesy
The Oregonian
on Youtube
Meyers Leonard on improving his game over the summer
"This off season is huge, there's a lot of work ahead of me. I'm really looking forward to it, honestly. Like I've said, work on everything, play a lot, continue to get a better feel for the game, understand how I can continue to be successful and come back next year stronger and able to do more to help the team."
Video courtesy
The Oregonian
on Youtube
Robin Lopez on the possibility of staying in Portland
"Obviously, so far, I've loved my time here in Portland. I would love to come back and am very open to coming back. But it's hard to say 100 percent, you just don't know what's going to happen. I think that's something you put off until later."
Robin Lopez on his off season plans
"A lot of friends are getting married this year, so I have a few weddings. Two of them I should have been best man in but they gave that on to their brothers. I have no idea why. I can tell you that Brook won't pick me to be his best man so I feel like I lost out on my opportunity to be the best man at a wedding. I'm going to be sucking up to a couple of other friends. I've got some weddings, some bachelor parties coming up."
Video courtesy Portland Trail Blazers on Youtube
CJ McCollum on emerging in the playoffs
I think it was big for me but more big for our coaching staff so they could see the development and they could see that the work I'm putting in translates to the big stage. And it was big for my teammates to gain trust in me and realize I can play in big games and be a consistent performer."
Video courtesy
The Oregonian
on Youtube
Wesley Matthews on his future
"So much stuff can happen between now and when free agency starts and when free agency ends," said Matthews, who stated that he hopes to recover from a left torn Achilles tendon by August. "Right now my focus is really about getting right. That's really where my head is at."
Wesley Matthews on returning from his torn Achilles
"I expect to be ready by August."
Video courtesy
The Oregonian
on Youtube
Head Coach Terry Stotts on 2014-15 compared to 2013-14
"To do what we did this year with the injuries and different lineups, some of those things, and still win 51, last year we had to win nine out of ten to finish the season because we needed to win nine out of ten. This year, we didn't have that. I think we would have had the same wins if we would have the same pressure put upon us at the end of the season. So I thought the regular season, to win 51 games, win the division, to be in the Top 10 in both offense and defense, which was a goal going into the season, to make the strides defensively that we made this year — we were in the Top 5 for most of the season until the end."
Video courtesy Portland Trail Blazers on Youtube

President of Basketball Operations Neil Olshey on free agency
"We're not just going to sit back and wait to see where things fall. We're going to maintain communication with our free agents, with their representatives. We're going to be very active at the draft. We have a lot of flexibility, we have assets, and we have a first round draft pick."
Neil Olshey on Wesley Matthews
"Right now what's most important is Wes' health, his well being. He's way ahead of the curve already physically. He's been diligent with his rehab and we've been monitoring that on a daily basis. We know his value to us, we also know he's going to have market value around the league. That's another competitive part of the free agent process that we're going to have to participate in."
Neil Olshey on the off season
"We had minor tweaks this year, right? We didn't have a lot of flexibility, but when we took over three years ago we knew we had a three-year window with this group under their current contract status. Everything we've done to this point has been strategic, maintaining as much potential flexibility as possible heading into this offseason. We try to do that while still building a team that had a chance to compete for a championship."
Video courtesy
The Oregonian
on Youtube
To listen to the entire podcasts of the exit interviews, click
here
.
-
ANM
To comment on this thread and others on this forum, please
login
or
register
.