Post by Kasey on May 12, 2015 19:19:10 GMT -8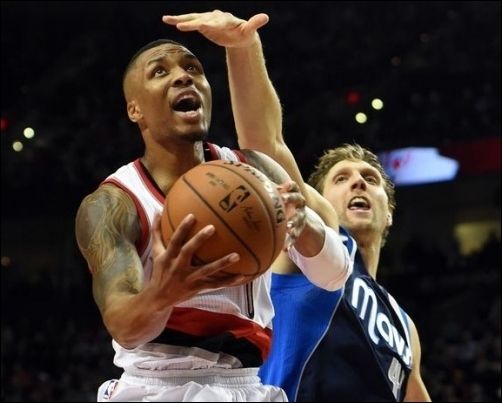 May 11
- In honor of Mother's Day, Ian Thomsen of NBA-dot-com put together a nice piece on Blazers guard Damian Lillard and his connection with his mother. Radio team Brian Wheeler and Antonio Harvey talked with Thomsen on the May 11 broadcast of Trail Blazers Courtside.
The following are some excerpts from the article.
"We've always been tight,'' Damian Lillard says. "Most kids, they have bumps in the road with their parents: You bump heads with your mother, your father. We never had that. My whole life I've been held accountable for everything, but at the same time I've been given enough freedom to make mistakes and to not feel too sheltered.''

"He said he was going to be rookie of the year,'' Gina (Johnson, Lillard's mother) insists. "He said, `And then when I get rookie of the year, I'm going to the All-Stars. I'm going to be like Michael Jordan. I'm going to be getting me a whole lot of the awards.' And I wish I could remember verbatim, because if I would have known that everything he said in that speech was going to come to life, I would have recorded him. Because he went on and on and on, what he was going to do, how he was going to play, and he was going to help people, and he was going to build me a big house. And everything he said he was going to do in that speech, he did. Every single thing, down to rookie of the year.''

"I haven't seen her this happy for so long, where she's always laughing and joking,'' Lillard says. "It's great to watch now, because we live in this suburban neighborhood -- where we're used to living right across the street from somebody and you don't know what they're thinking, you know what I mean? Now my sister is going to a better high school than all of us probably went to. And you see their relationship is like a friendship, my sister and my mother: They laugh and joke with each other like they are sisters. It's like the ultimate, ultimate gift to be able to give them.''
To read the entire article, click
Lillard carries family affair from Oakland to Portland
.
-
MKM
To comment on this thread and others on this forum, please
login
or
register
.