Post by DiamondThief on Jun 24, 2015 19:53:45 GMT -8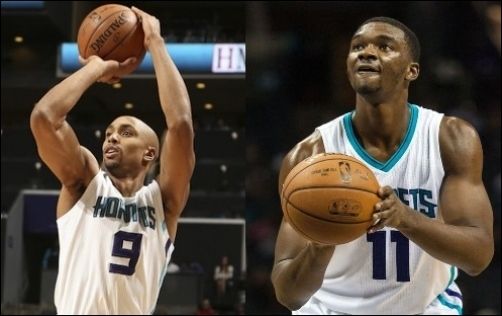 Gerald Henderson, Jr. and Noah VonlehJune 24
-- The Trail Blazers have acquired veteran shooting guard Gerald Henderson, Jr. and big man project Noah Vonleh from the Charlotte Hornets in a trade which became final tonight.
In the deal, the Blazers sent veteran small forward and fan favorite Nicolas Batum to the Hornets. Batum had been with the Blazers since he was acquired from the Houston Rockets in a draft day trade in 2008.
Henderson will enter his seventh NBA season, the first six he played with the Hornets (nee Bobcats). He holds career averaged of 12.0 points, 3.4 rebounds and 2.6 assists. He averaged a career-high of 15.5 points during the 2012-13 season. He has started in 292 of his 391 games in which he played. He played for Duke University where he led his team in scoring at 16.7 his junior year and earned First Team All-Atlantic Coast Conference honors. In high school, he also lettered and earned all-conference honors in golf as a freshman and scratch golfer, and was two-time league champion in the high jump and triple jump in track and field. After having played for Duke and the Hornets, Henderson will be suiting up for a team outside of North Carolina for the first time in 10 seasons. He is set to make $8 million this year and will be an unrestricted free agent next summer.
Henderson's father, Gerald Henderson, Sr., enjoyed a 13-year playing career with the Celtics, Sonics, Knicks, 76ers, Bucks, Pistons and Rockets. He was a member of the Pistons' team which beat the Blazers in the NBA Finals in 1990. He also won championships with the Celtics in 1981 and 1984.
Vonleh is a 6-10, 240-lb power forward who was selected by by the Hornets with the ninth pick of the 2014 NBA Draft. He appeared in 25 games for the Hornets last season, averaging 3.3 points and 3.4 rebounds in 10.4 minutes. He was assigned to the Fort Wayne Mad Ants of the D-League during the season for two games, where he averaged 7.0 points, 4.5 rebounds, 1.5 points and 1.0 blocks. Vonleh averaged 11.3 points, 9.0 rebounds and 1.4 blocks during his freshman year ant the University of Indiana. He earned 2014 All-Big Ten third team honors and All-Freshman team honors that same year. A McDonald's All-American his senior year at new Hampton School in New Hampton, NH, he will turn 20 on August 24 of this year. He was described this way just days before the NBA Draft by an anonymous NBA scout: "For someone that young with the skill set and size and how hard he plays, I don't think you miss with him, unless he's absolutely, totally messed up inside in the head, which it doesn't seem like he is."
In order to say Hello in an NBA trade, you usually have to say goodbye. For fans of Rip City, this is a huge one.
Nicolas Batum, the second-longest tenured Blazer behind LaMarcus Aldridge, is headed to the East Coast. Some have criticized Batum after a mis-conceived lackluster season, but Batum has supplied Blazers fans with much over the past seven years. He came in as a defensive stopper and an athletic player, but turned into a Blazers stalwart and solid all-around player. Batum owns four triple-doubles over the last four years and has provided numerous highlights for Blazers fans. Batum's salary calls for him to make $11,860,750 this season.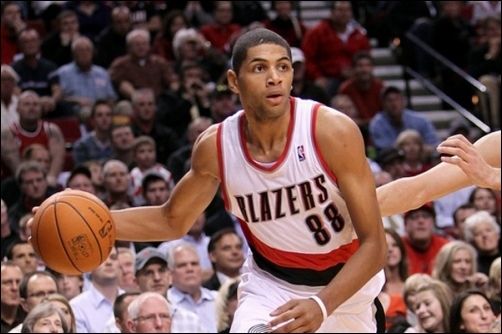 Nicolas Batum
(Photo courtesy nba247365.com)
He holds career averages of 11.2 points and 5.1 rebounds over his career and 10.2 points and 4.7 rebounds in the playoffs. Originally from Lisieux, France, he was just 19 when be began his NBA career. He annually plays for the French National Team which won the EuroBasket championship in 2013. The team finished with the bronze (third place) in the FIBA World Cup last summer.
Batum's father, Richard Batum, was a professional basketball player in France. He died during a game in 1991 after suffering an aneurysm.
League rules require traded players to report to their teams within seven days of a trade, so the teams should be making introductions in that time. To follow the new Blazers on twitter, click
Gerald Henderson, Jr
. and
Noah Vonleh
. Click for
Gerald Henderson Jr's official website
.,
The move by the Blazers frees up $3,223,030 in cap space, which the Blazers can use in free agency. They are already looking at resigning the centerpiece of their franchise player, LaMarcus Aldridge, as well as Welsey Matthews and Robin Lopez.
Check out some first reactions from this board
here
.
-
ANM
To comment on this thread and others on this forum, please
login
or
register
.