Post by DiamondThief on Jul 3, 2015 18:57:39 GMT -8
From the trades, to the draft, to the draft trades and on to free agency. It is no secret the Blazers and some of their free agents have made some moves. I will attempt to summarize them.
The Adds


GERALD HENDERSON
#9, 6'5" Guard - Duke.
Traded to Blazers with Noah Vonleh from Hornets for Nicolas Batum.
Henderson is a solid two-way shooting guard who has previously spent his entire six-year career with the Hornets. While not a three-point shooter, he has a good mid-range game. He can defend and will battle CJ McCollum for the starting spot at the two. As a starter or reserve, he will see heavy and consistent minutes. Career averages: 12.0 points, 3.4 rebounds and 2.6 assists.
(Not so)
Fun Fact
: His father was a member of the Pistons team which defeated the Blazers in the 1990 NBA finals.
MASON PLUMLEE
#21, 6'11" Center/Forward - Duke.
Traded to Blazers with draft rights to Pat Connaughton from Nets for Steve Blake and draft rights to Rondae Hollis-Jefferson.
Athletic big man who can defend. Will have to improve offensively to provide a punch inside. Much potential. Has started in 67 of the 152 games he has played (played in 82 games last season). Will likely play more than the 19.8 minutes he has averaged in his two-year career. Has played in 16 playoff games. Career averages: 8.1 points and 5.4 rebounds.
Fun Fact
: His older brother, Miles, plays for the Bucks.
AL-FAROUQ AMINU
#8, 6'9" Small Forward - Wake Forest.
Signed with Blazers on July 9.
Strong wing defender who has an emerging offensive game. Entering his sixth season. Can hit the three, but could use improvement in that area. Good finisher at the rim. Has good height and length for a small forward. Strong candidate to start at small forward in place of the departed Batum. Is of Nigerian descent. Career averages: 6.4 points and 4.6 rebounds.
Fun Fact
: Was traded to the Pelicans along with now-Blazers center Chris Kaman in the deal which brought Chris Paul to the Clippers.
ED DAVIS
#17, 6'10" Power Forward - North Carolina.
Signed with Blazers on July 9.
Will be playing on his fourth team in five seasons. Good rebounder who averaged 7.6 boards in 23.3 minutes with the Lakers last season while starting in 24 of 79 games. Has shot 55.6 percent from the field in his career. Could see most of his minutes as an inside banger. Decent shot blocker. Poor free throw shooter who missed more than he made last season. Will need to improve on that. Could earn a starting role with a strong training camp. Career averages: 7.2 points, 6.3 rebounds and 1.0 blocks.
Fun Fact
: Birthday is June 5, which is the anniversary of Blazers' only championship (albeit 22 years before he was born).
NOAH VONLEH
#21, 6'10 Power Forward - Indiana.
Traded to Blazers with Gerald Henderson from Hornets for Nicolas Batum.
Raw power forward who was taken ninth in the 2014 draft by Charlotte. Saw limited time with the Hornets due to their depth in the front court (a situation which was not going to improve for him with their drafting of Frank Kaminsky). Is a project who could break into the rotation. Possesses talent. Strong rebounder who averaged a board every three minutes as a rookie. Career averages: 3.3 points, 3.4 rebounds.
Fun Fact
: His paternal grandfather, Chief Blahsue Vonleh, was Paramount Chief of the Doe Clan, Nimba County, Liberia from 1920 until his death in 1947.
MAURICE HARKLESS
#TBA, 6'9" Small Forward - St. Johns.
Traded to Blazers for future second round pick.
The 15th pick in the 2012 draft by the Philadelphia 76ers, who sent him to Orlando where he saw action in 201 games (104 starts) with the Magic. Orlando was high on him, but never really gave him a real opportunity. Lengthy and athletic wing who averaged 8.2 points as a rookie. Averaged 15.5 points and 8.6 rebounds in one year in college before declaring for the NBA Draft. Career averages: 6.8 pts, 3.5 rebounds and 1.1 steals.
Fun Fact
: According his NBA bio, his favorite food is crab legs.
PAT CONNAUGHTON
#5, 6'5" Shooting guard - Notre Dame.
Rights traded to Blazers with Mason Plumlee for Steve Blake and rights to Rondae Hollis-Jefferson.
Athletic shooting guard who can do a lot of things on the court. Was named third-team all-Atlantic Athletic Conference last season for the Fighting Irish. Was drafted with the 41st pick in the draft. Will have to earn a roster spot. Is also a pitcher in the Baltimore Orioles minor league systerm.
Fun Fact
: Bought a Jeep Wranger with his Orioles signing bonus, saying: "The signing bonus is a ton of money, especially for a 21-year-old. But I'm not going to live off that money. At some point, I'm going to live off a college degree."
LUIS MONTERO
#44, 6'7" Small Forward/Shooting Guard - Westchester CC (NYC)
Signed by Blazers on July 11.
Athletic wing player who can rebound and get to the hoop. Is a project, but will have to prove his worth in Summer League and Training Camp in order to find a roster spot for the season. Returned for his second year at Westchester for the 2014-15 season, but the school's season had been cancelled due to transcript issues. Averaged 15.6 points, 5.9 rebounds and 3.0 assists per game at Westchester.
Fun Fact
. Is a native of Santo Domingo in the Dominican Republic.
CLIFF ALEXANDER
#, 6'8". 240, Power Forward - Kansas
Played one season at Kansas after a stellar career at Chicago's Curie High school. An undersized power forward by NBA standards. The Chicago Sun Times stated that he is more raw, but more athletic than this year's second pick, Jahlil Okafor. He was Co-Freshman of the Year in the Big-12 Conference, per a vote from the league's coaches. Fun Fact: Alexander helped lead Curie to the Chicago Public High School League city championship in a quadruple overtime game.
PHIL PRESSEY
#26, 5'11", Point Guard - Missouri
Son of former NBA guard Paul Pressey. Played in 125 games over the past two seasons with the Boston Celtics. Has averaged 2.9 assists in 13.8 minutes during his NBA career. Led the Big-`12 Conference in assists and steals in 2011-12. had a brief stint with the Maine Red Claws, the same team for which his current Blazers teammate played.
Fun Fact
: His older sister, Angie, was an All-American volleyball player for the University of California Golden Bears.
The Stash

DANIEL DIEZ
#TBA, 6'8" Small Forward - Spain.
Rights traded to Blazers from Jazz for cash considerations.
Very versatile player who can score, rebound and defend. Could very well be the Spanish version of Batum. He has great size and athleticism. He was drafted by the Jazz at number 54 before being traded to the Blazers. Said to have a high basketball intelligence quotient (IQ). Blazers could sign him or stash him, but are more likely to do the latter.
Fun Fact
: Has played seven times with the Spain national basketball team.
The Departed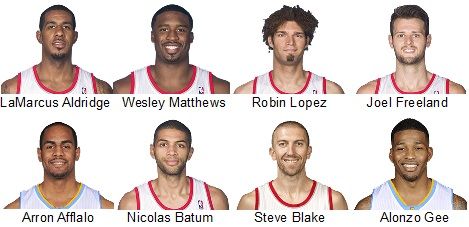 LaMARCUS ALDRIDGE
6'11" Power Forward - Texas.
Signed with the Spurs on July 10.
The L-Train is one of the best players Rip City has ever seen. Acquired in a draft day trade in 2006, he came into the league with Brandon Roy and the duo immediately started to change the culture of the basketball in Porlland. Is the Blazers all-time leading rebounder and second all-time in points. Several teams courted Aldridge in free agency, but he ultimately decided to join the Spurs in San Antonio, where one of his young sons lives (the other lives in Dallas).
WESLEY MATTHEWS
6'5" Shooting Guard - Marquette.
Signed with the Mavericks on July 9.
Matthews is leaving after a five-year stint in Portland and it seems the Blazers were never a real option for him. True Aldridge was the free agent priority, but that did not work out. Matthews leaves the Blazers as the all-time team leader in three-point makes and his defense against James Harden in the Blazers-Rockets first round playoff match up is a big reason why the Blazers were in a position to win the series.
ROBIN LOPEZ
7'0" Center - Stanford.
Signed with the Knicks on July 10.
The comic book collector seemed to be the definition of "Portland." Given his personality and quirkiness, the only other city I could imagine him in is New York. His presence allowed Aldridge to play his natural position of power forward. He is a strong, intelligent player who should do well in the Big Apple. He will likely anchor the middle while mentoring rookie project Kristaps Porziņģis.
AARON AFFLALO
6'5" Shooting Guard - UCLA.
Signed with the Knicks on July 9.
We barely got to know Arron and the Blazers are still going to have to pay for him with a first round pick in 2016 or 2017 -- or second round picks in 2018 and 2019 (the first rounder is lottery protected the next two years). He never quite fit in, but had a great attitude heading into Portland. He will probably start for the Knicks, but will not be asked to do much while playing along side Carmelo Anthony.
NICOLAS BATUM
.
6'8" Small Forward - France.
Traded to Hornets for Gerald Henderson and Noah Vonleh.
Fans in Rip City are split on Batum, with some appreciating his skilled all-around game and others criticizing him for not being a lockdown scorer. Batum had spent his entire seven-year career with the Blazers prior to the trade. This was President of Basketball Operations Neil Olshey's first off-season move. Not quite unexpected, but it signifies the first step in what has now become a Blazers' rebuild. A bright spot for Batum is that the flight between his native France and his new NBA team will be about half as long as to his previous NBA team.
STEVE BLAKE
6'2" Point Guard - Maryland.
Traded to Nets with draft rights to Rondae Hollis-Jefferson for Mason Plumlee and draft rights to Pat Connaughton.
The jokes will continue to fly about the Blazers potentially signing Blake next summer for a fourth stint with the team. This time, his third, around, he was a solid backup to Damian Lillard and was able to play with Lillard at times. He was among the league leaders in assists off the bench last season. Blake, who owns a home in Portland and lives there year-round, will be playing with his eighth NBA time (provided he is not released by the Nets).
JOEL FREELAND
#19, 6'11" Center/Forward - England.
Will sign with CSKA Moscow (Russia).
Decided to sign with his new team after having declined a contract offer with the Mavericks. Though he was plagued by injuries in his three-year career, he can rebound, defend and hit the short jumper Nickname is the "British Bulldog." Turned to basketball after suffering a leg injury playing soccer.
ALONZO GEE
#33, 6'6" Small Forward - Alabama.
An excellent defender and is an excellent defender and three-point shooter. Very athletic, but is a bit undersized to play small forward unless a team goes small. A longshot to return to the Blazers, could have had a shot later in free agency had he not signed with the New Orleans Pelicans. Averaged 10.4 points per game while playing for the Cavaliers during the 2011-12 and 2012-13 seasons.
DORELL WRIGHT
#1, 6'9" Small Forward - South Kent HS (CT).
Would be playing in his 12th year in the NBA. Solid three-point shooter whose defense and rebounding is underrated. Was only one of six Blazers to start a game in 2013-14. Hard worker who could draw interest from other teams looking for a veteran. Probably the most likely of this group to be re-signed.
Fun Fact
: His younger brother, Delon Wright, was drafted by the Raptors in the 2015 draft after a stellar four-year career at the University of Utah.
Returners

ALLEN CRABBE
#23, 6'6" Small Forward/Shooting Guard - California (Berkeley).
Olshey gave up two second round picks for the wing from Cal on draft day 2013. He is an excellent shooter and has some strong defensive skills. If the Blazers do not waive the former Pac-12 Player of the Year by August 1, then he will be a Blazer for third year. An intelligent player, he is an opportunity ready to happen, as long as he could earn some meaningful minutes. I expect him to be back, but I am not sure in which capacity.
Fun Fact
: The Blazers were 8-0 during the 2014-15 regular season when Crabbe has started.
TIM FRAZIER
#10, 6'1" Point Guard - Penn St.
Had a small sample size with the Blazers after being signed toward the end of the season, but showed a lot. He is a change-of-pace point guard who needs to work on his outside shot, but already has the skills necessary to make it in the NBA. He is signed for next season, but it is not guaranteed. Earned both D-League Rookie of the Year and MVP last season. My feeling is that he will earn his roster spot during summer league and training camp.
Fun Fact
: Prior to signing with the Blazers last season, Frazier played for the D-League's Red Claws, located in Portland - Maine.
CHRIS KAMAN
#35, 7'0" Center - Central Michigan.
He won't actually hold that title, but is entering his 13th season in the NBA and still can offer 15-18 quality minutes a game. Former all-star. Regardless of the minutes he gets, his mentoring of players like Freeland and Meyers Leonard was invaluable last season. That could be even more important now that the team has fired Assistant Coach Kim Hughes, whose primary focus was to prepare the bigs. The return of Kaman is a good move for the team and can only help in mentoring Plumlee, Vonleh and Davis.
Fun Fact
: When he agreed to sign with the Blazers last season, he photoshopped his face on a Blazers jersey. That avatar is still on his profile.
Locked In

MEYERS LEONARD
#11, 7'1" Center/Power Forward - Illinois.
Enjoyed a breakout season in 2014-15, especially at the end of the season and in the playoffs. It has taken a while, but it seems the team knows how to better use his skill set. Effective outside shooter. Could improve on offense close to the basket, but that could come. Is said to be working with Kaman this summer which means he is getting better. Will be a restricted free agent next season, but I cannot see the Blazers not bringing him back.
Fun Fact
: Leonard was born on the same day as this site's owner,
Kasey
.
CJ McCOLLUM
#3, 6'3" Guard - Lehigh.
Like Leonard, McCollum emerged as a threat for the Blazers toward the end of the season and the playoffs. He had his finest performance in game 5 of the playoff series against the Grizzlies. The Blazers lost, but McCollum scored a professional career high of 33 points. His battle with Henderson for the starting shooting guard spot could be the most interesting aspect of training camp. The Blazers are high on him and will likely bring him back for a fourth season.
Fun Fact
: McCollum played on the same high school team as NBA center Kosta Koufos.
It Is His Team NowDAMIAN LILLARD
#0, 6'3" Point Guard - Weber St.
With Aldridge's departure, Damian Lillard is the focal point of the team now. Signed a five-year, $120 million contract extension at the end of the free agent moratorium (he also is said to make over $100 million in endorsements this season). Lillard was Rookie of the Year for 2012-13 and a two-time all-star. He is the man now. He is a leader and will have to prove he can handle that role singlehandedly. He will need to improve his defense, but he has already solidified himself as one of the best point guards in the game.
Fun Fact
: His brother, Houston Lillard, has been an arena football quarterback who had a tryout with the Portland Thunder during their training camp prior to the 2014 season.
Next

The Blazers will use training camp and pre-season to narrow their 17-player roster to 15 players.
-
ANM/MKM
To comment on this thread and others on this forum, please
login
or
register
.