Post by SurferGirl on Jul 13, 2015 17:57:16 GMT -8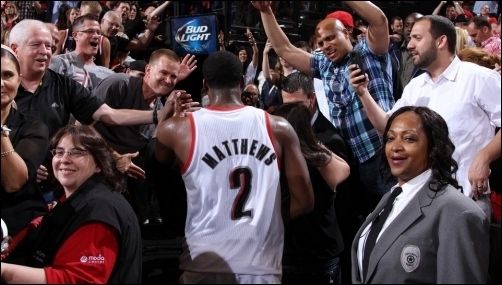 It's no secret the Blazers have seen eight players leave Portland for new teams. In each's own way, they have offered thanks to fans of their old team. Some have used social media, while others have bid their farewells through the local media.
In their own ways, each of those with their thank you message have maybe helped to soften the blow that they are no longer with the team.
In case you missed them, you can get the highlights here.
WESLEY MATTHEWS
Matthews' return to Portland was tied to LaMarcus Aldridge's potential return, according to president of basketball operations Neil Olshey. After five years in the Rose City, Matthews has signed with the Mavericks. In perhaps the most eloquent of goodbye messages, Matthews wrote an entry on
The Players' Tribune
entitled
Thank You, Rip City (photo above courtesy of The Players' Tribune)
. An excerpt:
"Five years is a long time. In those five years, I've developed many friendships with people within the franchise, but the friendships I am truly, truly grateful for are the ones with all of the fans. To the fans — thank you! I know this is overdue, but I wanted it to be right. You all were amazing to me from the moment I landed in Portland to my last moment as a Trail Blazer, and I can't tell you what that means to me. I gave everything I had every night and I felt the same from you."
NICOLAS BATUM
Batum was the first to depart, via trade to the Hornets. Next to LaMarcus Aldridge, he had been the longest-tenured Blazer. He spent the first seven years of his career with the Blazers and was a favorite of many fans. The Frenchman took to twitter to offer his respect for fans and the team.
ROBIN LOPEZ
Like Matthews, Lopez's fate was tied to that of Aldridge. The Blazers center, a huge fan favorite in his two seasons with the Blazers, signed with the Knicks fairly early in free agency, near in proximity to his twin brother, Brook, who plays for the Brooklyn Nets. Lopez has not indicated whether he will at Portland's Blaze to the list of adversaries in his War on Mascots. He offered collage of some of his great moments on twitter.
JOEL FREELAND
Freeland has signed with CSKA Moscow in Russia for about $3 million a year, pretty close to his salary over his three seasons with the Blazers. Via
e-mail shared today with Joe Freeman of The Oregonian
, the native Englishman penned the following:
"I'd like to say thank you to the amazing Trail Blazers fans and the incredible organization for three unforgettable years!"
LaMARCUS ALDRIDGE
No one in the past 20 years has served a longer tenure with the Blazers. His Blazer standing in the record books is well noted. One fan had organized a "Stay LA" rally in an effort to convince Aldridge to stay. Citing wanting to be closer to family, he left for the Spurs. He did reach out to the fan who organized the rally to thank her personally. Jay Allen of 750 The Game radio in Portland provides the summary in these tweets.
To note, Steve Blake, Arron Afflalo and Alonzo Gee have also departed the Blazers roster. Should we run across more, we will add to this post. We also encourage you to enter your own in the comments.
-
JBH
To comment on this thread and others on this forum, please
login
or
register
.