Post by DiamondThief on Oct 27, 2015 17:59:30 GMT -8

New Orleans Pelicans at Portland Trail Blazers
What
: The Blazers tip off the season at home against the Pelicans.
When
: Wednesday, Oct. 28 at 7 p.m. (PT).
Where
: Moda Center at the Rose Quarter; Portland, Oregon.
Pelicans Media
: TV - FSNOLA. Radio - WRNO 9.5 FM
Blazers Media
: TV - KGW. Radio - Rip City Radio 620 AM.
Fact
: The Pelicans are on the second night of a back-to-back after opening their season at Golden St. against the Warriors.
Forum
: To comment, please
login
or
register
.
The Pelicans finished last season with a 45-37 record, good enough for the eighth seed in the playoffs. They were swept in the eventual champion Warriors. They are embarking on their first year without Monty Williams as head coach. Their roster includes former Blazers Dante Cunningham, Luke Babbitt and Alonzo Gee.
The Blazers ended last season with a mark of 51-31, which was good enough to win the Northwest Division. They were beaten in the first round of the playoffs by the Memphis Grizzlies, 4-1. Their roster features just six returning players, as well as an athletic group of young players with great potential.
NEW ORLEANS PELICANS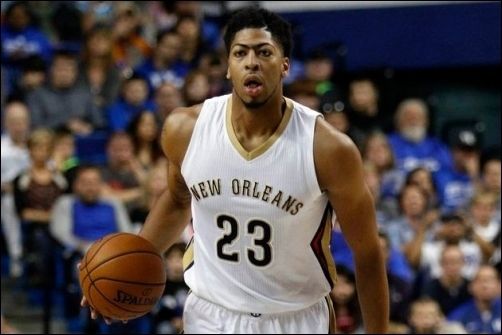 Anthony Davis
(photo courtesy orlandopinstripedpost dot.com)
ROSTER
G - 30 Norris Cole (6'2");
10 Eric Gordon (6'4")
; 11 Jrue Holiday (6'4");
2 Nate Robinson (5'9")
; 4 Ish Smith (6'0")
F - 33 Ryan Anderson (6'10"); 8 Luke Babbitt (6'9");
44 Dante Cunningham (6'8")
;
23 Anthony Davis (6'10")
; 15 Alonzo Gee (6'5")
C - 42 Alexis Ajinca (7'2"); 3 Omer Asik (7'0");
5 Kendrick Perkins (6'10")
INJURY REPORT

Alexis Ajinca (hamstring) - questionable
Omer Asik (calf) - out
Luke Babbitt (hamstring) - out
Norris Cole (ankle) - out
Tyreke Evans (knee) - out
Quincy Pondexter (knee) - out
HEAD COACH
Alvin Gentry
Italics denote probable starters
PORTLAND TRAIL BLAZERS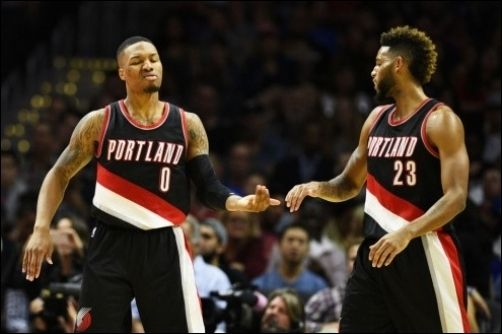 Damian Lillard and Allen Crabbe
(photo courtesy of lillardteam.tumblr.com)
ROSTER

G - 5 Pat Connaughton (6'5"); 10 Tim Frazier (6'1"); 9 Gerald Henderson (6'5");
0 Damian Lillard
(6'3")
;
3 CJ McCollum
(6'4)
; 44 Luis Montero (6'7")
F - 34 Cliff Alexander (6'8");
8 Al-Farouq Aminu (6'9")
; 23 Allen Crabbe (6'6"); 17 Ed Davis (6'10); 4 Maurice Harkless (6'9"); 21 Noah Vonleh (6'10")
C - 35 Chris Kaman (7'0");
11 Meyers Leonard (7'1")
;
24 Mason Plumlee (6'11")
INJURY REPORT
Cliff Alexander (knee) - doubtful
Al-Farouq Aminu (hamstring) - probable
Maurice Harkless (ankle) - probable
Gerald Henderson (hip) - out
HEAD COACH
Terry Stotts
italics denote probable starters.
ANGI'S TAKES
PELICANS
All conversations regarding New Orleans begin with Anthony Davis. The first pick in the 2012 draft averaged 24.4 points,10.2 rebounds and 2.9 blocks last season. He has become a premiere player in the NBA and got his first taste of the playoffs last season. The Pelicans come in hobbled, with five players expected to be out. This will put more onus on Davis to play big.Eric Gordon and Ryan Anderson will need to play strong. Jrue Holiday is an effective point guard who is probably a little underrated when it comes to knowledge of the average basketball fan. The Pelicans will be adjusting to new coach Alvin Gentry, so seeing them early in the season could be a good thing for the Blazers.
Key to a New Orleans win
: Davis must dominate against a pesky young Blazers defense.
BLAZERS

There is not much of a secret that the Blazers were the big losers when it comes to of-season departures. As much as the Pelicans' conversations begin with Davis, the Blazers' conversations begin with Damian Lillard. This season opener marks the true beginning of the Lillard Era in Portland. The Blazers scoring strength will be their backcourt, as CJ McCollum will get the start. He and Lillard play off each other well, so there should be some excitement there. Plumlee Steps into the role of the departed Lopez. Meyers Leonard will be depended upon the stretch the floor. Expect Ed Davis and Noah Vonleh to see some substantial time off the bench for the Blazers.
Key to a Portland win
: Use their athleticism to exhaust the Pelicans and put it away in the fourth quarter.
MATCHUP TO WATCH
Anthony Davis vs. Mason Plumlee.
FREATURED TWEETS
To comment on this thread and others on this forum, please
login
or
register
.