Post by DiamondThief on Aug 13, 2015 23:01:13 GMT -8
AFL Quarterfinal
:
Portland Thunder at San Jose SaberCats
What
: The Thunder storm into the South Bay to try and tame the Sabercats.
When
: Friday, August 14 at 8 p.m. (PT).
Where
: SAP Center, San Jose, California.
Regional Media
: Radio - Freedom 970.
National Media
: TV - ESPN2
This season
: April 25 -
SaberCats 64, Thunder 45
. June 12 - SaberCats
61, Thunder 42
. July 18 -
SaberCats 55, Thunder 49 (OT)
Series History
: Sabercats lead the series, 6-0 (3-0 at home)
Note
: This is the second-ever playoff game for the Thunder. They are 0-1 in the playoffs.
Forum
: To comment, please
login
or
register
.
HELPFUL LINKS
Arena Football League Schedule and Results 2015
Portland Thunder Schedule 2015

Portland Thunder Season Preview
The
Thunder
are 5-13 overall, 0-9 on the road and 4-10 in conference games. They are coming off a 39-67 road loss to the Arizona Rattlers on Aug. 8. They are averaging 47.7 points per game and are allowing 54.2 points per game. The Thunder finished third in the Pacific Division and fifth in the National Conference, but earned the #4 seed in the playoffs due to the folding of the Las Vegas Outlaws.
The
SaberCats
are 17-1 overall, 8-1 at home and 13-1 in conference games. They are coming off a 60-38 road victory over the Los Angeles KISS on Aug. 8. They are averaging 58.9 points per game and are allowing 36.8 points per game. The SaberCats finished first in the Pacific Division and first in the National Conference.
BREAKDOWNYards per Game
- Thunder 244.2; SaberCats 275.5
3rd Down Conversion
- Thunder 43.1%; SaberCats 58.7%
4th Down Conversion
- Thunder 31.1%; SaberCats 41.7%
Total Tackles
- Thunder 537; SaberCats; 556
Tackles for Loss
- Thunder 37; SaberCats 54
Total Sacks
- Thunder 26; SaberCats 44
Fumbles
- Thunder 12; SaberCats 12
Interceptions
- Thunder 16; SaberCats 33
PORTLAND THUNDER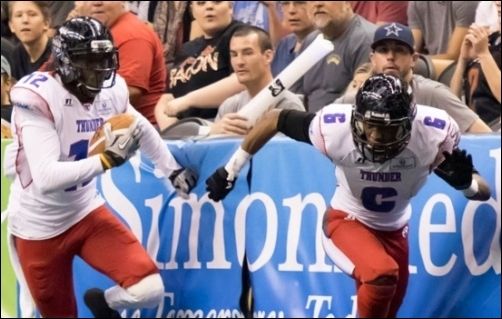 Thunder WR's Jamar Howard and Jared Perry
(
photo courtesy portlandthunder.com
)
ROSTER# - name (pos)
2 - Duane Brooks (WR/KR)
3 - Kyle Rowley (QB)
5 - V'Keon Lacey (WR)
6 - Jared Perry (WR)
7 - Marquis Jackson (DL)
8 - KC Obi (DL)
10 - Varmah Sonie (DB)
11 - Dexter Davis (JLB)
12 - Jamar Howard (WR)
13 - Matt Pierce (DB)
14 - Maurice Williams (WR)
15 - Perez Ashford (WR)
16 - De'Mon Glanton (DB)
18 - Alex Carder (QB)
20 - Bryce Peila (JLB)
21 - Dwight McLean (DB)
23 - Zach Ramirez (K)
42 - Adrian Hamilton (DE)
52 - Frank Trotter (DL)
70 - John Martinez (OL)
73 - Sam Longo (OL)
79 - John Collins (OL)
99 - Robert Hayes (MLB)
Ed Ta'amu (OL)
Mike Hohensee - Head Coach
Ernesto Purnsley - Assistant Head Coach/Defensive Coordinator
Lee Johnson - Special Teams Coordinator/Assistant Defensive Coordinator
Will Harrell - Offensive/Defensive Line Coach
STATISTICAL LEADERS
Passing Yards - Kyle Rowley 3,651
Passing TDs - Kyle Rowley 71
Rushing Yards - John Martinez 66
Rushing TDs - John Martinez 14
Receptions - V'Keon Lacey 107
Receiving Yards - Jared Perry 1,297
Receiving TDs - Jared Perry/V'Keon Lacey 29
Tackles - De'Mon Glanton 71.5
Sacks - Marquis Jackson 7.5
Interceptions - De'Mon Glanton/Varmah Sonie 4
KO Return Ave - Duane Brooks 22.2
KO Return TDs - Duane Brooks 8
*
not on active roster
SAN JOSE SABERCATS
Sabercats QB Erik Meyer (
photo courtesy onthefieldreport.com
)ROSTER# - name (pos)
1 - Reggie Gray (WR)
3 - David Hyland (DB)
5 - Ken Fontenette (DB)
8 - Clevan Thomas (DB)
9 - Erik Meyer (QB)
10 - Nathan Stanley (QB)
11 - D.J. Stephens (WR)
12 - Maurice Purify (WR)
13 - Donte Paige-Moss (DE)
15 - Brandon Collins (WR)
18 - Nick Pertuit (K)
22 - Fred Obi (DB)
24 - Kenny Okoro (DB)
32 - Odie Armstrong (FB)
40 - Rodney Fritz (DE)
54 - Kimani Jones (C)
65 - Rich Ranglin (OL)
66 - Jeff Maddux (C)
70 - Colin Madison (OL)
75 - Cornelius Dixon (OL)
80 - Ben Nelson (WR)
90 - Damien Borel (DE)
98 - Francis Maka (MLB)
99 - Jason Stewart (NG)
Darren Arbet - Head Coach
Omarr Smith - Assistant Head Coach
Terry Malley - Offensive Coordinator
Cedric Walker - Defensive Coordinator
Jaff Jarnigan - Offensive Line/Defensive line Coach, Special Teams Coordinator
STATISTICAL LEADERS
Passing Yards - Erik Meyer 4,057
Passing TDs - Erik Meyer 93
Rushing Yards - Erik Meyer 142
Rushing TD's - Odie Armstrong 15
Receptions - Reggie Gray 162
Receiving Yards - Reggie Gray 1,698
Receiving TDs - Reggie Gray 44
Tackles - Ken Fontenette 146.5
Sacks - Francis Maka 13.0
Interceptions - Ken Fontenette 12
KO Return Ave - *Reggie Gray 21.0
KO Return TDs - Reggie Gray 3
* not on active roster
ANGI'S TAKESTHE MISTAKE

As it turns out, the playoffs were not decided on the last day of the season (Aug. 8). It took another day. Five weeks ago the Arena Football League
took over the operations of the Las Vegas Outlaws and the New Orleans VooDoo
due to the teams' financial struggles. The VooDoo had had a solid history prior to the past couple of seasons, but it was the Outlaws, and the league's stance on their playoff status which drew the question mark. Specifically, the week 18 game between the VooDoo and the Outlaws scheduled to take place in Las Vegas was canceled and each team was awarded a tie or, if you will, half a win. The league now owned each team which means canceling the game means the other league owners would not have to fit the bill for sending the VooDoo to Sin City for the game. AFL commissioner Scott C. Butera was quoted by Adam Markowitz on the ArenaFan website as stating that the playoff positions would be determined by winning percentage. No one will ever know if the Outlaws might have won or if the VooDoo, who had just come off a solid win over the Tampa Bay Storm, would have prevailed. Butera essentially was giving the Outlaws an advantage which they had not earned. Last Saturday, when all was said and done, the playoffs were set, and at 5-12-1, the Outlaws were in place as the fourth-seeded team in the National Conference.
AFL FINALLY GETS IT RIGHT
Enter the AFL Board of Directors on Aug. 9, the day after the final whistles of the regular season had blown throughout the league. The BOD voted to
cease football operations
for the Las Vegas and New Orleans franchises. It is possible that the league can find ownership (more likely in the case of the VoDoo) which could salvage one or both of them, though at this point it is a long shot. By ceasing football operations, both franchises were shut down. The VooDoo had already been eliminated from the playoffs in the American Conference. For the Outlaws, it meant the league would no longer support them even though they had "clinched" a playoff berth. The Outlaws' season is over. That means the Thunder would enter the playoffs in the Outlaws' place, in a position which the Outlaws never earned in the first place.
THIS MATCH UP
If there was ever an "out of the frying pan, into the fire" scenario, this is it for the Thunder. The Sabercats have been atop the National Conference standings nearly all season. They have beaten the Thunder in all three meetings; the first two by sizeable margins. The Thunder nearly took the third game in San Jose in week 17. The teams were tied at the end of regulation, forcing overtime (the first overtime game in Thunder history). San Jose struck first on a 4-yard pass from Erik Meyer to Ben Nelson, which capped a 6-play, 48-yard drive. When Nick Pertuit's extra point attempt hit the crossbar, Portland had a perfect opportunity, down by six and about to receive the kickoff. Kyle Rowley drove the Thunder town to the San Jose 5. An incomplete pass to Perez Ashford on third down left the Thunder with a fourth and two; two yards from a first down and five from a tying touchdown. With the extra point, The Thunder would win the game. Rowley's pass to V'Keon Lacey sailed high and the game was over. The Thunder had given the Sabercats all they could handle, but the Sabercats had prevailed, 55-49.
THUNDER
Portland has never beaten the Sabercats, but that overtime game should show the Thunder, if they limit penalties and turnovers, can hang with them until the end. The Thunder have started three quarterbacks this season, but Rowley has opened 15 of the team's 18 games under center. He was the ArenaBowl XXIII MVP while playing with the Spokane Shock. He surpassed 20,000 career passing yards in the regular season finale against the Arizona Rattlers. He finished the regular season with 3,651 passing yards, 71 touchdowns and 21 interceptions. Rowley has a talented group of receivers. in V'Keon Lacey, Jared Perry and Jamar Howard, who each made their impacts with the team this season. Lacey and Perry led the team with 29 touchdowns apiece. Howard, who missed 11 games due to injury, averaged 101.6 receiving yards per game. Behind them is Duane Brooks, who is an apt receiver, but an even more dangerous kickoff return man as he set a new AFL single season kickoff return touchdowns with 8. Defensive backs De'Mon Glanton and Varmah Sonie led the Thunder with 4 interceptions each. Glanton had a team-high 12 tackles against the Sabercats in week 17, while Sonie added 8 tackles of his own.
Player to Watch
: KR/WR Duane Brooks.
SABERCATS
San Jose nearly ran the table if not for a 48-42 overtime loss to the Los Angeles KISS in week 12. The Sabercats' 17-1 record is tied for the best in AFL history. They've been a force all season long, but have shown some vulnerabilities at times this season. They, like the Thunder, feature a former Shock quarterback in Erik Meyer. While throwing for 4,057 yards, he also registered 93 touchdowns against just 6 interceptions. He also connected on 66.9 percent of his passes. Reggie Gray was the beneficiary of the bulk of those passes, catching 162 balls for 1,698 yards and 44 touchdowns. Despite the success of the Sabercats' offense, the rest of their receiving corps numbers are a bit pedestrian. D.J. Stephens and Darius Reynolds had 681 and 607 yards, respectively, while Adron Tennell was second on the team with 18 touchdown grabs. Ben Nelson caught 11 passes for 72 yards and 3 touchdowns in week 17 against the Thunder. Ken Fontenette registered team highs of 146.5 tackles, 29 pass break ups and 12 interceptions. David Hyland claimed 95 stops of his own, along with 5 fumble recoveries. Francis Maka had 11.5 sacks.
Player to Watch
: QB Erik Meyer.
QUOTABLEThunder HC Mike Hohensee on the Sabercats
"They don't have a weakness They just keep coming at you offensively. (Wide receiver) Reggie Gray (44 touchdown catches, nine receptions per game) is having an MVP year. Their quarterback (veteran Erik Meyer, 93 TD passes, six interceptions) is a good game manager. They have a great pass rush. It's a team with experience — they plucked everyone's roster after last year. And they're playing well. They understand the moment and what it takes to be successful. But our guys will be ready."
Hohensee on the playoffs
"We're two wins away from playing for the title is how I look at it. It really is that simple, although it will take mental and physical toughness. But it's just as easy to etch 'Portland Thunder' onto that trophy as anyone else's name. And we didn't get to this point to not get past this point."
FEATURED SOCIAL MEDIAAFL PLAYOFF GAMES THIS WEEKNational Conference
Aug. 14 - Portland Thunder at San Jose Sabercats, 8 p.m.
Aug. 15 - Spokane Shock at Arizona Rattlers, 6 p.m.
American Conference
Aug. 15 - Cleveland Gladiators at Philadelphia Soul, 2 p.m.
Aug. 15 - Jacksonville Sharks at Orlando Predators, 4:30 p.m.
.
THUNDER NOTE
The Thunder have appeared once before in the playoffs. Last season the ended with an identical 5-13 record. When faced with a first-round match up with the Arizona Rattlers, the Thunder nearly prevailed. Kyle Rowley's scrambling under-thrown pass, intended for Douglas McNeil III, was intercepted. McNeil had strayed from his route pattern and found his way past his defender, and Rowley was unable to get the ball to him. The Ratters would go on to win the ArenaBowl XXXII title. Here is the Sports Coast to Coast thread from the game.
2014 first round - Arizona Rattlers 54, Portland Thunder 48
EXTRA
Thunder coach Mike Hohensee, like owner, Terry Emmert, possesses a whole lot of bravado. Hohensee has a 12-12 playoff coaching record and the only time he has lead a team to the ArenaBowl XX title (with the Chicago Rush in 2006), they were 7-9 going into the playoffs. This season, Hohensee has found his way into the playoffs again with a team which finished with a sub-.500 record. The question is, can he lead them to a first-round playoff win this week?
(
photo courtesy
twitter.com
)
To comment on this thread and others on this forum, please
login
or
register
.